In this section we let a selection of art lovers – from occasional buyers to art professionals – talk about their perception of art and preferences: where do they want to see art? Where do they purchase art, and above all: from which artists do they buy? Below, an interview with Hester Alberdingk Thijm, director of the AkzoNobel Art Foundation.

What does art mean to you?
EVERYTHING!

Did you inherit an appreciation toward art from your parents or did you discover it yourself?

The interest toward art and culture has always been there. My ancestors being writers who were friends with artists, such as the Catholic emancipator and writer Joseph Alberdingk Thijm (my great-great-grandfather), whose sister was married to the Pierre Cuypers. He was commissioned to build the Rijksmuseum in 1876. In that same year, Alberdingk Thijm was appointed professor of aesthetics and art history at the National Academy of Fine Arts in Amsterdam. The strange thing is that I always look up when I cycle under the Rijksmuseum, where you can see his name below a couple poetry verses.
During my childhood, we stayed with our grandparents in Amsterdam a lot. As children, we imagined when the lion hanging above our beds would turn around and eat us. The painting by Pyke Koch ("Lion in interior II") is now on display at the Centraal Museum in Utrecht. As a teenager, I was first introduced to abstract and conceptual art when I went to London with my parents. This fascination that has stayed with me ever since.
Where do you get information from regarding the art world: newspapers, trade magazines, television, online?

I'm a glutton when it comes to this, so basically everywhere: newspapers, exhibitions, fairs, the Mondriaan Biennials, visits to art schools, and studios. But it is becoming a mer à boire, and that is why I'm extremely happy with the digital disclosure of art. I often find myself glued to all kinds of screens.
We use Gallery Viewer frequently, I recently had a colleague from AkzoNobel select an art work for her 40th birthday on your website. You always need to go and see the work in real life though, especially for paintings and three-dimensional sculptures in order to really experience the depth and the materials used, but that is a second step after orientating and pre-selecting it on the website.
Where do you prefer to look at art? In a gallery, museum, exhibition or online?

Preferably in real life, of course. In the artist's studio! In the gallery and in the museum. In that order, because context is everything!
How many times a year do you buy art? Do you buy editions or preferably unique work?
Often, it's my profession! Obviously, I prefer to purchase unique works, but photography tends to come in several edition.
And where do you buy: in the gallery, at an art fair, at an auction or online?
Hardly ever at auctions, otherwise everywhere.


Is it important that you and your partner always agree on a purchase? How do you decide?
No, I don't think so. Except if you were to consider the company whose collection I have been managing for twenty-four years as a partner. In that case, I'd rather speak of a triangular relationship; the company, the collection and the curator.
As a curator, I look at what the company I am purchasing art for needs, and where it should function. The collection has its own signature and often dictates subsequent purchases.
Privately, I'm also continuously tested and seduced. Art is a great passion, an uncontrollable urge. Collectors often call themselves addicted. I wouldn't call myself that, but I am always hungry and curious. It is somewhat in the middle of having an eagle eye for the Akzo-collection and the restless look of a magpie in my private life. The magpie is known for stealing shiny objects. This behaviour stems from their unsaturated curiosity, everything that looks "different" is investigated, and possibly hidden. I sometimes hide a new purchase, because we had just decided to save for a long trip.
"We", that is my partner (and artist) Gijs Assmann and me. We don't live together, which has the advantage of not needing to agree on every artwork. We have our biggest difference of opinion about abstract art, which I love and which, according to Gijs, does not exist.
There is a large canvas by Robert Zandvliet in my sitting room, and I still enjoy every second of it when I am at home. It is a green abstract landscape, painted with enormous "schwung". At the centre of the canvas is a transparent form, much like the shape of a windshield wiper on the back of your car with a clear, blue sky in the background. The painting is all about painting itself - colour, form, composition and movement. It's an additional window in my home, lending me to a view with endless green pastures. It also takes me back to the scenic landscape of my childhood in Twente.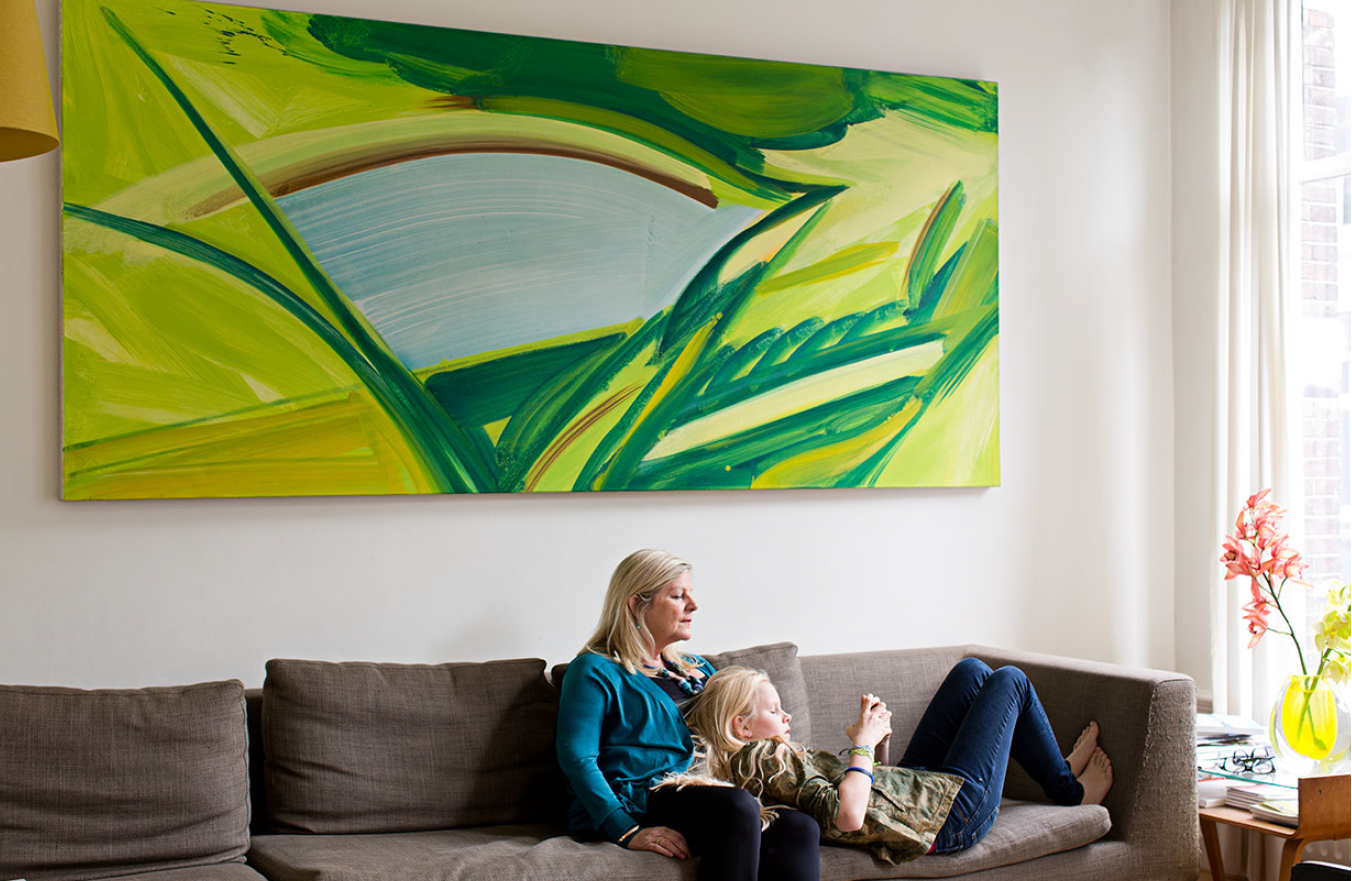 Hester and Katy on the couch under the Zandvliet painting. Photo: Dana van Leeuwen.
Alas, Gijs and I neither share that childhood nor the love for this painting. He's getting used to it: I occasionally catch him looking at it with an inquiring eye.

There are more artworks in my house by fellow artists who don't necessarily have his preference, but I also have that with some works at his place. Precisely this makes it exciting, les extrêmes se touchent! Gijs also taught me to look at art through different eyes – that's a great enrichment.
In the early nineties, I was greatly touched by the work of Louise Bourgeois, who used to be fairly affordable. At the New York gallery Peter Blum, I bought the large folder of Louise Bourgeois together with a befriended collector: Autobiographical Series. 1994. Portfolio. 14 etchings. The series is very personal, as the title suggests, but also universal: I recognize myself in almost all the works. Some are hilarious: on one etching she sits in a bath and looks in the mirror (Woman in Bathtub), on the other hand it is violent: the birth of a child with a huge head, who wriggles out with great difficulty. Or an etching on which she walks with a briefcase in her hand to the factory of her father (Woman with Suitcase) or a sleeping man with a hat in a rocking chair. Both "No title", could they be about her own father, with whom she had a complicated relationship?
I could write a story about every piece of art on our walls, that would primarily be about the artist, the work itself, but also the moment of discovery and how everything is always intertwined with my own story. What did I see in it, why did I buy it at that moment in time? This is often a memorable moment that refers to a feeling, a memory, as if the work is being linked to your own "being".
There are a few walls full of mostly modest-sized works, varying from a classic children's portrait, next to a photo by Elspeth Diederix. A beautiful tile by Bart van der Leck from my father's legacy, who collected tiles, alongside an abstract drawing by Steven Aalders, in exactly the same colour. Work by Norbert Schwontkowski, which still preoccupies me. Stain, Bite, Shoulder (1996) by the Portuguese artist Julião Sarmento or work by friends such as Joris Geurts and Koen Vermeule, who recall an opening that I did for them in the Van Gogh House. Snowballs in a Corner by Pieter Laurens Mol, alongside a glowing work from my discovery Sam Samiee,(I was a commissioner at his final exam at the AKI), winner of the Royal Award for Painting in 2016 and Wolvecamp Prize in 2018. In my bedroom I have ten – exceptionally implicit and explicit – drawings by Gijs. Not to mention the daily collage post that I've been receiving from Gijs since 2009, which was exhibited in 2018 in the Stedelijk Museum Schiedam, under the title "for H.".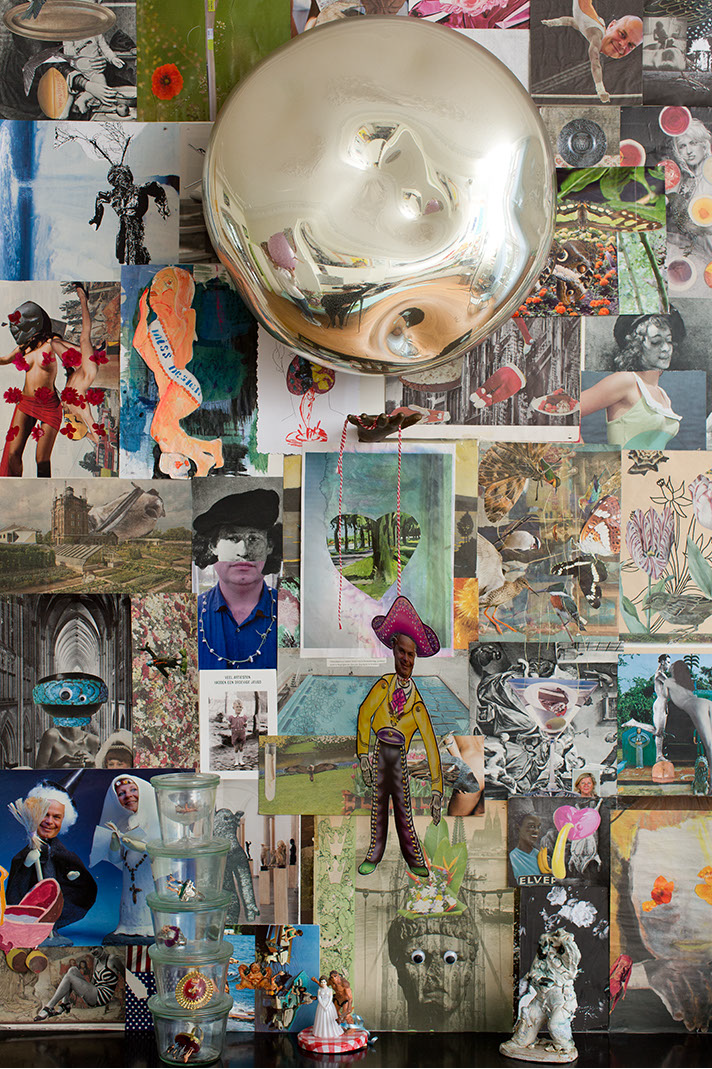 Collages by Gijs Assmann. Photo: Dana van Leeuwen
A lot of artworks in my house originate from a selection of works that I received as a gift from artist friends on my 50th birthday. Truly the most beautiful and personal gift ever!
I know what you're probably thinking: Hester must have a huge, personal collection. That's not the case at all: together there's about one hundred works, and most are of a manageable size.
Whether I ever had a bad bargain? Or regret buying something? Of course, I do ... there are works that excite me less now, but that's not because of the works of art itself but my own development. Nonetheless, they are part of my collecting history and I will never sell them, at most give them away to a true enthusiast. Who, in turn, builds on that first work, continues to look for new connections, invests in talent and therefore, in himself!
Is there a gallery with which you have a special bond?

No, we always try to keep our eyes open. There are galleries that we have been working with for a long time. Some galleries are better than others, but you can also do great discoveries when going to young inexperienced galleries. The international gallery landscape is also constantly changing. Fortunately, the high threshold of the white art temple for a handful of initiates is disappearing. It doesn't work that way anymore.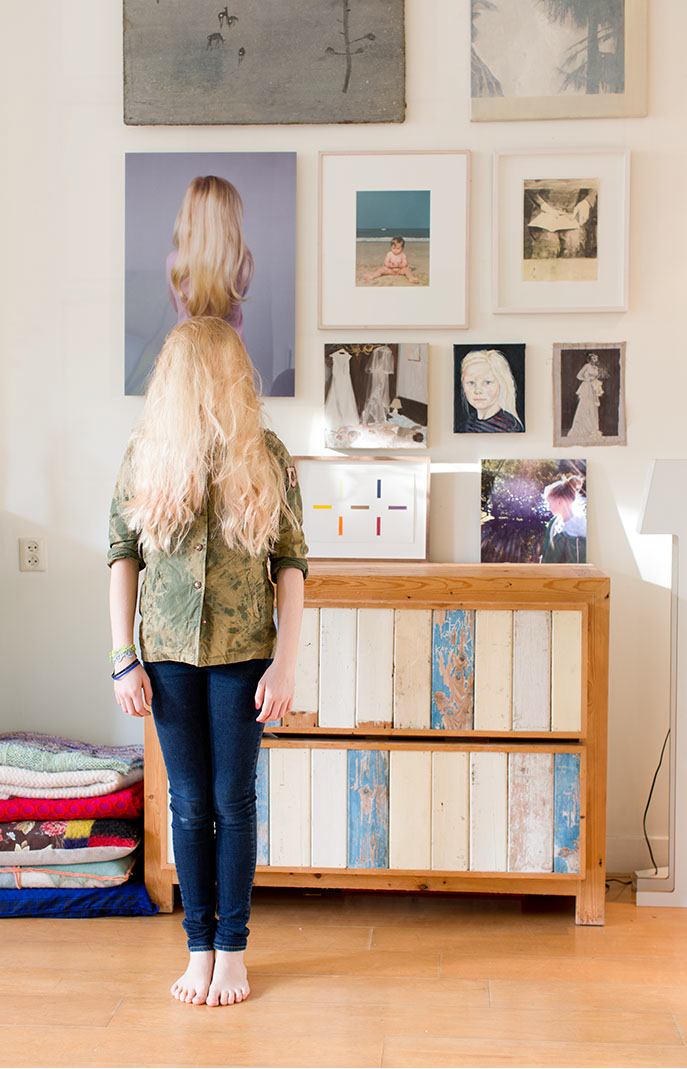 Works by, among others, Steven Aalders, Rineke Dijkstra, Monica Raggazini, Norbert Schwontkowski, Pere Lobere, Jacques Gregoire, Heske de Vries. Photo: Dana van Leeuwen.
If you had an unlimited budget, from whom would you purchase a work?

Oh well, that would be wishful thinking! Unfortunately, that list is too long. I would not look back, but ahead. That means that I would buy artworks that still needs to be made, and with an unlimited budget there could be a lot of new works, new opportunities for young artists.
Who are your five favorite artists on Gallery Viewer, and why? Preferably a mix of Dutch and foreign artists!

- The masters Daan van Golden and Ger van Elk make me very greedy. I don't even care which work by these artists, they're all strong, but if i had to choose: 'Lam Gods I' (1987) by Ger van Elk. It cannot be more Dutch and more art-historical, conceptual and yet so clear and timeless, as if Van Elk made it yesterday.
- Emo Verkerk, who after the American Dream exhibition, which opened on Saturday 9 March at Baars Projects in Amsterdam, will get a big solo in New York. Emo is a master, he has an inimitable handwriting and yet is logical and readable. The elements that Emo uses in his paintings are lifted from their silly everyday life.
- Otobong Nkanga, at Lumen Travo: it is a miracle that there is still work available from her, she has exhibitions all over the world. Her message is as beautiful as it is strong in any medium, and is about Mother Earth, about sources and resources.
- For a modest budget: that gem (in edition) from Marinus Boezem, Della Sculptura & La Luce (1985). It's a box with a beautiful starry sky on the inside of the lid above a mountain landscape featuring the Mont Blanc-massif. When the box is closed, the top of Mont Blanc reaches heaven: do I need to say more?
- Or a photograph by Elspeth Diederix: You can admire the photos from her series The Miracle Garden (The Miracle Series) throughout the city. If you hang them on your walls, you create an indoor garden that never fades.
- And for exciting young international artists: No Man's Art Gallery, with my above-mentioned discovery Sam Samiee and Buhlebezwe Siwani.