Hester Alberdingk Thijm and work by Gijs Assmann, Michael Raedecker, Patricia Kaersenhout, Vera Gulikers, Ann Veronica Janssens, Louise Giovanelli, Koen Vermeule, Esiri Erheriene-Essi, Afra Eisma. Photo by: Friso Keuris.
In 2020, the AkzoNobel Art Foundation celebrated its 25th anniversary. Due to the Covid pandemic festivities were postponed for a year. This month the exhibition 'All Eyes' opens in the Art Space of the Amsterdam head office. In September 2020, this anniversary was already celebrated on a smaller scale with the launch of an extensive catalogue in the shape of an anniversary magazine designed by Kummer & Herrman, entitled 'We Are the Collection'. Hester Alberdingk Thijm is synonymous with AkzoNobel Art Foundation. As director from the very beginning, she has been collecting art for the foundation for more than 25 years and is responsible for the wealth of arts works of art and stories that together comprise one of the largest and most accessible corporate collections in our country.
MK When and how did the AkzoNobel Art Foundation come about?
HAT The AkzoNobel Art Foundation was established in 1996 at the request of eminence grise Kees van Lede (1942-2020) [former chairman of the employers' organization VNO-NCW, MK] who was then chairman of the board of AkzoNobel. He knew better than anyone how important it is that a company and its environment - a community, a city, the country - understand, respect and support each other. From that vision, he saw the importance of art as something that broadened one's visions and as a connector. Just as a company should be anchored in its environment, an art collection should be anchored in a company. Before I was appointed director of the foundation, I was as a member of the management team at Boymans van Beuningen. In that capacity I was responsible for communication and marketing, education, sponsorship and fundraising. Professor Wim Crouwel was director of Boymans at the time and I learned a lot from him. Chris Dercon [Belgian art historian and museum director, MK], who at the time was director of Witte de With [contemporary art centre in Rotterdam, now known as Kunstinstituut Melly, MK] was later asked to serve on the board of the AkzoNobel Art Foundation. He was known for his radical and innovative ideas, which came in handy when I was given the responsibility at Akzo for drawing up a policy plan for the purchase and collection of art.
MK What did that look like in practice?
HATFor starters, you should know that AkzoNobel's headquarters were originally located in Arnhem. It was a rather chilly new-build office with lots of light, white and marble. Van Lede thought that colour and art should be added. The building almost begged for that. I was willing to do that, but on the condition that we were first allowed to do an extensive research within AkzoNobel as a company, within the factories and within the cultural field.
This allowed me to map out what we stand for as a company and then implement that in the construction of an art collection. I thought it was important to have a dynamic collection that would reflect the idea of the 'communicating vessels' - a term from the jargon of our laboratories. I certainly didn't want an art collection that would only be representative and illustrative, but one with depth and a certain dynamic to it. Van Lede agreed and so one day the entire board of directors - including Van Lede himself - and the communication department took the bus from Arnhem to Amsterdam to visit various corporate collections and the Stedelijk Museum.
This turned out to be an extremely inspiring and useful trip. For example, Rob de Leeuw [former director of Turmac and former vice president of the Peter Stuyvesant Foundation, MK] stated that we should not set up an art committee, but that the curator should be given a free hand. And that quality and communication had to come first. When we arrived at the Stedelijk Museum, we were received in the office of director Rudi Fuchs who, together with four curators, emphasized the importance of uncompromising quality in art. Because according to him, only on that condition would the collection be distinctive and of lasting value.
I will do everything I can to support female artists.
Not because they are women, but because they offer quality and
put important issues on the agenda
MK Last year it was revealed that only 4% of the artworks in the Stedelijk Museum's collection were made by female artists while your collection consists of more than 50% female art. Did this happen in an organic way or did you consciously pursue this?
HAT The collection is particularly valuable to the company in several ways. Firstly, because as a company you want to give something back to society. We took that assignment quite literally, which is why in 2016 we chose to place the collection in an open Art Space at the entrance of the new head office. This is how art welcomes our employees and visitors first. Since the very beginning, we as the Art Foundation have collected female artists.
I wanted to bring other, more poetic worlds into the established corporate culture. I bought - and buy - work by female makers if it is of quality and fits into the whole of the collection. It is not without reason that Chris Dercon curated an exhibition of work by Marijke van Warmerdam, Maria Roosen and Marlene Dumas in 1995, as curator of the Venice Biennale. Three Dutch female artists who already stood out because of their high level. A healthy balance between male and female artists provides - through the diversity of the perspectives offered - a more reliable reflection of society and thus a richer collection. In our anniversary exhibition 'All Eyes' we celebrate this diversity and pioneering spirit that we share in both our art collection and in the company.
MK What do you pay attention to when putting together an exhibition with works from the collection?
HAT As I said, context and connection are key. These days everyone is talking about the individual and storytelling. But that storytelling is already in the works themselves. And they must be visible in an exhibition. Not with large chunks of text but with a small introduction, no more than a helping hand and further through the mutual connection. The works themselves and the story they create in conjunction with each other have to do the trick. The public can then go on a journey of discovery.
It is impossible to keep buying work from all the artists in our collection, but if I can make a difference by making an extra investment or by loaning a work to a museum I will definitely do that.
MK Looking back on 25 years of art acquisition, what is the common thread of the collection?
HAT OI don't know whether there is one common thread. The collection is recognizable, unique and congruent. What I find important is to bounce along with the cadence of time. But also with changes at the top of the company, so that my portfolio as one of the activities of the company is safeguarded. Even in times of crises or imminent takeovers, the art is safe in an independent foundation; with the collection like a drone that takes off in turbulent times and only lands when everything has calmed down again.
A common thread in the collection is perhaps the support of young art. Note that the term 'young' is not necessarily age-related. By young art I mean art that is ahead of its time. Themes such as diversity, inclusiveness or sustainability were not new in the 1990s, but they are only now part of the public debate. Artists such as Roy Villevoye, Natasja Kensmil and Shirin Neshat were involved with these subjects early in their careers. That is also the reason why I bought their work at the time. Now there is a social context for this theme; a clear urgency. They were way ahead of their time and I thought - and still think - that their voice should therefore be heard permanently.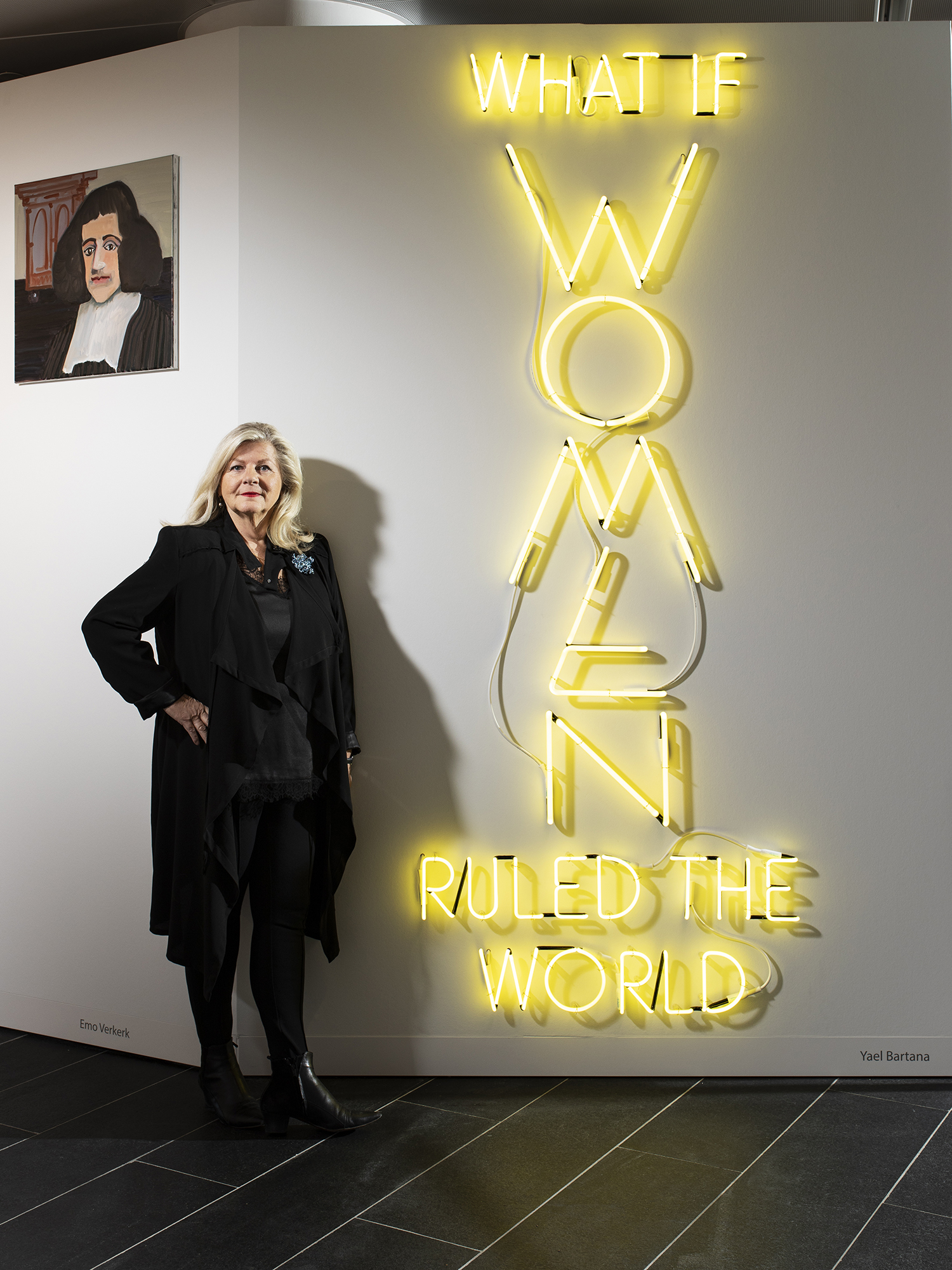 Hester Alberdingk Thijm met work by Emo Verkerk (Willem Baars Projects) and Yael Bartana (Annet Gelink Gallery). Photo by: Friso Keuris.
MKIs it difficult to make choices when it comes to purchasing art?
HAT I have an annual budget of €450,000 and I have to make do with that. On the one hand you would of course want a much higher amount at your disposal, but on the other hand it forces me to make sharp choices. I would like to support many more artists and the most effective way is to buy work, but I have to limit myself. I have purchased several works from Yael Bartana, Melanie Bojano, Robert Zandvliet, Bernard Frize, Willem Hussem and Steven Aalders, which gives them a strong position in the collection. If an artist develops well, it is interesting to purchase one or more works of art from each period so that we can also show that development. Incidentally, I usually already know before the purchase where and how the connection with other works of art should take place.
The better and more powerful the artworks we collect, the more valuable the encounters we choreograph.
MK You curate the exhibitions yourself in your office. What do you think is important when it comes to curating?
HAT Everything is context. Numerous combinations and encounters between artists and works of art are possible. A collection is a dynamic organism in which different disciplines and techniques, from paintings, photographs, images or textile works to computer-generated videos, must be presented side by side and with each other. It gives me great satisfaction to give a work of art the place it deserves: in dialogue with the environment, with surrounding works of art and with the public. Visual art is like a multi-faceted diamond that can never reveal itself on all sides at once. Depending on the context or the time, one or the other facet becomes visible.
MK What has changed in the art world in relation to your work as an art buyer for AkzoNobel over the years?
HAT Two things in particular have changed. Internationalization and digitization have had a major impact on art and the art world. AkzoNobel has grown from a Dutch company, based in Arnhem, into a global company with 33,000 employees from almost all countries and cultures of the world. When I started this adventure in the mid-nineties, the gallery owner expected that the art viewer and buyer already knew everything, had prepared himself and read up on the artist. You had to show that you were in the know, otherwise they would rather sell the work to someone else, preferably to a museum.
The art world has become more open and accessible over the years. For example, I am regularly approached by a gallery or an artist with well-founded proposals. There are many more artists and art buyers than twenty years ago and fortunately more people want art. Casual visitors or people who work with us also feel involved and want to buy art. For work, I like to browse - and often hours a day - on Instagram to see and follow everything. Recently, I visited Basel and I posted a photo of a work of art by a now very well-known artist on my Instagram account.
Just because I thought it was a super strong image. The work cost a few hundred thousand euros and was sold to someone who found it through my mail. Then I realize to my surprise that I have become some kind of influencer. People think: if she posts it, it must be good. (laughs). I think I can say that I am addicted to art and everything that comes from it: looking at art, hanging art, reading art books, going to openings, visiting galleries and fairs. Art is my oxygen. Fortunately, so far it has been limited to a healthy addiction…(laughs).
A good corporate collection offers room for innovation. Something that is stagnant is doomed to fail because everything changes. That's why I want to stay curious and open to new developments that enrich the collection.
MKWe hope that you will be at the helm of the AkzoNobel Art Foundation for a long time to come, but how would you like to be remembered in the future?
HAT I would consider myself a happy person if at the end of my working life at AkzoNobel, I can say that I have succeeded, within my power, at bringing together current and timeless themes within art in a special collection that connects and inspires inside and outside the company. And whether it concerns an artist or a visitor, an employee or a museum director, doesn't matter to me. Although… the artist does have an edge for me!
MK Can we speak of a successful arranged marriage between you and AkzoNobel?
HATIt is indeed an arranged marriage with AkzoNobel. And now we know each other so well, and we have been together for so long that we can conclude that love has arisen from both sides. (laughs).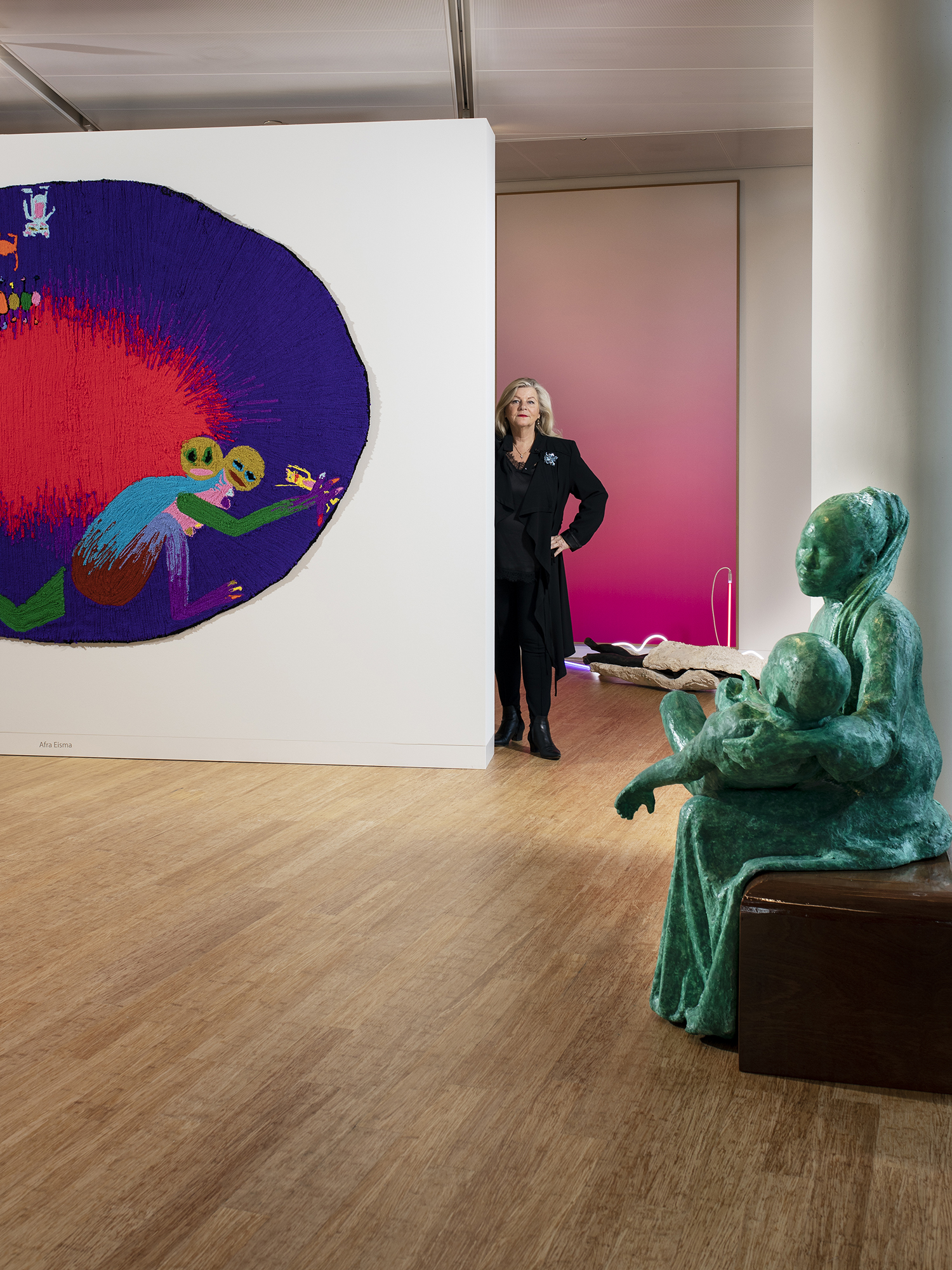 Hester Alberdingk Thijm with work by Afra Eisma, Saskia Noor van Imhoff, Buhlebezwe Siwana.Photo by: Friso Keuris.
---
The AkzoNobel art collection can be visited - free of charge - from Monday through Friday between 9AM and 6PM.
Address: AkzoNobel Center, Christian Neefestraat 2, 1077 WW Amsterdam