Nieck de Bruijn.
In the 'The gallery of…' section we talk to a selection of gallerists from the Netherlands and Belgium: how and when did they start their gallery, what has changed in the art world since, what is their profile, what do they collect themselves, and what has been the impact of the pandemic on their gallery? This week it's Nieck de Bruijn (Upstream Gallery)
We're you exposed to art while growing up?

No, not really. I come from an entrepreneurial family, my parents had printing houses. There was hard work, and sometimes there was a museum visit or a cultural trip on vacations, but I can't say that art was a logical part of my childhood.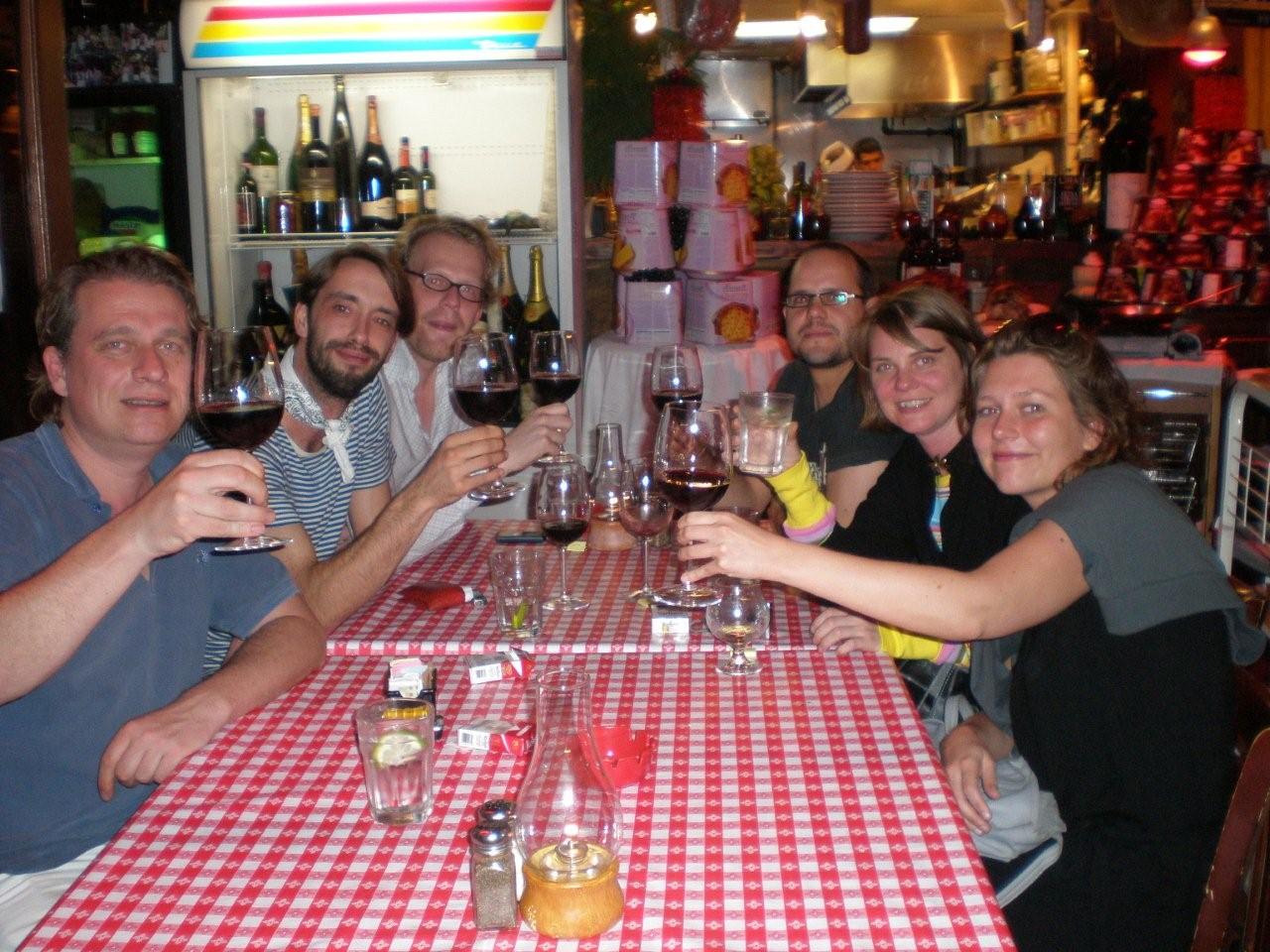 Dinner in Miami, NADA artfair, 2007 with Martin van Zomeren, Steven van Grinsven, Martijn Dijkstra, Juliette Jongma and Jeanine Hofland.
How did you come into contact with the art world?

After graduating, I wanted to start my own business. I had come up with the idea of putting my own line of tailored shirts on the market; I took a few months off to write the business plan and make preparations. In order to support myself during that time, I looked for a part-time job.
Chance had it that I saw an ad in the newspaper asking for a gallery assistant. That seemed right to me. Not that I had a special interest in art at that time, but more from a broad interest and curiosity. Because of that interest I went to museums for contemporary art myself, but often I only understood half of what was on display there, or not at all. This job gave me a glimpse into that world, and I was able to help with marketing and administration.
The place I ended up in was very special: Schröder Galerie was a gallery, but also had a number of studios where artists could have a residency. I came into direct contact with artists for the first time in my life, a completely different world from the one I was used to. It all intrigued me immensely, and the direct contact with the artists gave me a lot of new insights. On Friday afternoons we often had a beer with the artists and I could ask all sorts of questions. Which artists they liked the best, if they could come up with top 10 lists with which I then researched at the library. And then come back with a lot of questions: why is this good? What does the artist mean by that work? After a few weeks, the part-time job became a full-time job and I had put my plan with the tailored shirts in the fridge.
During that time I learned so much; I had lots of conversations with artists, I visited every museum exhibition, went to a lot of galleries and art fairs and bought my first works of art. After that there was no stopping me. Everything I earned went to art, I didn't go on a holiday for years, and I didn't buy a car but art instead.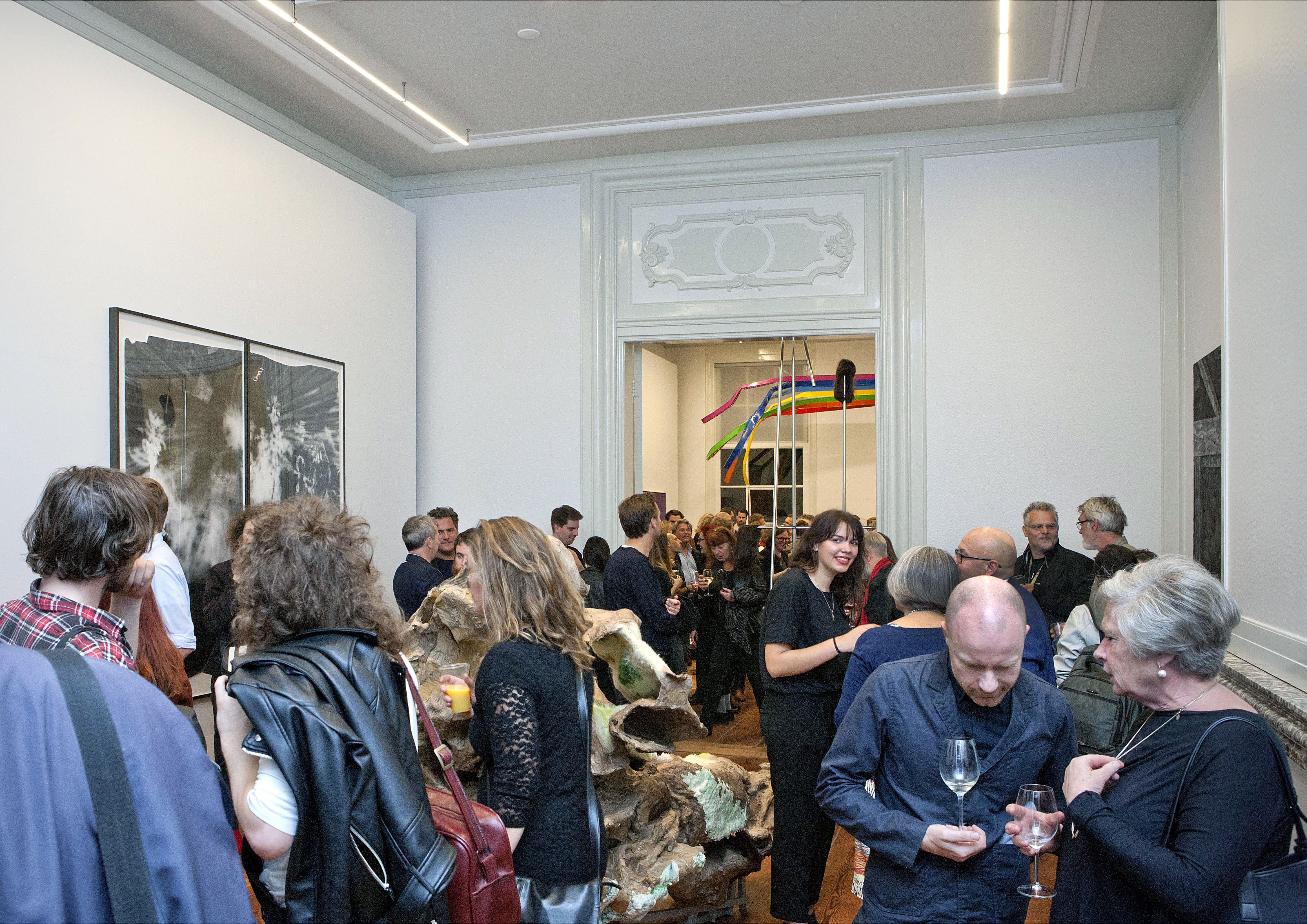 Opening new location Upstream 2015, with a.o. Anne de Jong, David Haines, Carla Brown. Photo: GJ.van Rooij.
What was your first job in a gallery? Or did you immediately start a gallery yourself?
After a year I said goodbye to that gallery and in the meantime had definitively set aside the plan for the shirts. I dreamed of my own gallery, but I didn't dare. Everything I learned said "No" to that crazy plan to start a contemporary art gallery. Putting a 'product' on the market for which there is no demand at all at that time, a very opaque market where hardly any market research is possible… where should I start? So I started working in marketing for publishers (books are another love of mine). I liked that, that is also an interesting world, with a salary that still allows you to buy art, albeit with a little frugality.
But the idea never left my mind and after a few years of hesitation and deliberation, my wife came up with the solution. Instead of considering why it couldn't be done, she asked, "Why don't you calculate what it would cost to do it for a year? If that amount is worth it to you to try this then you should do it." So that is exactly what I did: planning and calculating, and that resulted in an amount that was manageable. If all failed, I would be in debt, but that was an amount that I could pay off with a few years of work. From that moment on I just went for it: register with the Chamber of Commerce, look for a building in the center of Amsterdam, approach artists and go!
Fortunately, the end of 2003 was a very favourable time to start. Those years the art market was on the rise and already in my first year I participated in fairs in the Netherlands; the KunstRAI and Art Rotterdam. But I was also asked – three months after I started – to participate in the Liste Art Fair in Basel, the holy grail for young galleries. These rapid developments ensured that I was able to build up a good national and international clientele very quickly. It turned out that little of the original calculation was correct, but that didn't matter anymore as the gallery was doing well by then.
How would you describe your gallery's profile?
As an international gallery with a focus on radical, socially engaged, conceptual and digital art.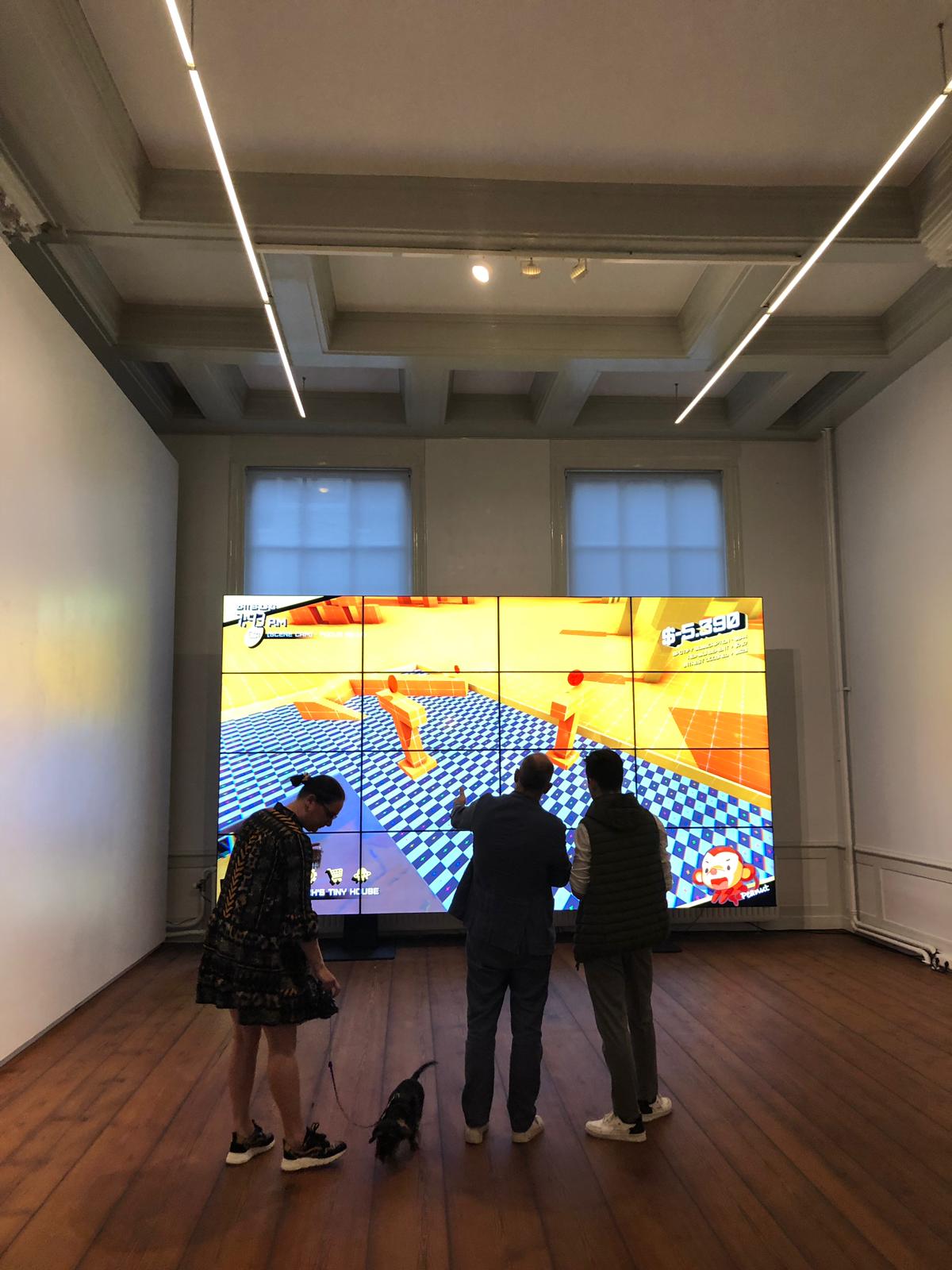 Family portrait for Tabor Robak's work at Upstream Gallery, 2019.

What do you think is the best part of being a gallerist?
The constant intellectual challenge. Every new exhibition, every new series of works that our artists create, brings in a new stream of thoughts. Every week you will be surprised and challenged to learn something new.
Also, you have to able to turn your hand to anything, while we are a small business, we operate on an international level, with artists from different countries and customers and contacts all over the world. Forming a link between the artists and the customers, collectors, museums and the press, and that on the chessboard of the international art market, that is a very challenging yet fascinating position to be in.
Which national / international galleries do you feel an affinity with?
I feel related to curious, avant-garde entrepreneurs in the broad sense, which is not limited to the art world. I feel related just as much to the entrepreneurs behind an NFT platform like Folia, as I do to a company such as the Oedipus brewery or a restaurant like BAK. Entrepreneurs who operate in an idiosyncratic way, push boundaries and have a strong focus on quality.
In an ideal world, which artist would you most like to represent?
Then I would have loved to represent David Bowie; incredibly creative and always ahead of its time.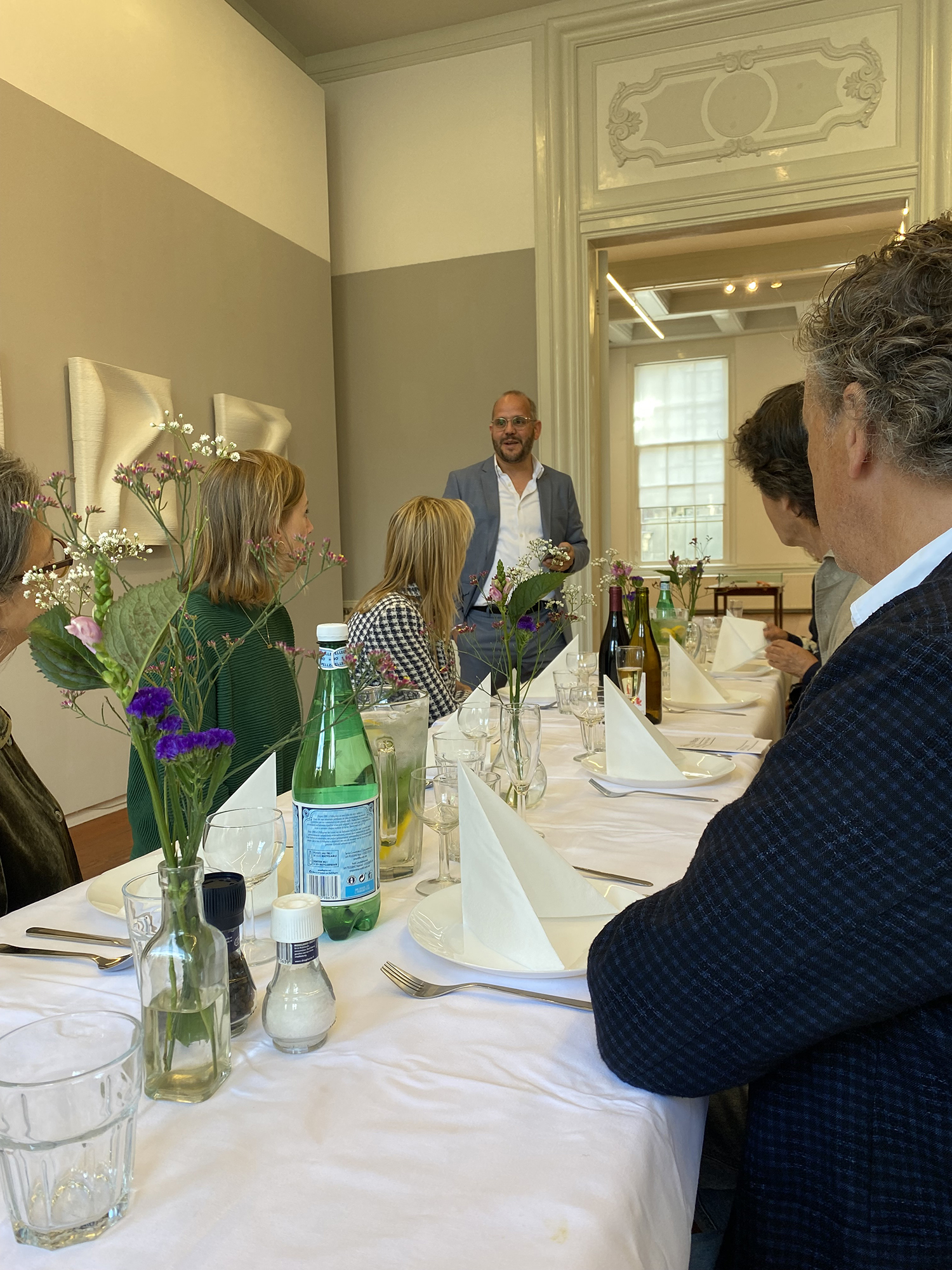 VIP lunch, exhibition Marinus Boezem and Noor Nuyten with Saskia Bosloper, Judith Spijksma, Anne Sleper, Casper van der Kruk and Peter Schouwenburg, 2021.
What has changed in the art world since you took your first steps?
The art market has grown, has become more international and more digital. In addition, it is mainly the position of my gallery in the art world that has changed, we have grown in a short time from a young gallery to an established gallery. From a long and narrow space on the Kromme Waal to a city palace on the Kloveniersburgwal. From a programme with six artists to one with more than twenty artists. From doing everything myself to working with a dedicated team. From Liste to Art Basel.
What / whose work do you collect yourself?

When I started collecting (a few years before I started the gallery) I mainly collected a lot of work by Armen Eloyan. Besides that, I also bought work by Erik van Lieshout, LA Raeven, Dennis Tyfus and an early work by Anton Heyboer.
When I started the gallery, I mainly bought work of my own artists. After all, I am interested in what I bring and that is what I collect. Paintings, drawings, photography, sculptures and in recent years also a lot of digital work; websites, software, NFTs of the artists I represent.
Recently, I bought a photo of Alicia Framis, an early painting by Frank Ammerlaan, a combination of a website and a physical work by JODI, a website by Jan Robert Leegte, a photo work by Marijke de Roover, a small sculpture by Noor Nuyten and a beautiful NFT from Harm van den Dorpel's 'Mutant Garden' series.
Apart from that, I'm actually quite addictive when it comes to collecting, so I try to control myself. That just doesn't work when it comes to books or vinyl. My book collection is bulging and my vinyl jazz collection is also starting to take on serious forms.
Has the pandemic changed the way you see the artworld?

Not really, it turned out to be more of a confirmation that we're on the right track. The combination of a strong local network with a concentrated focus on the international market and a focus on online opportunities proved very successful in those strange times we were going through. The bond with various national collectors became even more intensive and substantive, which was great to experience.
Our strong online presence also allowed us to keep foreign contacts interested. This resulted in a successful run-up to our Art Basel participation this year, where we presented a selection of key works from the oeuvre of the great digital artist duo JODI.
---