Projectspace On the Inside provides a good overview of contemporary art with works from the broad collection of collector Casper van der Kruk.Projectspace On the Inside is an initiative of Henk Stallinga and Annemarie Galani. The duo behind Studio Stallinga were often asked by foreign visitors where you could see contemporary art. Since they had no answer, they decided to open part of their warehouse at the NDSM wharf in Amsterdam-Noord as an exhibition space for contemporary art.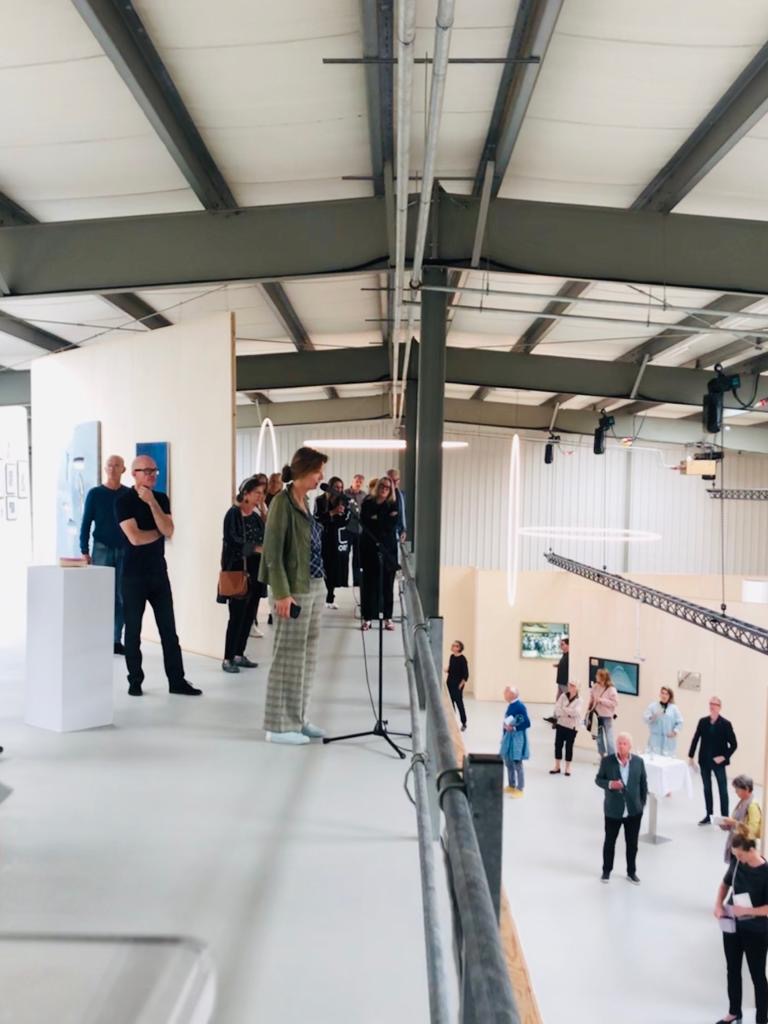 From 6 September, some 120 works from Van der Kruk's collection can be seen on more than 1000 m2. According to Annemarie Galani, the choice for Van der Kruk's collection was obvious: "Casper has a versatile collection that gives a good impression of what is currently being made".

The exhibition is curated by Liesbeth Willems. The former curator of the KRC Collection agreed to take on the task, because she appreciates Van der Kruk's genuine interest in art. Willems likes to compare Casper to the renowned New York collectors couple Herb and Dorothy Vogel who managed to build up a monumental collection in the 1960s and 1970s on a limited budget.
The similarities with the Vogels are numerous: in addition to an apartment packed with art, Casper was also not an insider in the art world and he also studied art history at a later age. His budget is not endless either.
How much Van der Kruk follows his heart is evident from the fact that he knows how to appreciate every art form. In addition to painting, there are sculptures, photography and video art on display. He sees the exhibition as a homage to the gallery owners who have aroused his interest in art and stick their necks out for the artists. That is why Casper insisted to have the name of the gallery from which he bought it stated next to each art work.
A special door
Van der Kruk was not familiar with collecting art from home. His collection began with the opening of a door - a special one. In 2003 he walked past a remarkable front door in Bloemstraat and decided to step inside. Van der Kruk not only stepped into the space of Galerie Fons Welters, which at the time was showing work by painter Gé Karel van der Sterre, but also marked the beginning of a long development. Van der Sterre's work captivated him and after some deliberation, Casper decided to buy a painting - a view over the roofs of New York with its characteristic water tanks.
In the following years, Welters slowly familiarized Casper with the art world and the two became friends. Initially, Casper only bought work at Welters' gallery - works by Maria Roosen, Berend Strik, Folkert de Jong and Job Koelewijn - but gradually he found his way to other galleries as well.
Tegenwoordig bezoekt Casper ieder jaar trouw een aantal buitenlandse beurzen Nowadays, Van der Kruk habitually attends a number of foreign fairs every year, including Art Basel, Arco Madrid and Loop, the video art fair in Barcelona. As Casper sees so much art, he is well aware of what is being made, and he sometimes sees relationships between galleries and artists who have not yet seen them themselves. He recommended Awoiska van der Molen to Annet Gelink and he put Caroline O'Breen on the trail of Anastasia Samoylova.
A Balancing Act
A key work in the collection is a photo by Job Koelewijn's entitled A Balancing Act. We see Koelewijn on the street in New York, trying not to drop an immense stack of trays. Koelewijn wanted to portray how difficult it is to survive in a cultural center like New York. It is a photo that is just as related to Koelwijn's journey as to Casper's voyage of discovery.
In search of the Miraculous
The Sgabello Collection may be very versatile, but Willems was able to flawlessly draw the common thread from it. The title of the exhibition In search of the Miraculous, is derived from a work by Aukje Dekker, who in turn took it from the last work by Bas Jan Ader. Dekker photoshopped herself in the last photo ever taken of Ader. She sits next to him on his sailing boat and puts her arm around him as he sets out to cross the Atlantic Ocean. According to Willems, Van der Kruk has a penchant for mysterious work, such as that of Dirk Braekman and Awoiska van der Molen.
Casper adds that "artists who refer to art history have an advantage". Such as the work of Dekker, but also that of Maaike Schoorel in which the viewer slowly recognizes Titian's Venus of Urbino, or Piéta by Klaas Kloosterboer; a work that Kloosterboer made shortly after the attacks on Charlie Hebdo and in which he hung a chain in such a way that the reference to Michelangelo's Pieta is clear. This indebtedness to (art) history is also reflected in the name of the collection, a sgabello is a kind of stool that was popular in the Renaissance.
---