Six USB drives, a caravan and two swings. Collector Frits Bergsma curated an exhibition at Nieuw Dakota at the NDSM wharf with sound art from his collection. With minimal means he achieves maximum effect: an abrasive and playful sample of contemporary sound art.
Collector, art consultant and curator Frits Bergsma has an experimental taste. "Painting and photography rarely surprise me anymore and that's why I look for other, new art forms for my collection that still have that effect on me." Bergsma already made an exhibition at Nieuw Dakota in 2015 about the video art in his collection. This time he put together an exhibition about the sound art that he has collected in recent years. They are all foreign artists who have been trained in the Netherlands. The exhibition is a sample of what sound art has to offer.
A bold move
"Who does such a thing? Where in the Netherlands can you see an exhibition of sound art? It is a bold move of Nieuw Dakota to let me make such an exhibition ", says Bergsma, "Moreover, the art works that are abrasive and you'll to take time to comprehend them". It is indeed not surprising that sound art is described as avant-garde or difficult, because it requires a concentration span from the viewer that is longer than what you need for a painting or a photograph. Let alone for a post on Instagram.
This slowness is partly due to the character of some of the works. The most accessible work in the exhibition is Keith's Arcadia (2017) by British artist Jacob Dwyer. All in all, it's a well-told story about the riots in London in the summer of 2011. Just like a novel or a movie, you have to listen to Dwyer's story to get the most out of the work. "It could also have been a podcast or radio play", Bergsma agrees.
As the rioters roam the streets of Ealing, the narrator and a friend are enclosed in the Arcadia Shopping Center. For the narrator, the shopping center slowly changes into a pleasant Arcadia. A change that would be implausible if David Attenborough had read the text, but gains in poetic strength through a thick London accent.
USB-drive
Gallerist Martin van Zomeren has also visited the exhibition and is enthusiastic: "It is great that you can create such a strong exhibition with limited resources. Bergsma has a keen eye for experimental art and often buys it at a very early stage of the artist's career". Bergsma: "I also buy these artworks to support the artists and to encourage them to continue making such work".
Bergsma bought many of the works in the exhibition from Juliette Jongma, who closed her gallery in 2019. Among the works is Wine cork wrapped towels and a condom (2017) by the rising star Nora Turato. "The work was initially a performance. I actually wanted to buy it, but that turned out to be difficult. After a year I was offered a recorded version of the work as a video and sound work on a USB drive".
Turato recorded the text so quickly that you're bound to miss the meaning of the words and you are left with a verbal impression. Something similar happens in the work of Smari Robbertsson. For Sleeptalking (2017) she cut up words from a lecture that she plays completely randomly over the left and right channels of a stereo. This makes it seem as if you are listening to an endless conversation, the subject of which seems to be set, but the content is not.
Caravan
"Where do you store a caravan like that? That is the question you are asked the most. Fortunately for me, the caravan is not part of the artwork. We wanted to ensure that every work could be heard in a more or less enclosed space." Still, the stuffy 1970s caravan with flower curtains and its own scent, like the Beanery, fits perfectly with the work Philomela (2018) by Richard John Jones, a British artist who often works with textiles.
Philomela is an adaptation of one of Ovid's Metamorphoses. In the story Philomela is beaten up, but her environment does not want to believe her. In revenge, she turns into a carpet to eavesdrop on the perpetrators. Jones recorded the tale using a voice actress born deaf, by which he seems to underline the will to be heard.
There are also two swings installed in the space. "Initially we wanted to mount the speakers for Keith's Arcadia on or above the swings, but that turned out to be technically impossible and also met with resistance from the artist. We left them to emphasize the playfulness of the art".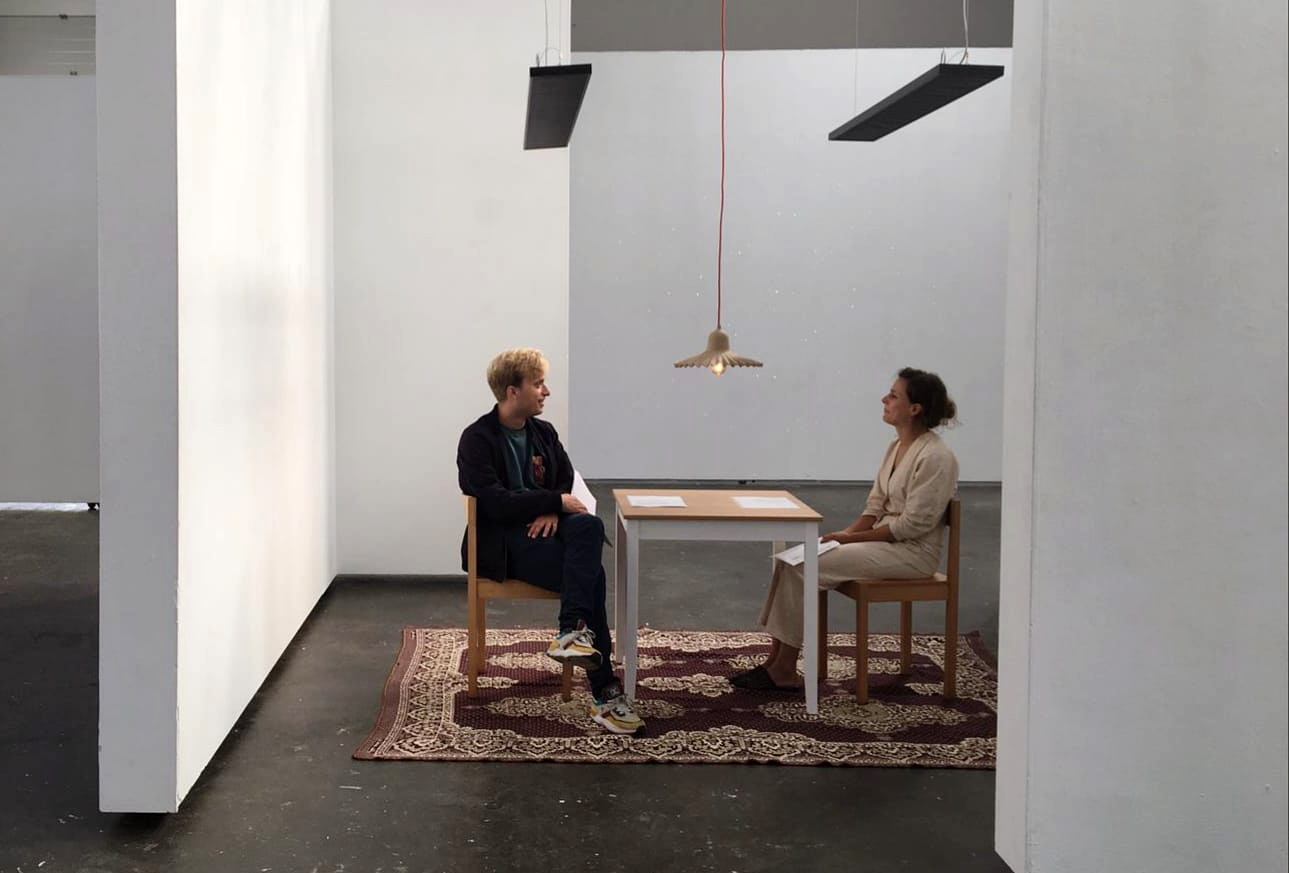 ---
Sound & Fury can be seen at Nieuw Dakota until October 19. Address: Ms. van Riemsdijkweg 41b, 1033 RC Amsterdam.
---
Also at the NDSM wharf
In addition to Sound & Fury, Project Space on The Inside is showing works from the private collection of art collector Casper van der Kruk at the NDSM wharf. Read more about the In Search of the Miraculous: The Sgabello Collection exhibit and what drives Casper here. Frits Bergsma and Casper van der Kruk were also interviewed in our Ask an Art Collector section in which they talk about collecting art, what they pay attention to and how they decide to buy a work.