Alexander and Jaring in Turin during Artissima with work by Willem Hussem and Lennart Lahuis, November 2021
In the section 'The gallery of…' we talk to a host of gallery owners from the Netherlands and Belgium: when and how did they start their gallery, what has changed in the art world since, what is their profile, what do they collect themselves, and what has been the impact of the pandemic on their gallery? In this part Jaring Dürst Britt and Alexander Mayhew (Dürst Britt & Mayhew)

We're you exposed to art while growing up?

Alexander: My mother graduated from the AKI in Enschede in the 1960s and my father was a violinist in the Netherlands Chamber Orchestra. After finishing her study in textile design at the AKI, my mother worked for a while for the magazine International Textiles in Amsterdam. In the end she devoted herself to designing gardens.
Both visual arts and performing arts were imparted to me from an early age. In my youth I drew a lot and I loved to act and sing. I also had piano lessons, but I practiced too little. So unfortunately, I can't accompany myself on the piano when singing, then I need a musician friend. At secondary school, the Municipal Gymnasium in Hilversum, and during my student days in Leiden, where I read law and later art history, I performed a lot on stage. Drawing has faded into the background after my secondary school days, but the interest in visual arts has always remained.
Jaring: My sister and I were encouraged to take drawing and modelling courses, in the creative centre in our village. My grandfather was very good at drawing, however, those genes ended up with my sister. In my first experiences with modern and contemporary art, my neighbour – who in age could have been my grandmother – played an important role. She had an abstract painting hanging in the hallway that had fascinated me from an early age. What the hell did that painting mean?
Once, when I was about fifteen years old, I asked her, to which she replied: "Just walk up to it, look at it for a few minutes, and then say what you see in it." We had chickens at home, and in the wild brushstrokes I thought a to see a cocking cock. The title of the work turned out to be 'Le cocq furie' - I was as proud as a peacock that I understood the work.
In those years, her daughter ran the Loerakker gallery on the Keizersgracht in Amsterdam. When I once needed a place to stay in Amsterdam as a fifth-grader in 1998, I ended up in a gallery for the first time – she lived above it. I remember we talked about what makes a work of art good. When I started studying art history, I found out that the creator of 'Le cocq furie' was not an insignificant figure; it turned out to be a work by Bram Bogart, whose estate is now managed by White Cube.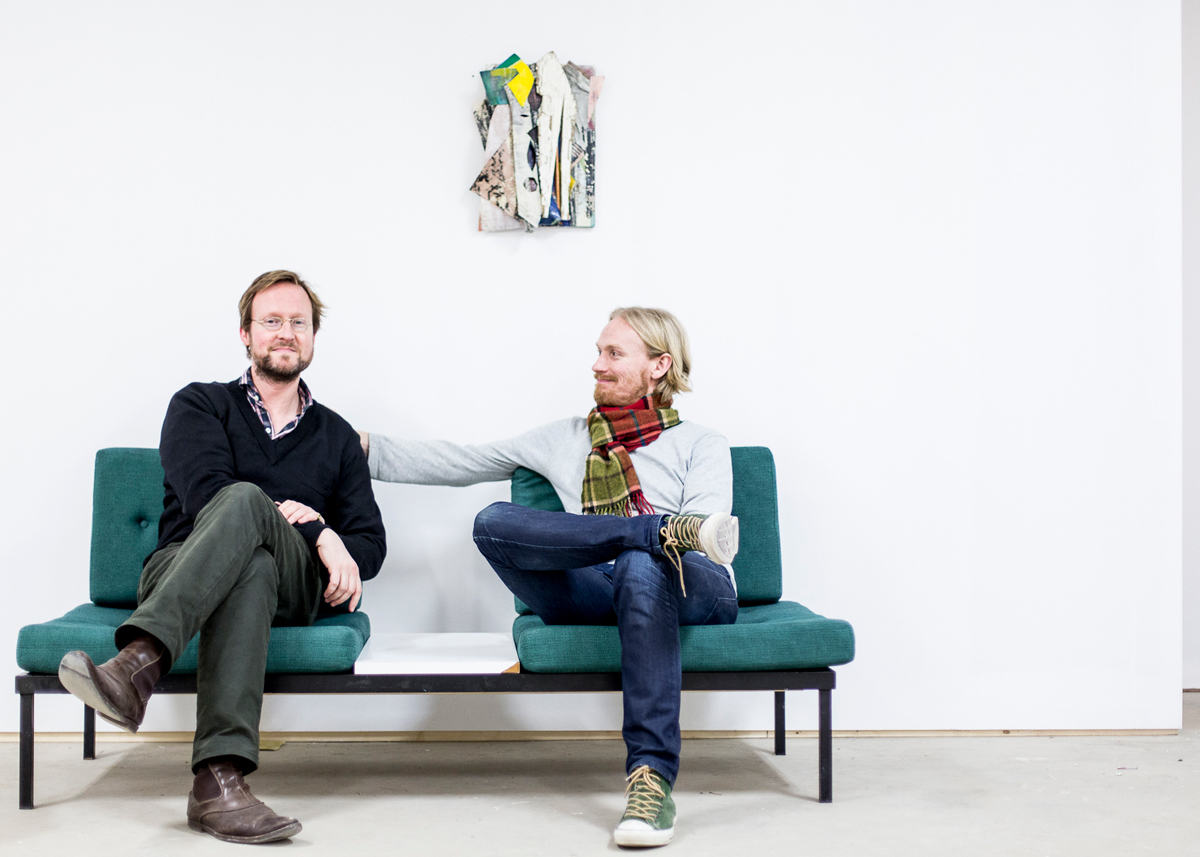 Alexander and Jaring in front of a work by Joseph Montgomery - the first work ever to be hung in the gallery, February 2015 (photo Natascha Libbert)
How did you come into contact with the art world?
Alexander: My father passed away when I was 21. After his death, I made several trips with my mother, and spent a lot of time visiting museums and galleries. Lucio Fontana was my first great love. That a simple cut in a canvas can unfold an entire world was a revelation to me. In addition, during my student days I became friends with Jan Hein Reeringh, whose father Hans Reeringh – the then mayor of Doorn – was an avid collector and regularly visited the Venice Biennale and the Documenta with his wife. His enthusiasm has certainly fuelled the fire in me. Travels with the Leidsche Kunsthistorische Vereniging to Istanbul, New York, Glasgow and Shanghai have also been very formative.
Jaring: Through Alexander. When we got together in early 2002, he had considerably more miles of contemporary art under his belt than I had. Our first holiday together that year went to the Documenta in Kassel. I understood that it would be worth it, but I didn't realize that it was one of the pinnacles of contemporary art. There I saw work by Shirin Neshat, Mark Manders, William Kentridge and Fiona Tan for the first time - a whole new world opened up for me. The following year we visited Marcel van Eeden's solo in the GEM (the predecessor of KM21). We found his drawings very interesting, an artist who knows how to combine a concept with skill. On the title plates we saw 'courtesy gallery Maurits van de Laar' and suddenly we realized that museum work could also be for sale. We both bought a drawing of Marcel from Maurits – and then the gates were lifted.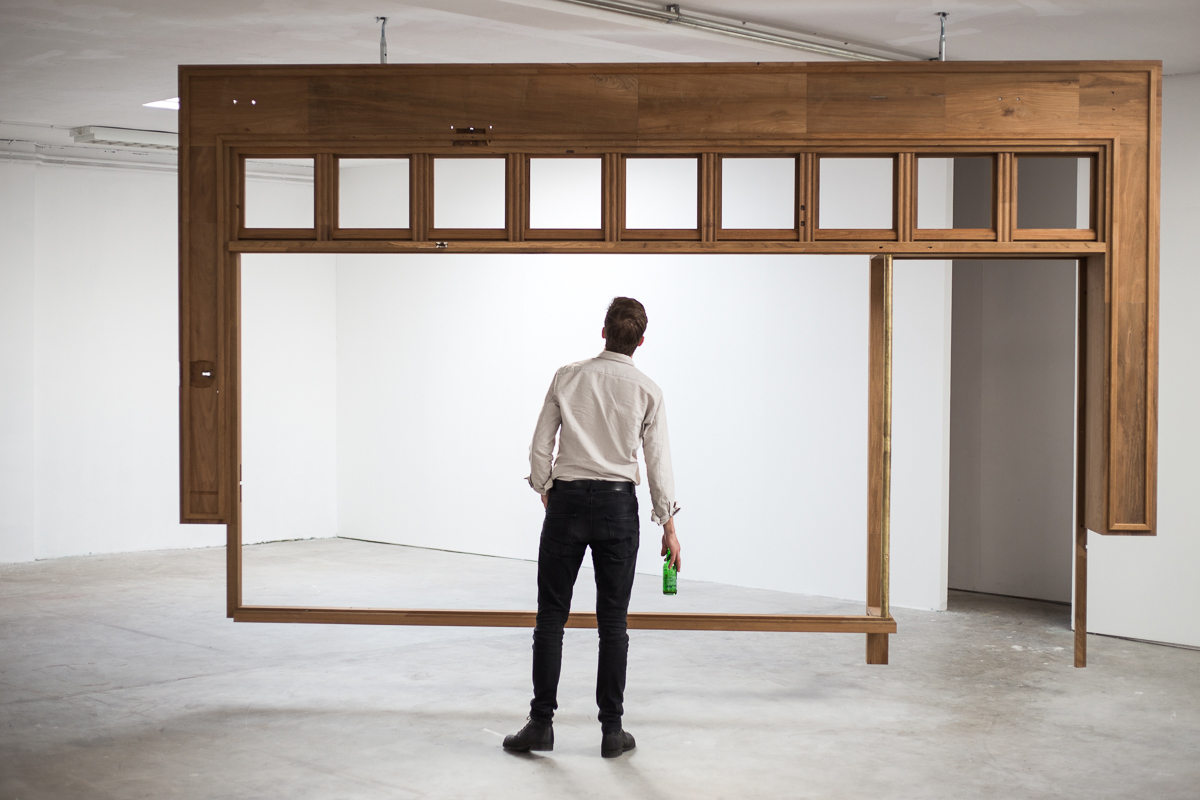 A visitor during the opening of the solo by Pieter Paul Pothoven, May 2018 (photo Maarten Nauw)
What was your first job in a gallery? Or did you immediately start a gallery yourself?
Alexander: Because of my love for theatre, I have worked for a long time as an actor, copywriter and chairman for various clients from the business community and the government. Due to the crash of 2008, the number of assignments declined and I decided to study art history. I liked writing papers for the study. At one point, Jaring was asked to write a piece about one piece of art every day for a month for the website galeries.nl, which in a way was the precursor of GalleryViewer. When Benno Tutein Nolthenius, the site's owner, asked Jaring if he knew any people who also wanted to write for a month, he introduced me. These pieces were then red by a Tubelight editor, who asked if I could write a piece for them too. I felt very honoured and chose an exhibition at 1646 in The Hague. I submitted the piece, but to my disappointment one of their regular contributors had already covered the 1646 show. Jaring then advised me to send my piece to Metropolis M. To my surprise and delight, Metropolis M wanted to publish it. Thus began a period in which I wrote a lot for Metropolis M and Tubelight, among others, where I was also a member of the editorial board for a number of years. I joined the board of AICA Nederland (the International Association of Art Critics) and taught rhetoric at the KABK in The Hague for a number of years.

In 2013, I was selected to participate in the Gallerist Programme of de Appel, organized by Ann Demeester and Nathalie Hartjes together with the galleries of Jan Mot (Brussels), gb agency (Paris), Hollybush Gardens (London) and Raster (Warsaw). The programme lasted less than a year with intensive sessions with gallery owners and art professionals in London, Paris, New York, Sao Paulo and Warsaw. Educational and great fun. Ultimately, as a final project in 2014, I was given a booth for one day at the Liste art fair in Basel, where I showed works by Paul Beumer. Paul is still associated with the gallery and last year we showed him again at Liste, but this time around for a whole week together with work by the Mexican artist Alejandra Venegas.
Jaring: Before we started the gallery, I had a number of other positions in art; I was assistant to the director of The Hague Sculpture, manager of Casco in Utrecht and director of Nieuwe Vide in Haarlem. During my studies I worked for a year and a half for TH Gallery (2005-2009), a special gallery run by the Hague lawyer Theo Dreesmann, who was infected with the collecting virus in the 1990s. He showed work by Armen Eloyan, Philip Akkerman, Anke Roder, Walter Swennen and Philippe Vandenberg, among others. What will always stay with me is his enthusiasm for the artists he showed.
My first sale ever was a work by Manu Baeyens, which I sold to none other than Lidewij Edelkoort. I can still remember the euphoria of that moment! It was at the KunstRAI in 2007 and it was a juggling bear painted on cut-open bath mats. We had previously marked it as the most unsaleable work on the stand, which taught me that unsaleable works of art do not exist. An important lesson that we have also implemented in our own programme.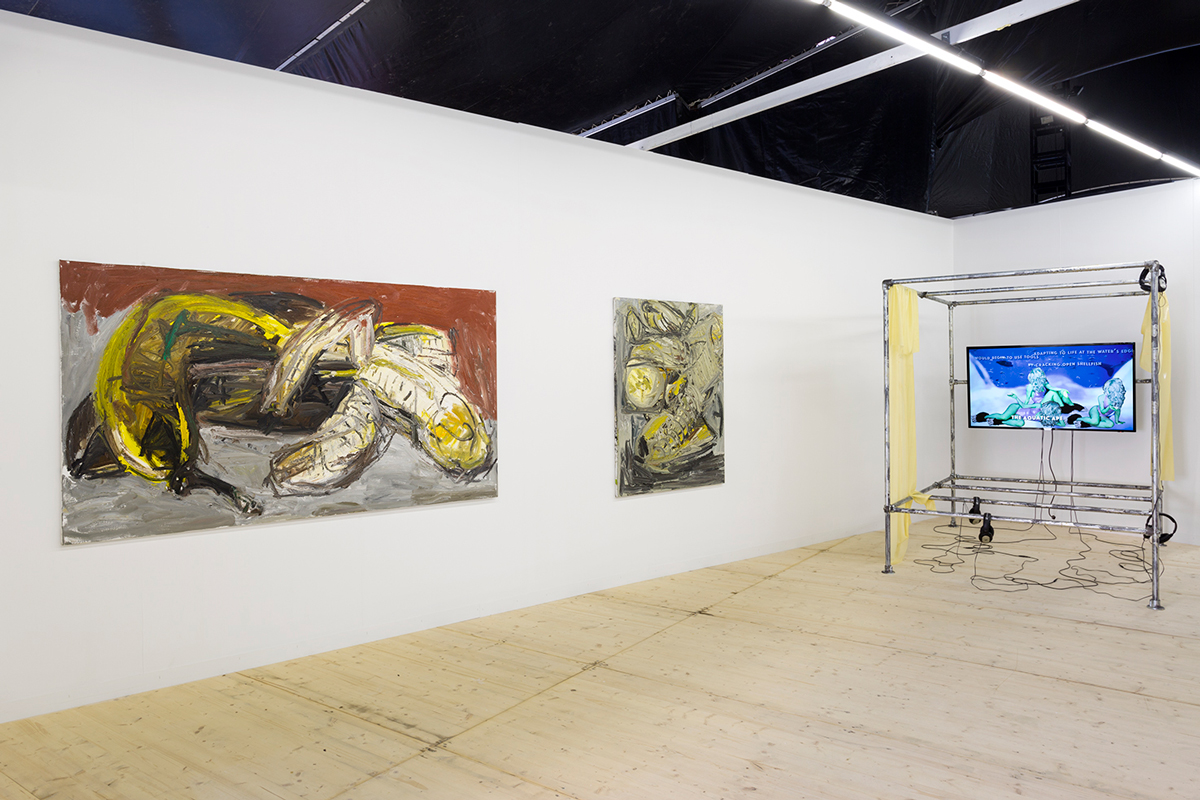 Overview of the first stand at LISTE in Basel, with work by Wieske Wester and Puck Verkade, June 2018 (photo Renato Ghiazza)
How would you describe your gallery's profile?
Alexander: All our artists know how to pair a conceptual approach to a careful mastery of the materials with which they work. We do not only represent artists from the Netherlands, but also from France, Austria, England, America, Switzerland and Mexico. We are known for our handouts, which have been designed by Chantal Hendriksen from Studio Hendriksen since the gallery's inception in 2015. In addition to a floorplan and description of the works, this always contains an essay or interview, which we commission a curator or critic. We think it's very important that visitors get context with what they see and that they can take something tangible home with them, which they can refer to at a later time. We also mention the prices of the works on the handout, because visitors sometimes have trouble asking for prices. We want to be very transparent about this.
Jaring: Our area of interest is very broad. On the one hand I admire people who focus very specifically on one niche, but it would get very boring myself. I like to think of myself as a football coach; four centre strikers are of no use to you, your team also needs a right back and a left winger. What we really enjoy doing is pairing a younger generation of artists with more established names. Since we started representing Jacqueline de Jong in 2017 – and were allowed to take over Willem Hussem's estate a year and a half later – that has crept in unnoticed. Also, we do have the urge to say a lot about what we show. At art fairs we are known as the gallerists who are constantly chatting. Whereby we do that without regard to persons; novice buyers receive the same treatment as reputable collectors. I think we are also seen as art fair tigers. Participating in many foreign fairs is risky and costly, but if you make the right choices, it is not impossible (partly with support from the foreign scholarship fund of the Mondriaan Fund). If you want to end up at a fair like Liste, which we managed to do in 2018, you need to show yourself at other fairs, otherwise you won't manage to get a foot in the door. And of course, it provides you with an alibi to visit all kinds of beautiful places abroad.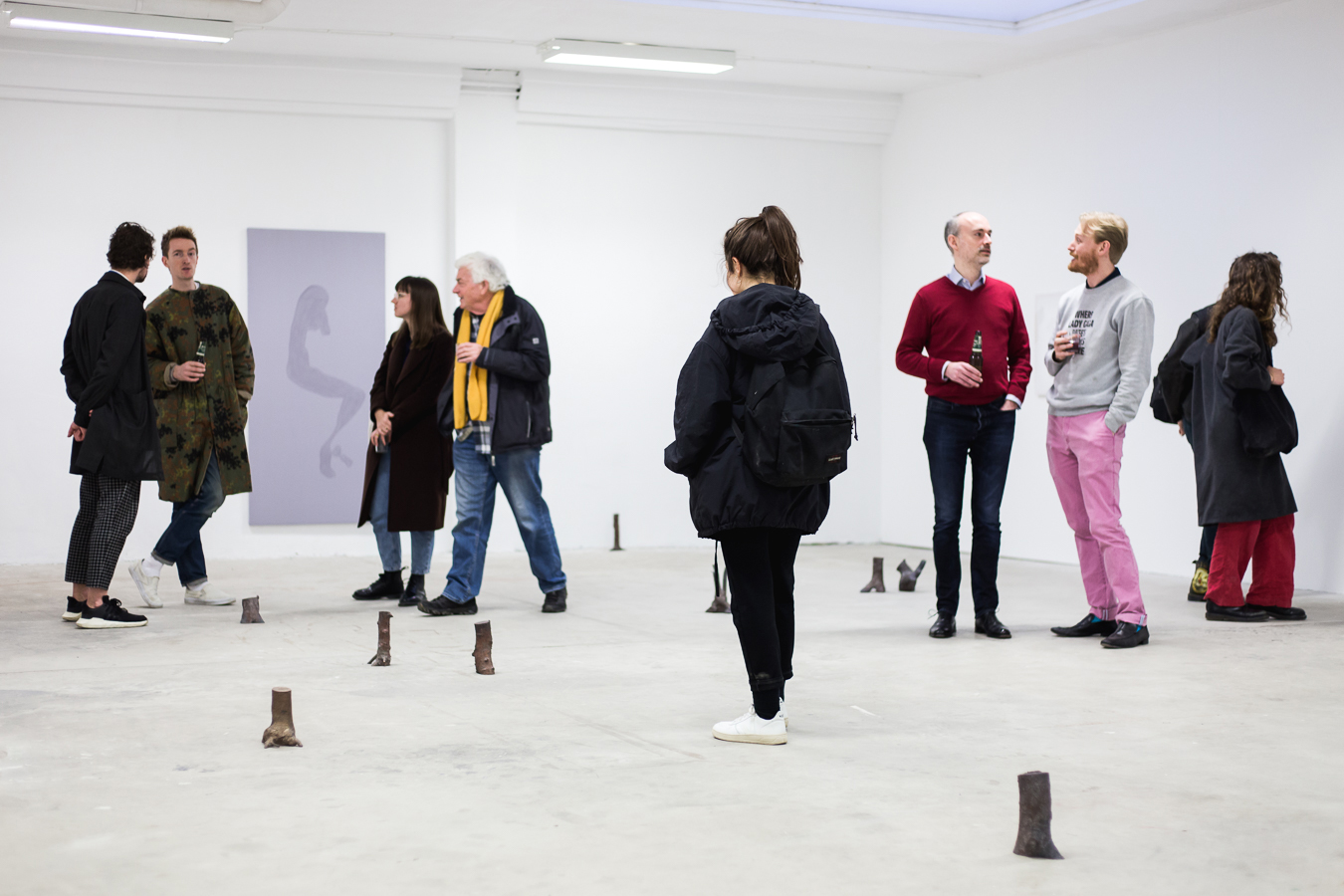 Opening of Alex Farrar's solo exhibition, February 2019 (photo Maarten Nauw)
What do you think is the best part of being a gallerist?
Alexander: The best part is installing the exhibitions in the gallery and the presentations at art fairs, whereby something is created out of nothing every time. Looking, hanging, looking, hanging, looking, questioning together with the artist and suddenly everything falls into place, as if it always had to be this way. In addition, the trips we have made over the past seven years for participating at art fairs – in Madrid, Lisbon, Miami and Mexico City for example – are of course unforgettable, partly because you meet people who appreciate the artists you show. Something always happens at a fair, even if it is sometimes only afterwards. Patience is certainly a virtue in this business. In addition, it is a crown on our work when museums collaborate with our artists or purchase work. Our artists have exhibited, for example, in the Stedelijk Museum Amsterdam, Kunstmuseum Den Haag, the Fries Museum in Leeuwarden and Wiels in Brussels. The programme for the coming season includes the Lyon Biennale, Kunstmuseum Basel, Kunsthaus Zurich and Schloss Moyland.
Jaring: Being able to work closely with artists, helping them further with their practice – and vice versa, because I can talk as well, if the art is crap, you won't get there in the end. We do not decide to collaborate with artists overnight. Since we started, all the artists we have come to represent are still part of our programme. Our artists feel like family members or close friends. I also find the relationship you build with some collectors very special – every story is unique – for example, The Swiss who developed an obsession for Wieske Wester and a large collector from Brazil to whom we sold a water text by Lennart Lahuis for the first time., to the Amsterdam couple who made their first serious purchase with us, after which they became captivated by the collector's virus.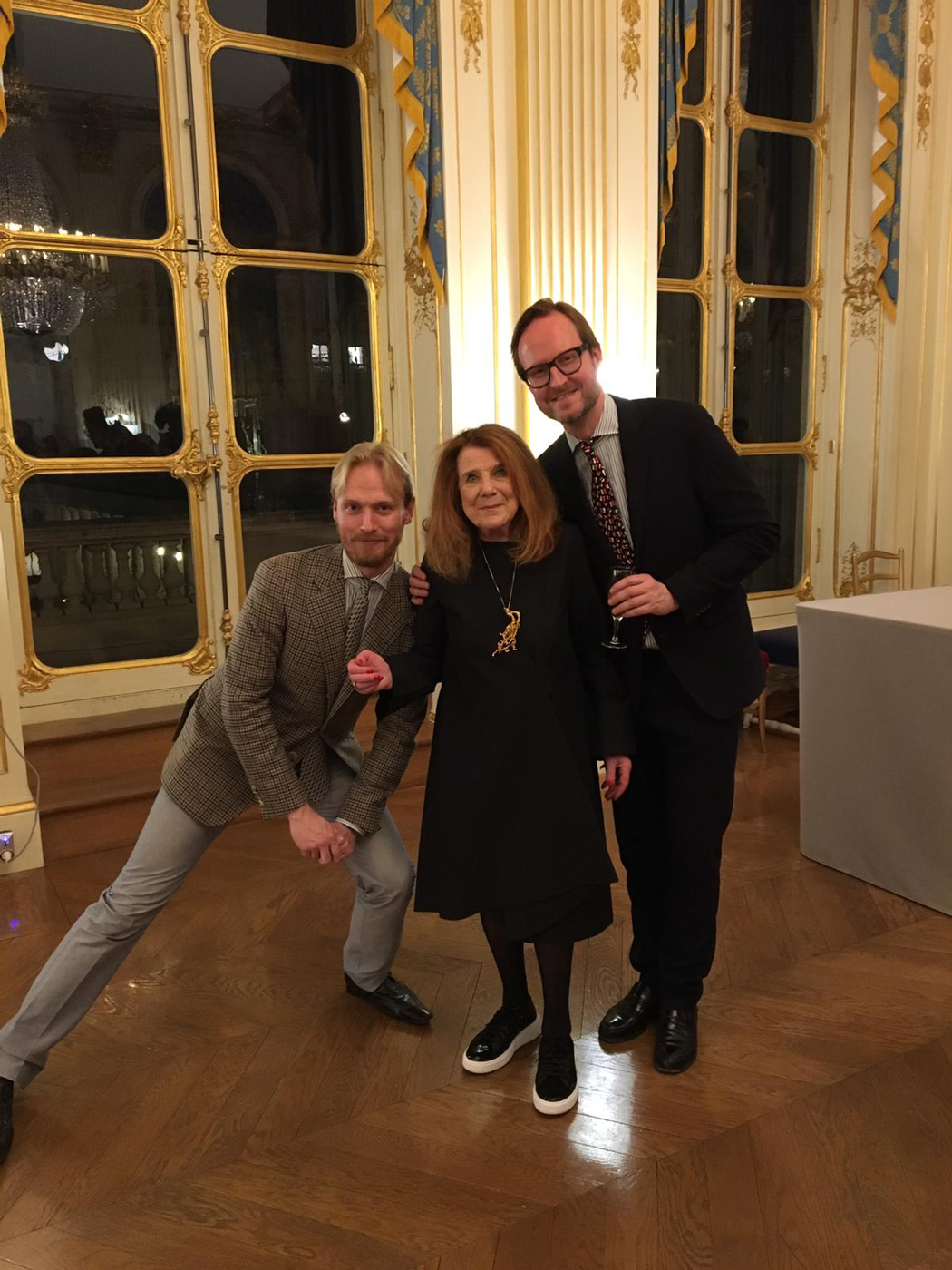 Jaring and Alexander with Jacqueline de Jong after receiving the Prix Aware at the French Ministry of Culture in Paris, March 2019
Which national / international galleries do you feel an affinity with?
Alexander: It is a pity that the galleries our peers Rianne Groen and Pieter Dobbelsteen (Cinnnamon), both in Rotterdam, have now closed. They had their own voice in the Dutch art landscape and were also ambitious in terms of programming and participation in trade fairs. I think it's fantastic that Annet Gelink has had a strong programme for years and that she manages to be in the main section of Art Basel every year. Few Dutch galleries can match that, but it is high time that happened as Dutch galleries should operate much more internationally. The fact that the Amsterdam-based Diez Gallery has managed to end up at Paris Internationale within a year is excellent. The quality is definitely there, we can be proud of that and we have to propagate that.
Jaring: That would be a very diverse group of galleries. The click is partly in the programme, but it's also personal. When we were almost unable to do art shows during the pandemic, I found myself really missing some colleagues, especially those who started their gallery at about the same time as us, such as Copperfield (London), Madragoa (Lisbon), Bonbon (Barcelona), Nir Altman (Munich), Sophie Tappeiner (Vienna), Joseph Allen (Paris) and Oktem Aykut (Istanbul).
Of the galleries that have been around for a while, we have good relations with Leto from Warsaw, Proyectos Monclova from Mexico City and Ellen de Bruijne from Amsterdam. Ellen gave a lot of advice and assistance when we started the gallery. In the Netherlands, I also have a lot of admiration for Grande Dames such as Martita Slewe, Boudi Eskens and Cokkie Snoei, but I also think it's great that Mulan Go, Fleur & Wouter and M. Simons have arrived on the scene. The latest industry report by the Dutch Gallery Association showed that the average age of galleries has gone up enormously. In other words, there are less new recruits, and I feel a kind of responsibility to support the 'youngsters', as Ellen has done with us.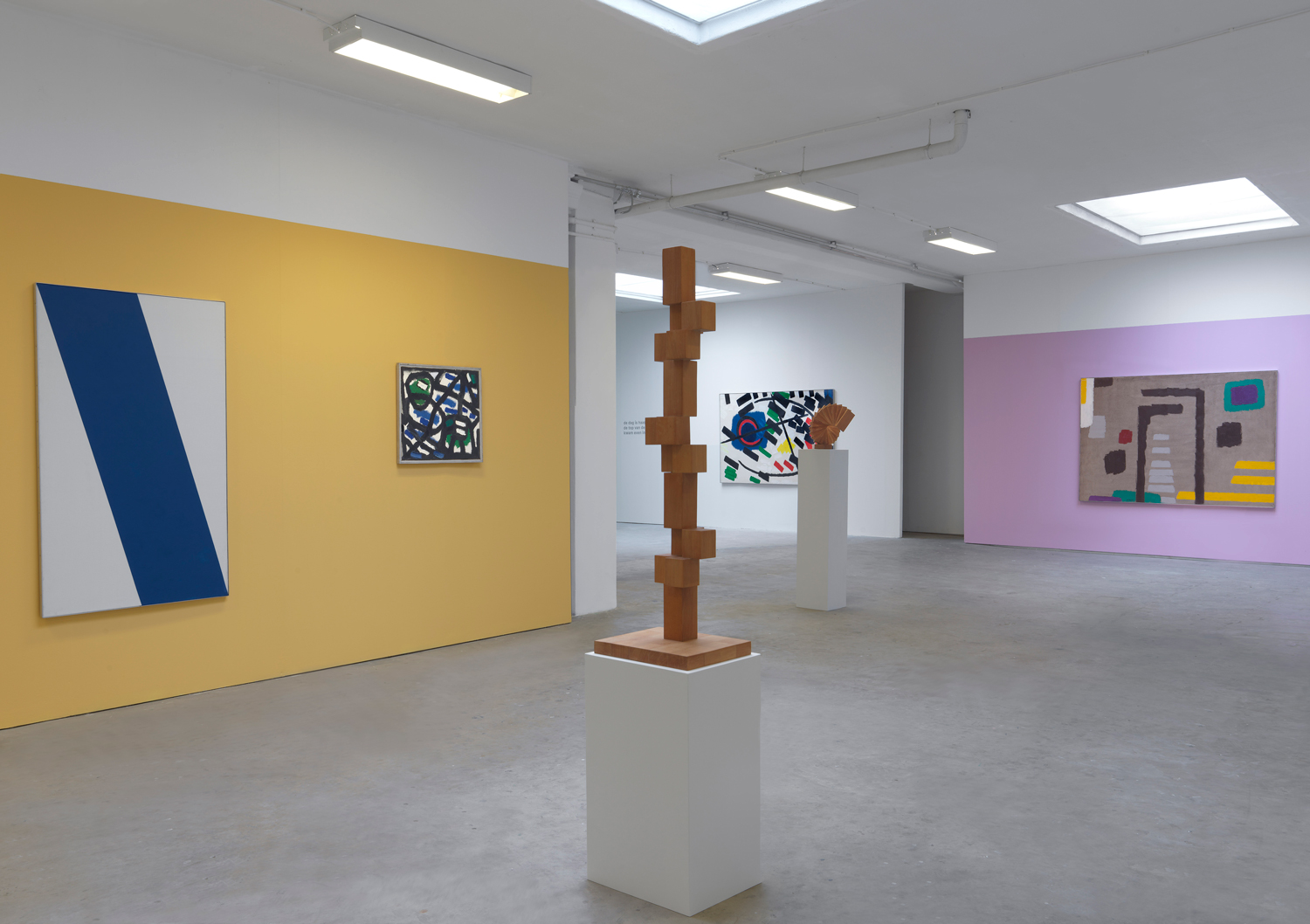 Overview of Willem Hussem's solo exhibition, June 2019, in which artist Paul Beumer was responsible for the color scheme of the walls (photo Gert Jan van Rooij)
In an ideal world, which artist would you most like to represent?

Alexander: I have a soft spot for the textile works of Vivian Suter, as well as those of Claude Viallat.
Jaring: I am thinking of Simon Fujiwara or Adrián Villar Rojas. Great artists who know how to create beautiful total installations, but whose individual works also have sufficient expressiveness.
Jaring wins the prestigious Sausage Award in Basel at LISTE, June 2019
What has changed in the art world since you took your first steps?
Alexander: Instagram has become very important in recent years, especially for keeping people informed and engaged about your activities. In addition, it is a handy medium to quickly get in touch with people whose phone number or email address you do not have. My first contact with Mexican artist Alejandra Venegas, now represented by us, was through Instagram. I had seen her work in Mexico City when we participated in CONDO Mexico City in 2019, with a presentation by Paul Beumer and Willem Hussem.
Jaring: When we started to take an interest in contemporary art, the Amsterdam Gallery Renaissance was just taking place, with the emergence of Juliette Jongma, Martin van Zomeren, Upstream and Zinger Presents. Those years before the banking crisis of 2008, must have been great for business. A decade later we started under a different star, and the international landscape had also changed; the major fairs put much more emphasis on galleries from outside Europe, making it even more difficult to get that spot on Liste – our most important dot on the horizon for the first five years. The online component has also been added. We are really starting to notice lately that we are doing more sales via Instagram, for example. We also see that more young collectors are joining – a club like Young Collectors Circle is making a major contribution to this.
In addition, the importance of alternatives to art fairs has increased, such as CONDO, of which the original version was conceived by Jeanine Hofland, and Friend of a Friend in Warsaw, in which we participated in 2018 with a presentation by Sybren Renema. Also, smaller-scale exchanges between galleries are also becoming more common. For example, in November we are guests at Madragoa in Lisbon, who invited us to make a show with our artists in a room next to their own gallery. As a gallery owner it is important to go abroad. That is not only good for spotting new artists – we don't like to just scout the Rijks and Ateliers – but also to interest other galleries in our own artists.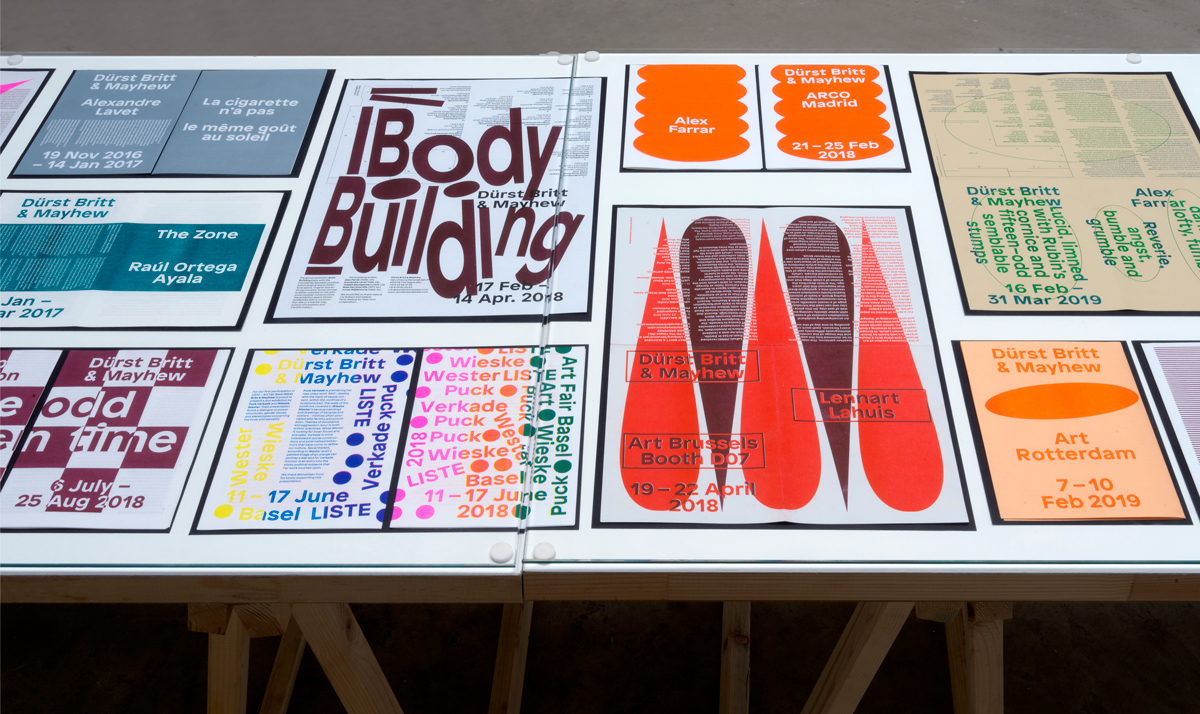 A selection of the handouts that Chantal Hendriksen has designed for the gallery in recent years can be seen during the anniversary show Vèf Jaah, February 2020 (photo Gert Jan van Rooij)
What / whose work do you collect yourself?


Alexander: I really enjoy discovering new artists, like recently with gallery owner friends, such as Cole Lu and Ndayé Kouagou at Nir Altman in Munich or Natsuko Uchino at Galerie Allen in Paris.
Jaring: In addition to work by our own artists, I am very fond of works that we bought before we started the gallery – by artists such as Marcel van Eeden, Martijn Hendriks, Marijn van Kreij and Zeger Reijers. My last purchase dates from last year, a drawing by Daniele Formica.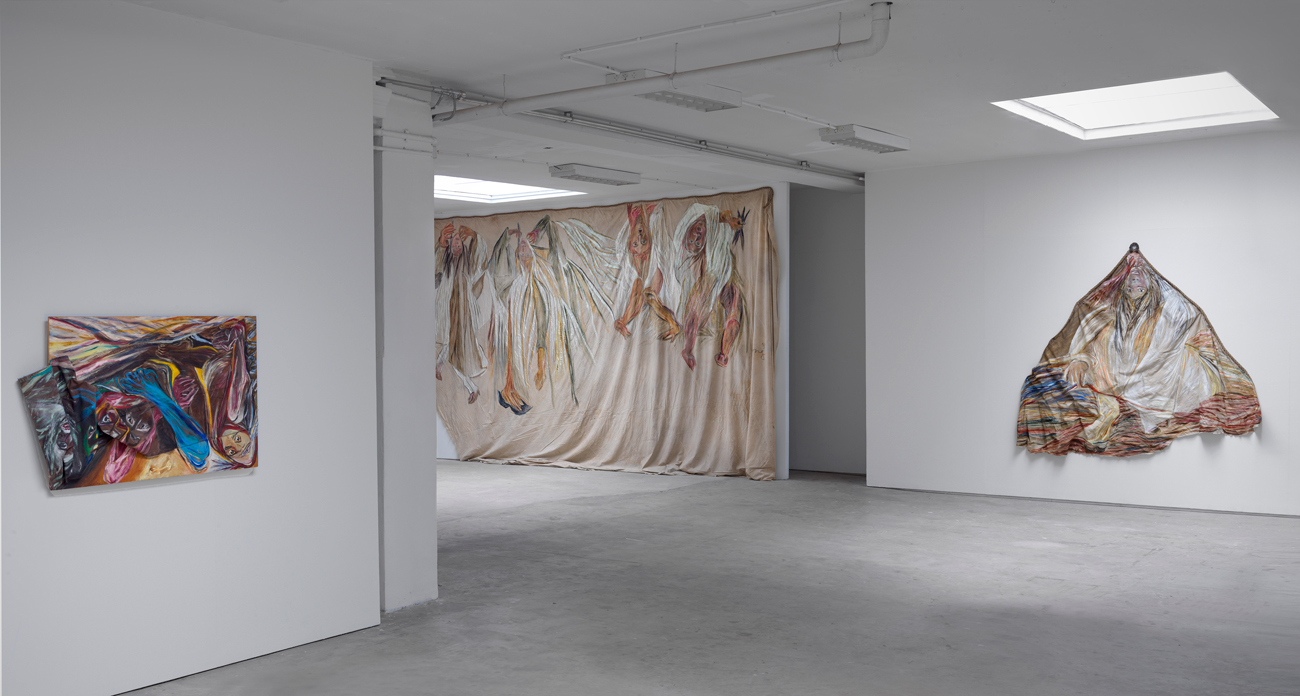 Overview of the solo exhibition of Jacqueline de Jong, April 2021 (photo Gert Jan van Rooij)
Has the pandemic changed the way you see the artworld?

Alexander: As the proverb goes: a good neighbour is worth more than a far friend. Although it is great fun to travel the world, there is also a lot to be gained closer to home. We survived the pandemic partly because support purchases were made by Dutch collectors who have been following us for a long time.
Jaring: I think the pandemic has made galleries realize that there needs to be more collaboration among themselves. In the form of new bodies such as the international IGA, but also through existing structures such as the Dutch Gallery Association. In March 2020, when the pandemic broke out, I joined the board of the NGA. I noticed then that if you listen carefully to everyone's interests, make an inventory of the most important challenges are and look at where the opportunities lie, you can achieve quite a lot for the sector. In addition, I hope that collectors will visit galleries in their own region more often and less hop on the plane for fairs. More quality and less quantity. During the lockdowns, during all those forest walks and reading sessions, people experienced that escaping the rat race of 1000 events can be very pleasant.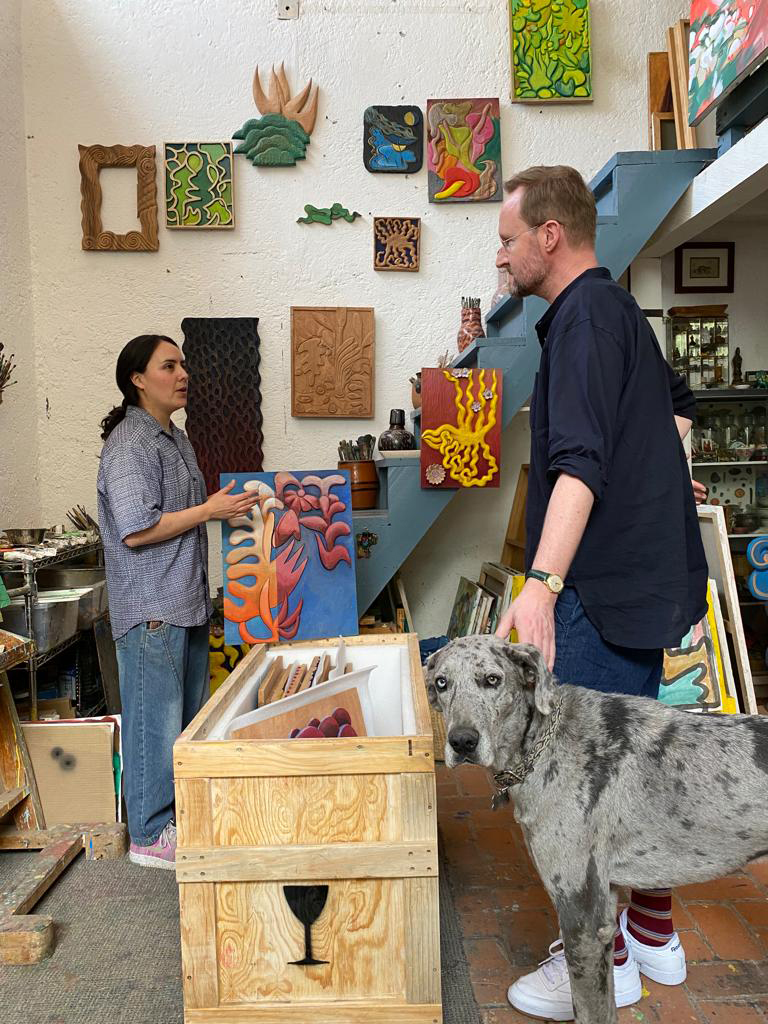 Alexander on a studio visit with Alejandra Venegas in Xochimilco, just outside Mexico City, February 2022
---
See all artists represented by Dürst Britt & Mayhew