Best of Graduates 2020, Courtesy Galerie Ron Mandos, Amsterdam.
The annual Best of Graduates exhibition at Galerie Ron Mandos is more relevant than ever this year, as many graduation exhibitions were not open to the public. Narges Mohammadi wins RM Young Blood Award.
A special edition
"It is a special edition. Everything is slightly different this year", says Valentijn van der Hulst of Galerie Ron Mandos. "Normally this show takes place in the summer, after the graduation shows at the art academies, but due to the pandemic, many academies pushed back their graduation exposures to the autumn or even canceled them completely. We moved along, as it were." Like the 12 previous editions, this edition was curated by Radek Vana and the Ron Mandos team.
"Right now, offering a platform is extra important for young artists," says Van der Hulst. Therefore, the number of exhibiting graduates is larger than before with 25 in stead of 20. In addition to the RM Young Blood Award, the Public Choice Award and the Photo Talent Award, the RM Residency Award will be presented for the first time this year. "After the exhibition, we also offer artists help if they have questions. For many of them it is a first step outside the academy, their first exhibition. This is one of the reasons why we are starting a residency program."
Shimon Kamada en Ron Mandos bij het werk van Kamada,
Courtesy Galerie Ron Mandos, Amsterdam
.
Ron Mandos presented the first RM Residency Award to the Japanese painter Shimon Kamada who graduated from the HKU. Gallery owner Ron Mandos: "Shimon Kamada is a very talented and versatile painter whose work shows so much sensibility and painterly skill. The way he fuses recognizable settings from everyday life with fantasy and dreamlike elements keeps fascinating me. With our new residency program I would like to support this talented artist and add an extra layer to the Best of Graduates platform."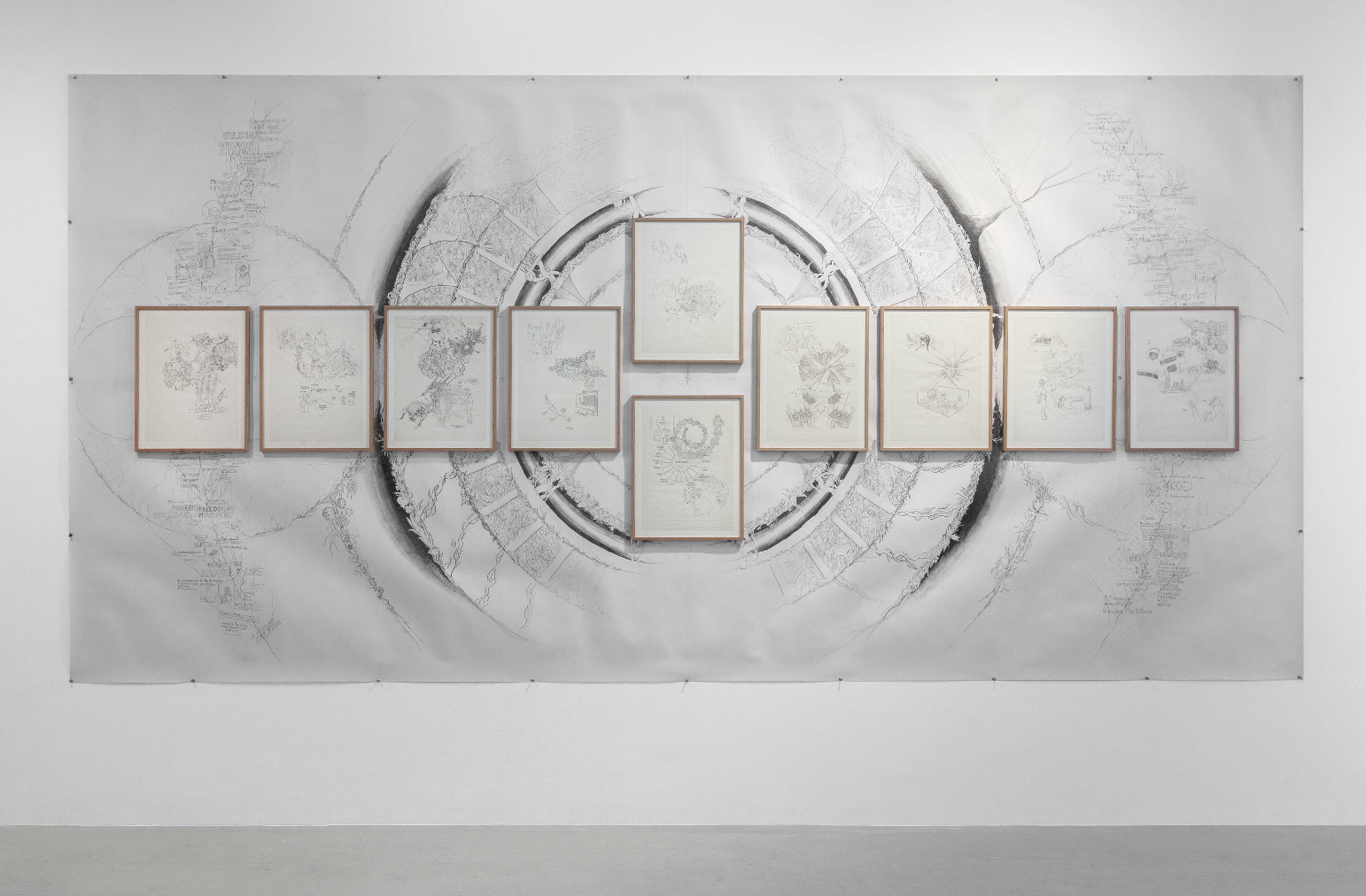 Tasio Bidegain, Courtesy Galerie Ron Mandos, Amsterdam.
Of course, the pandemic is also reflected in the work of a number of the graduates, including in the work of the Frenchman Tasio Bidegain. The Rietveld Academy graduate and winner of the RM Photo Talent Award graduated in photography, but on display here are drawings in which he combines a news photo, the Covid virus and virtual reality. There's a lot of attention for photography this edition. In addition to Bidegain's work, works by Sophie Flint and Marta Capilla Urbano, also from the Rietveld Academy, are on display.
Cargo bike gentrification
De Amsterdam-born artist Sophie Straat is responsible for the most eye-catching work of this edition. Straat comments on the social consequences of the capital's booming housing market using a bright pink cargo bike, the symbol of gentrification according to Straat. In addition, she made a record with typical Amsterdam torch songs in which she sings about the change from the perspective of the original residents.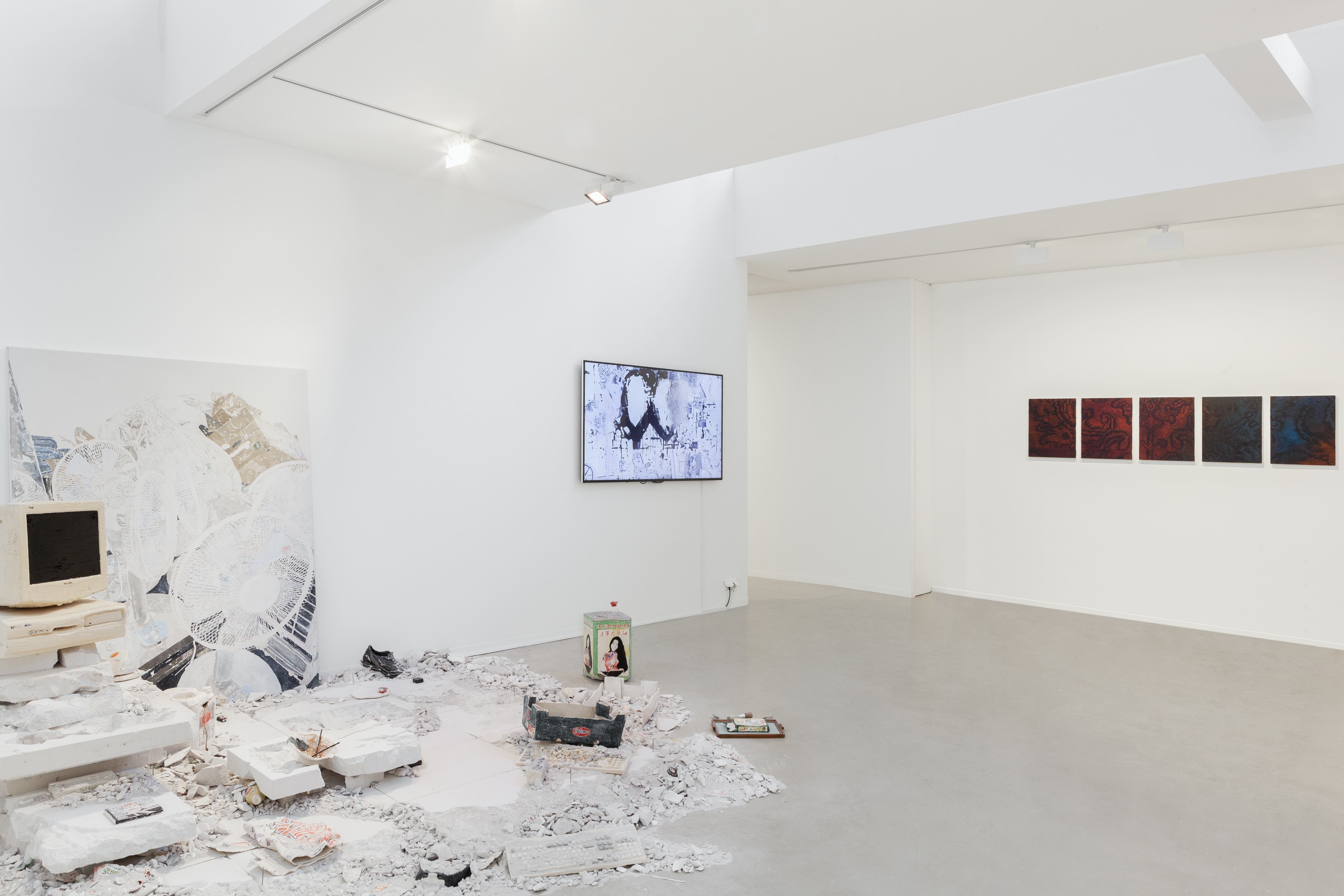 Links: Installatie Ruben Raven, Courtesy Galerie Ron Mandos, Amsterdam
.
The Public Choice Award was presented to Ruben Raven, also a Rietveld Academy graduate. Raven is targeting our consumerism. He comments on contemporary consumer society with an installation that resembles an archaeological site where discarded ceramic computers, CDs, tins have been found.
A house made of halva
This year's RM Young Blood Award was presented to Narges Mohammadi (KABK). As a graduation project, the Dutch artist with Afghan roots, together with her mother and grandmother, made a house of 700 kilos of halva. A pastry that is eaten together to relieve the grief of the loss of a loved one.
Barbara Bos, Head of Exhibitions at Museum Voorlinden, says of Mohammadi's work: "Especially in a time of distance in which contrasts become much more visible and tangible, Narges Mohammadi knows how to connect people through her autobiographical work. Her work moves the viewer directly, because it touches on the essence of being human for better or for worse." Narges Mohammadi's work Passing Traces will be included in the collection of Museum Voorlinden.
---