Exhibition view solo exhibition 'Vroeger was ik ook voor de vrede' Sven 't Jolle, 14.10 - 19.11.2023, PLUS-ONE Gallery (New South)
A child cradles her deceased grandmother in her arms, while an other clings tearfully to the remnants of a mailbox. Jesus is looking miserable, taking a break after chopping down his cross. The exhibition at Plus One Gallery, entitled I Used to Be for Peace Too! by Sven 't Jolle, is emotionally gripping and makes the viewer wonder what we are doing to each other.
Sven 't Jolle (1966) has been living in Australia for a decade. On first seeing his sculptures, the escalating Palestinian-Israeli conflict immediately comes to mind. But this conflict intensified after Sven 't Jolle had already prepared his exhibition. His body of work has been addressing injustices for over 30 years. In 1999, during the NATO bombings in Yugoslavia, he engaged in a discussion with Jan Hoet, who commented, "I used to be for peace, too." As a recent art graduate, 't Jolle stood up for peace. This is evident in a poster he created in 1990 for an anti-war exhibition entitled Peace Art at the Zuiderpershuis, coinciding with the outbreak of the Gulf War.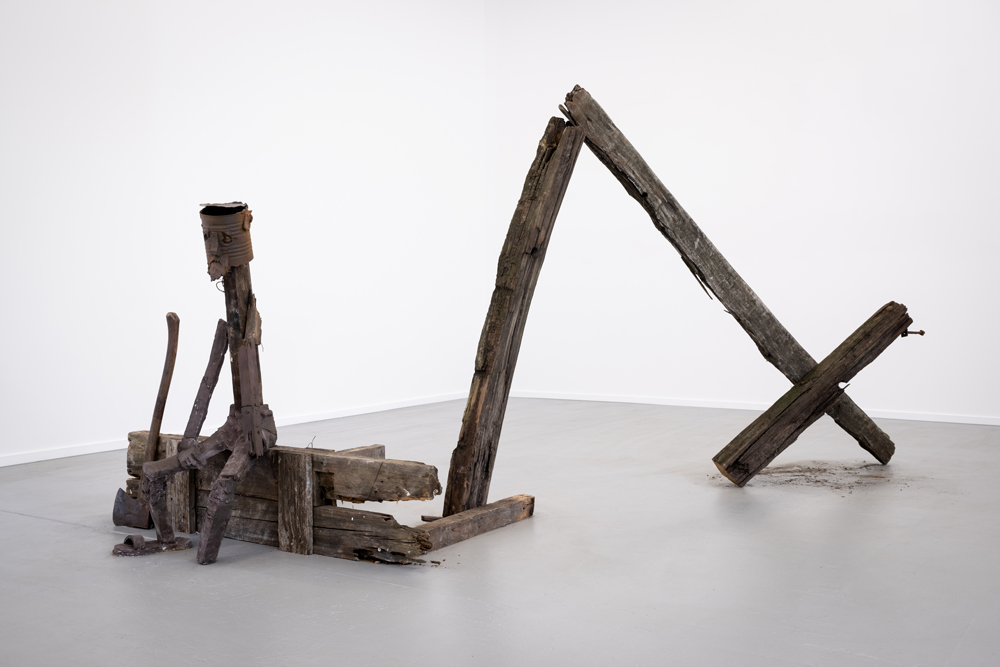 Exhibition view solo exhibition 'Vroeger was ik ook voor de vrede' Sven 't Jolle, 14.10 - 19.11.2023, PLUS-ONE Gallery (New South)
Current Affairs
War and misery are constants in his work. 't Jolle can easily combine both earlier and recent works, as certain pieces remain relevant. Backpack (Früher waren wir auch fur den frieden) (2002) is a green-painted hiking backpack adorned with peace symbols, with an image of nighttime bombings in Baghdad on it. "The title is based on Jan Hoet's quote," explains 't Jolle. "I translated the quote into German and make reference to the Green Party. At that time in Germany, they were part of the federal government, with Joschka Fischer as Minister of Foreign Affairs. Fischer, a May '68 activist, had a leftist radical past. But in 1999, he led Germany into a foreign war for the first time since World War II. A few years later, Germany followed the U.S. in sending troops to Afghanistan. This was also the destination for many of Fischer's generation, who backpacked there in search of self-discovery or to explore Eastern wisdom. Fischer expressed doubts about the second U.S. invasion of Iraq. I note that Annalena Baerbock, the current German Minister of Foreign Affairs and face of the Greens, is one of the staunchest advocates for militarily resolving the war in Ukraine. Recently, Baerbock declared solidarity with Israel and the German government significantly increased weapon deliveries to Israel."
"The backpack is a starting point and the war in Ukraine is a trigger for this exhibition," says 't Jolle. "Russia didn't call the invasion in Ukraine a war, but a special military intervention to protect the Russian population in the Donbas region. This reminds me of the bombings in Yugoslavia, which NATO justified to protect ethnic Albanians. Opinions on the war in Ukraine are divided and there isn't a strong anti-war protest, as there was during the Iraq War. The continuous attacks by Israel on the population of Gaza elicit more reactions. In Australia, the weekly protests are now larger than those against the Gulf War. The war in Ukraine shows how easily the logic of war is accepted as the only realistic form of conflict resolution. With this exhibition, I want to show that I do not follow that logic."
"In Australia in recent years, there has been a palpable sense of the government and media warning the population daily about the threat from China and a possible war. But China is also Australia's largest trading partner, allowing it to avoid a recession as the only OECD country. The U.S. wants to maintain control over the Pacific. Under pressure from the U.S., Australia is focusing on the militarisation of the region, burdening future generations with staggering expenses for 'defence.' Meanwhile, almost all essential aspects of the welfare state are under pressure. Imagine if there's a dispute over Taiwan; are we going to 'solve' that militarily, too?"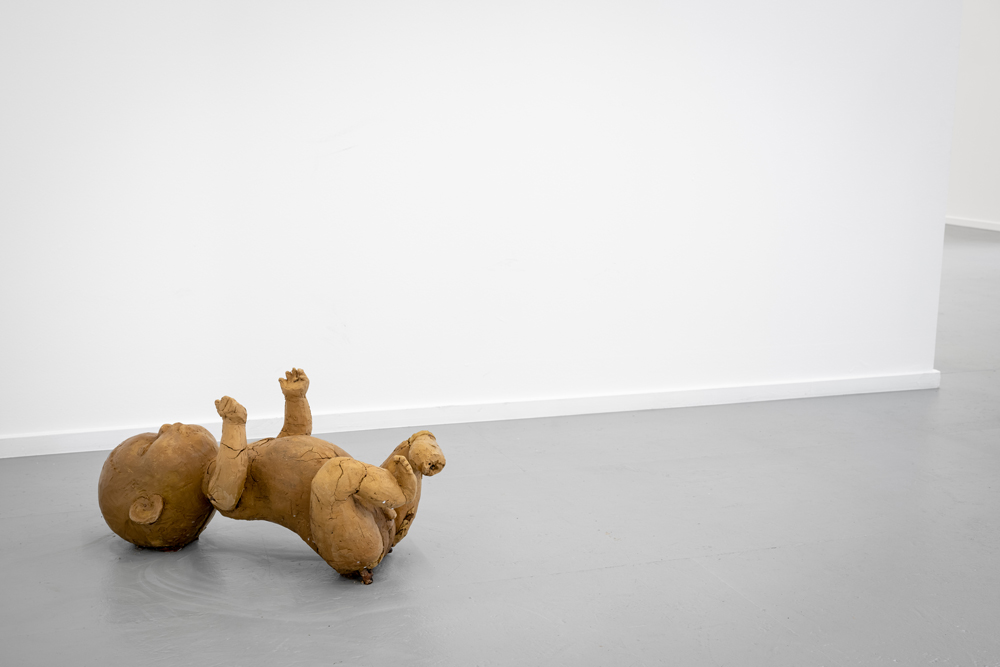 Exhibition view solo exhibition 'Vroeger was ik ook voor de vrede' Sven 't Jolle, 14.10 - 19.11.2023, PLUS-ONE Gallery (New South)
Christian
For the sculpture featuring Jesus and his chopped-down cross, 't Jolle found inspiration in a work by Mexican painter Clemente Orozco. "I find it fascinating to use Christian iconography, even though I am an atheist," explains 't Jolle. "Orozco's version depicts a sign of protest. The normally passive Jesus has had enough. He topples the cross and refuses to resign to his fate. I find that a powerful concept. My version portrays a reflective Jesus, a peace symbol with flaws. It reflects the confusion or state of the current peace movement. It's either Jesus taking a break or a peace movement pausing to regain strength before continuing."
't Jolle also creates a reversed pieta. "The child is holding its dead grandmother. I based it on a series of drawings I made a few years ago during the pandemic. How the elderly are treated and forgotten raised questions. Looking through my sketchbooks from the 2000s, I rediscovered drawings that represent a woodcut by Käthe Kollwitz as a sculpture. They share similarities with my grandmother and child. Kollwitz shows the victims of war without depicting the fallen soldiers on the battlefield. Her focus is on the survivors: women, children and the elderly. The grandmother wears a headscarf, a recurring element in his work. "That is a reference to Spanish artist Julio Gonzalez," he explains. "He taught Picasso welding and was a pioneer of metal sculpture. Gonzalez had a pronounced interest in form, ranging from figuration to semi-abstraction. He also created a series demonstrating his social commitment."
His work is intertwined with art history. "Sometimes, my interest is piqued by formal aspects of artworks, only to discover that it's a socially committed artist. Or I know it's a committed artist and by studying the work, come to appreciate it more. Art is not made to be viewed only once, but can be revisited. I spend a long time on a piece, so I want it to last. That's why I like to use historical elements or shifting time or places. By placing events within a broader context and spreading them over a longer period of time, they become easier to understand."
Humour
't Jolle often creates sculptures that refer to everyday reality and are immediately recognisable. This engages us with the work and encourages us to look more attentively. The figures are in despair, wounded as it were. We feel the pain in their gaze and posture. "For this exhibition, I am showing work with emotional weight," says 't Jolle. "I want to address a specific theme." He starts with anecdotes or historical references to address socially engaged and socio-critical issues. Details are important and meaningful. He uses colour, form and composition to emphasise meaning and add humour. He constantly seeks to achieve a subtle balance to lighten the heaviness of his subjects. The execution of the sculptures is simple in colour and presents us with a formal execution. The figures consist of mundane shapes, stick figures with a tin can as a head. The representation is absurd and caricatural. "That's my intention. I find Kollwitz's work so intense to look at. George Grosz painted stick figures to depict the horrors of war. I love the combination of presenting a serious subject with a comical form."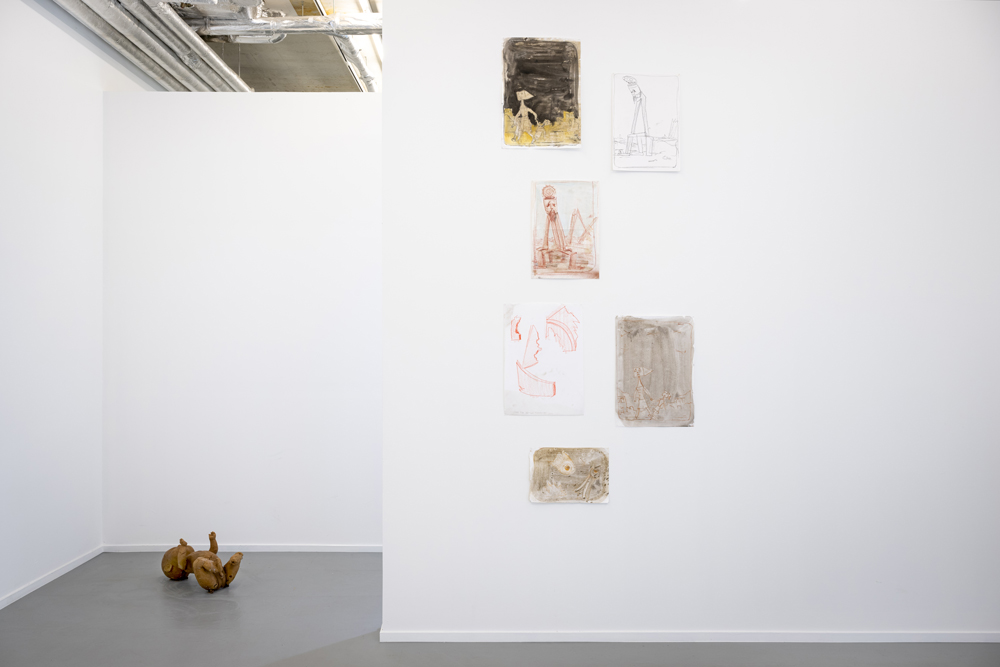 Exhibition view solo exhibition 'Vroeger was ik ook voor de vrede' Sven 't Jolle, 14.10 - 19.11.2023, PLUS-ONE Gallery (New South)
Emotionally charged
Leaning against the wall is a glass plate with a pattern in yellow tape. "I made that work in 2003. It looks abstract, but has an emotionally charged narrative," explains 't Jolle. "It is based on a photograph a fellow artist took in Belgrade. The residents taped their windows so that the glass would not fall out completely during a bombing. Some residents did this with a decorative abstract pattern." This work is part of a series of abstract works. 't Jolle questions whether a work remains abstract once you know the context.
A recent drawing from 't Jolle's sketchbook shows a decorative pattern. "That is an idea for a scarf," says the artist. "I am referring to Picasso here. He was active in the peace movement and made posters, often with peace doves. I replace them with peace drones."
Sadness, power and abuse of power are recurring themes in the exhibition. These issues continue to be relevant, so they continue to fuel his work. "What does war achieve? Is it worth all the victims? What also concerns me is a lack of democratic control," says 't Jolle. "Who monitors war crimes? The madness of war itself, but also the attention and money it receives worry me. Addressing climate change and how to stop it should be at the top of everyone's agenda." For 't Jolle, art has a supportive function in addressing issues. "I draw attention to issues that are often presented in the media in a distorted way," he clarifies. "I show a different perspective. Whether it makes a difference or not, I feel that I need to do my part to contribute." His work is not complacent. We feel the need to wake up. Don't give up, change is possible; 't Jolle still believes in peace.