What does the ideal studio look like? How much time does an artist spend in his studio? Is it a sacred place? In the series 'The Artist's studio' this week: Anne Geene, whose work can be seen until 27 August in the group show, at Galerie Caroline O'Breen. Nature * Patterns, bij Galerie Caroline O'Breen.
Do you visit your studio every day?

In principle, I go to my studio every day, even on weekends. I like being there, even though I don't always work on a project. Sometimes I write plans or grant applications, or read books.
What time do you leave for your studio, and how: on foot, by bicycle, public transport or car?

My studio is only 400 metres from home, but I usually bike there anyway. When the weather is nice, I walk. I am rarely in my studio before 11 am. I usually go for a run before I leave for my studio. Running gives me energy.
Do you hold on to certain rituals in your studio? Music or silence?
When I have to do a lot of computer work, I listen a lot to podcasts such as the BBC's 'In Our Time', 'De Nieuwe Contrabas' or science podcasts, or to talk shows on the radio. When I do writing work, for example for a subsidy application, I work in silence. I don't really have any rituals except that I regularly make a sourdough bread. But that has nothing to do with my work. I do this in my studio because it requires you to be at home for a longer period of time. The dough always needs a little bit of attention.
How important is light to you?
My studio has many and tall windows. Light is especially nice, but I don't need it for my work. On the contrary, if I have a lot of Photoshop work to do, the sunlight sometimes complicates that.
What does your work process look like? Do you work everywhere and all the time or does work only commence the moment you enter your studio?
I mainly do the practical work in my studio, computer work, etc. The collecting - I collect a lot of organic materials - naturally takes place outdoors and coming up with new concepts is a continual process. A good idea can arise anywhere.
How much time do you spend on average per day in your studio?
On average, that will be about six hours a day. Sometimes I go for just two hours, for example. That actually depends on how I feel that day. In principle, I always feel like going to my studio, but sometimes I'm working on something from home. I never really force it. I also rarely leave at the same time. Just when I'm done with breakfast and running etc. Sometimes that's at 10 am, usually later ;).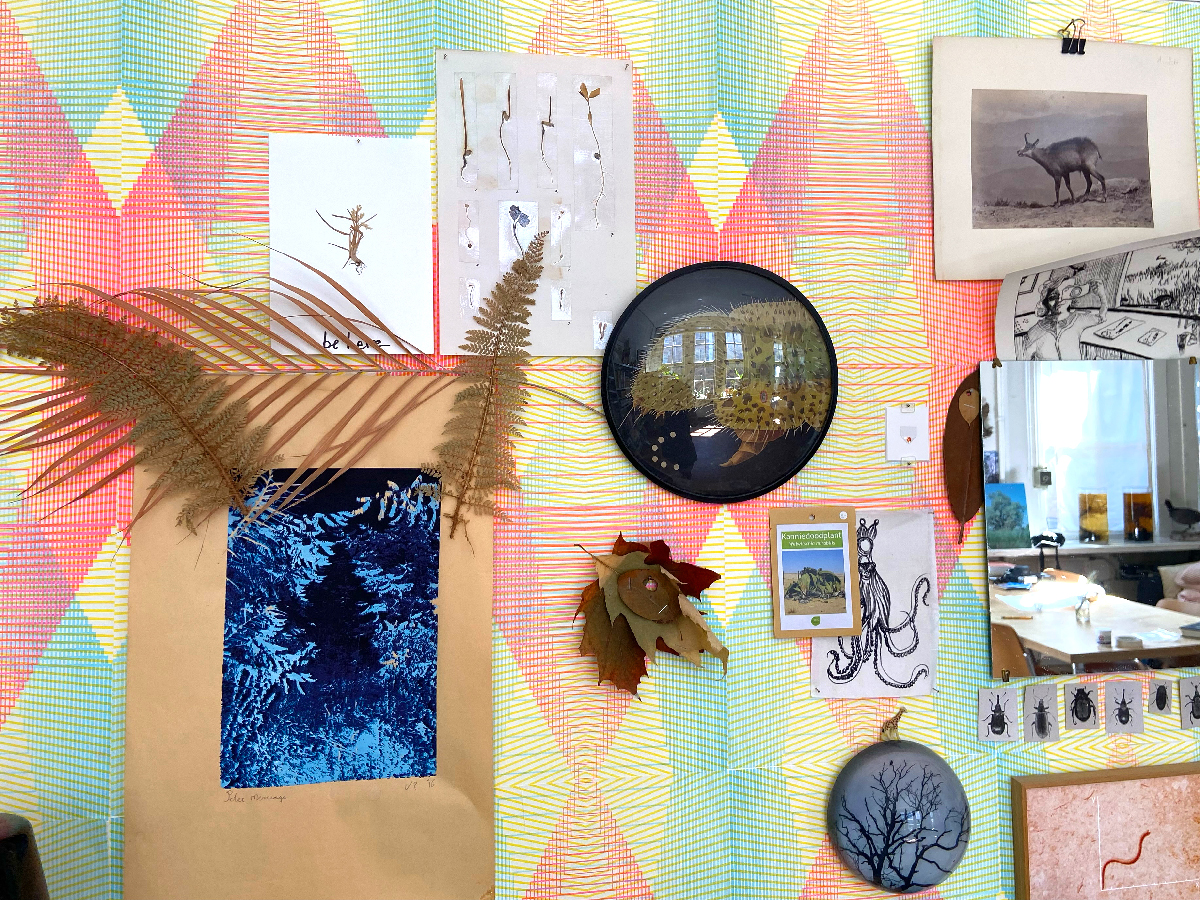 Collectibles
Is your studio a sacred place?
For me, my studio is just a place where I can work comfortably. I can actually do that in all kinds of places, but it's nice to have everything at hand (scanner, computer, dummies and other material). So no, I certainly wouldn't call it sacred. I really like coming here and it's nice to have a place out of the house that is purely for work. I don't normally work on my projects at home. Although the thought processes often continue.
Do you receive visitors there, collectors, curators and fellow artists?
I regularly receive visitors. Private individuals, collectors, curators or colleagues. Other artists from the building (The DCR in The Hague) also occasionally stop by for a cup of coffee, but usually everyone works in their own studio with the door closed. That's also nice since I'm there to work.
What is the most beautiful studio you have ever seen?

I found the studio of Paul Bogaers most inspiring, when he still lived in Tilburg. There is so much to see. A sort of cabinet of curiosities with strange objects, clippings, plants, African masks and finished and unfinished work everywhere.
What does the ideal studio look like?
I think my own studio is quite ideal. Apart from the temperature, which is sometimes difficult to regulate, it is a very nice space, close to home, lots of storage, lots of light and a high ceiling. Since we rent from the municipality, it is also very affordable. I also like that we organize parties and open studio days to keep in touch with each other.