In the 'The gallery of…' section we talk to a selection of gallery owners from the Netherlands and Belgium: when and how did they start their gallery, what has changed in the art world since then, what is their profile, what do they collect themselves, and what is the impact of the pandemic on their gallery? This time it's Oliver Barbé and Christophe Urbain (Barbé-Urbain Gallery)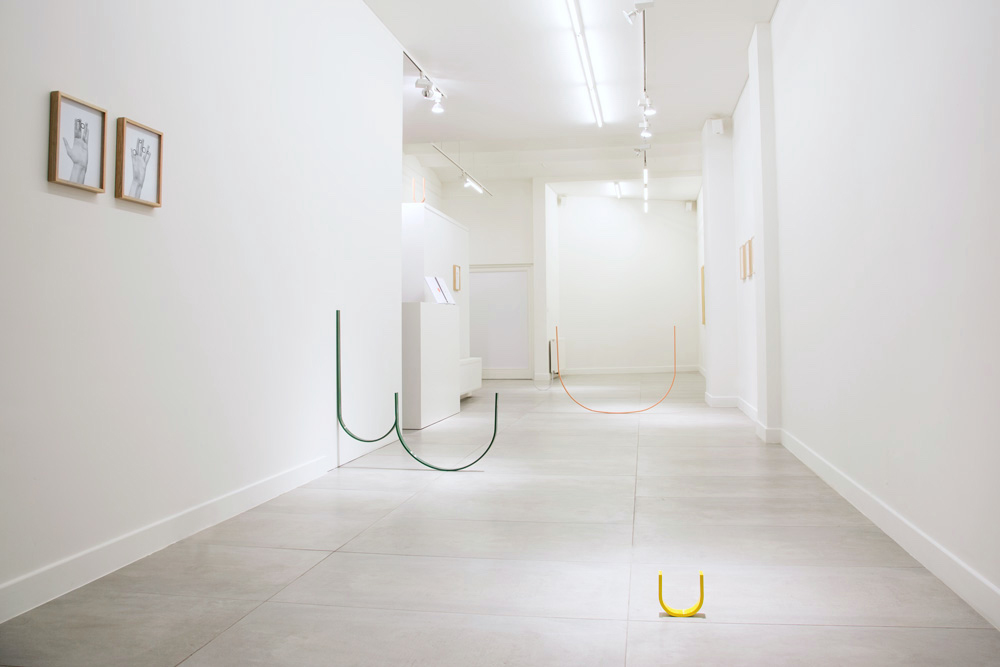 Opening show 'Therefore Everything Is Light' January 2018 with Kasper De Vos, Ode de Kort and Jeanine Cohen.
We're you exposed to art while growing up?
OB: Occasionally, my parents took me to museums, but art certainly didn't have a central place during my childhood. Nevertheless, my grandmother on my father's side was an artist from Latem, who mainly made horses in bronze and painted drowned cities. The smell of oil paint has always been very familiar to me when I walk into a studio, it evokes a nostalgic feeling.
CU: No, not in that shape or form, I grew up with busy parents who showed a ton of finesse for aesthetics, but neither of them had a college education. However, I have always had the advantage that travel was our top priority, so that I had already visited many European cities as a child, as well as their historical sites and museums. My earliest memory goes back to the moment when I was already on the plane to Venice as a 4-year-old.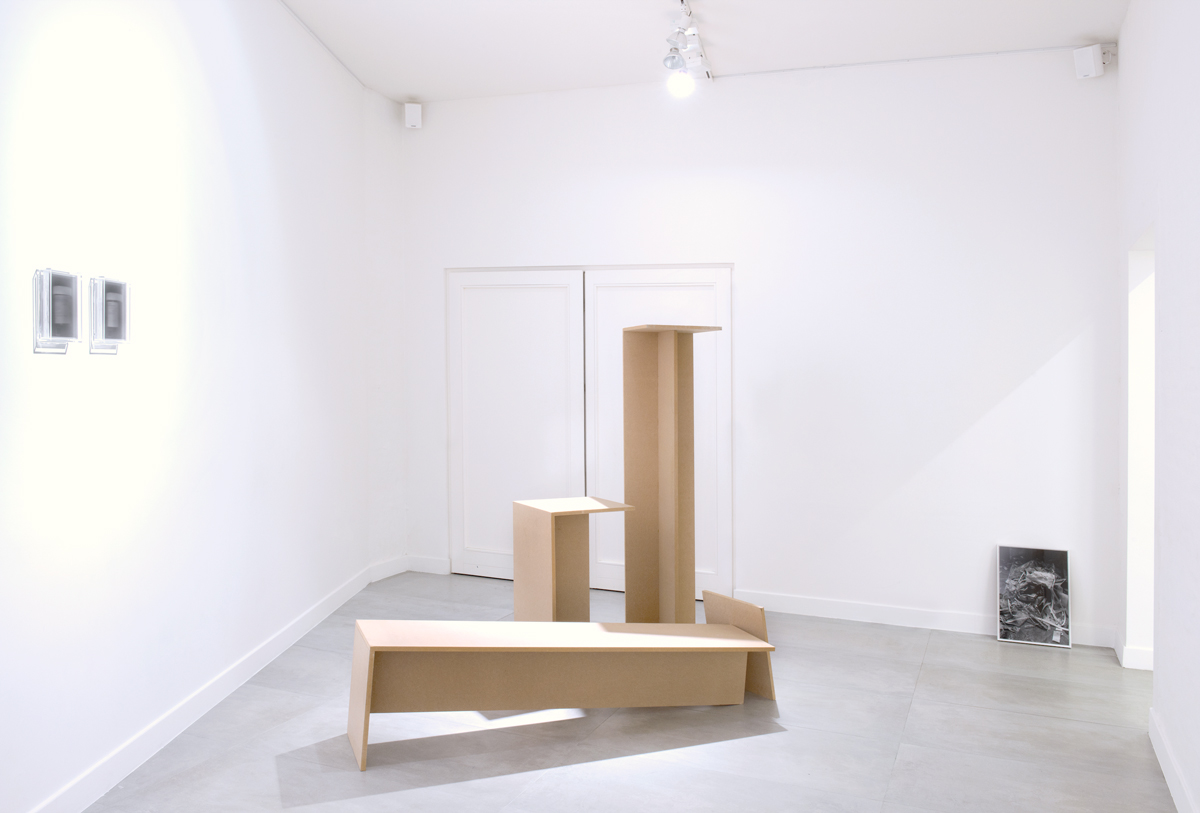 Exhibition 'Between A Rock and A Hard Place' with Middernacht & Alexander, Erlend Grytbakk Wold and Adriaan Verwée.
How did you come into contact with the art world?

OB: Through the parents of a childhood friend, who were collectors themselves. They were the first to make me look at art in a not purely aesthetic way and took me to Venice to visit the Biennale.
CU: I moved to Ghent 22 years ago, where I found myself in a circle of very creative people, friends, who in turn were active in music, theatre, art or photography – that was a first step. Later I met an established gallerist (now a close friend), he introduced me to the Belgian and international art world./p>
What was your first job in a gallery? Or did you immediately start a gallery yourself?

OB: In 2011, I started as an assistant to an art dealer who specialized in modern Belgian painters and subsequently worked at two contemporary art galleries. I also organized solo projects under my own name for another three years, before drawing up a programme with Christophe focussing on the long term and the constant support of artists.
CU: In the following years (after I arrived in Ghent) I often looked for collaborations with artists; in the beginning by giving them a 'stage/platform' in the events I set up, and it is only later that this manifested itself in a few separate independent collaborations, being exhibitions. It would then be another five or six years before I would run into Oliver, and the idea of our gallery started to take shape. I walked into the former space of Barbé Urbain, then Barbé Gallery, on a Sunday, I think it was a finissage… and in the following months I would stop by now and then. His space really intrigued me, we started talking longer and deeper, the click only really came about after one night out, together, in Ghent.
How would you describe your gallery's profile?
OB: We are still a young gallery. From the start we decided to grow slowly. In the first two years we deliberately chose not to discuss representation with artists yet, but to focus on qualitatively curated exhibitions. This gave us the space to gain the trust of artists, because they saw that we are able to build a balanced show. I see ourselves as a transparent gallery in which the relationship of trust between the gallery and the artist on the one hand and the buyer on the other is central. Certainly in the long term, I believe that this provides a solid foundation for further growth.
CU: Oliver Barbé and I started the programme of Barbé-Urbain gallery in January 2018. While promising talent is shown in combination with more established names during the group exhibitions, the focus in solo exhibitions is mainly on emerging artists - who have joined us in the meantime - from home and abroad and show work from different domains.
What do you think is the best part of being a gallerist?
OB: Installing exhibitions. Especially with group exhibitions, it is sometimes challenging to get everything to work together in a balanced way. The moment that you feel that you have succeeded and that you walk through the gallery always gives me great satisfaction. I also really like the project-based planning of a season. It is sometimes hard work and long days, but it always happens in fits. And last but certainly not least is growing together with the artists you work with on a regular basis. Noticing that your enthusiasm for the artists is shared and that fascinating conversations arise, I really appreciate that.
CU: The educational, supporting role with regard to guiding artists in their oeuvre and career on the one hand, and the curation of the works themselves and setting up an exhibition or project on the other.
Which national / international galleries do you feel an affinity with?
OB: As we regularly organize group exhibitions, we often invite artists who are already represented by other galleries. I think those collaborations are really crucial these days. We have already worked with artists from, for example, Dauwens & Beernaert, Irene Laub, Baronian-Xippas, PLUS-ONE, Bruthaus, Keteleer and the former Deweer gallery. Through these collaborations there is always a form of respect and appreciation, and with some this has grown into good friendships.
Internationally I appreciate Berthold Pott from Cologne very much. A nice program and he also works with his artists in the long term. I also have a good relationship with Catinca Tabacaru. Last year she closed her gallery in New York to open a new one in Bucharest, next to her second location in Harare, Zimbabwe.
CU: None, I don't have a natural inclination to look around or make comparisons with colleagues, even if that can serve as inspiration. I'm holding on to our own way! I do admire private initiatives such as 'The Broad' by Eli and Edythe Broad in LA, who are actively opening their collections to the general public. In Belgium we also see smaller private initiators such as Tanguy Van Quickenborne, who open their collections in an interactive way.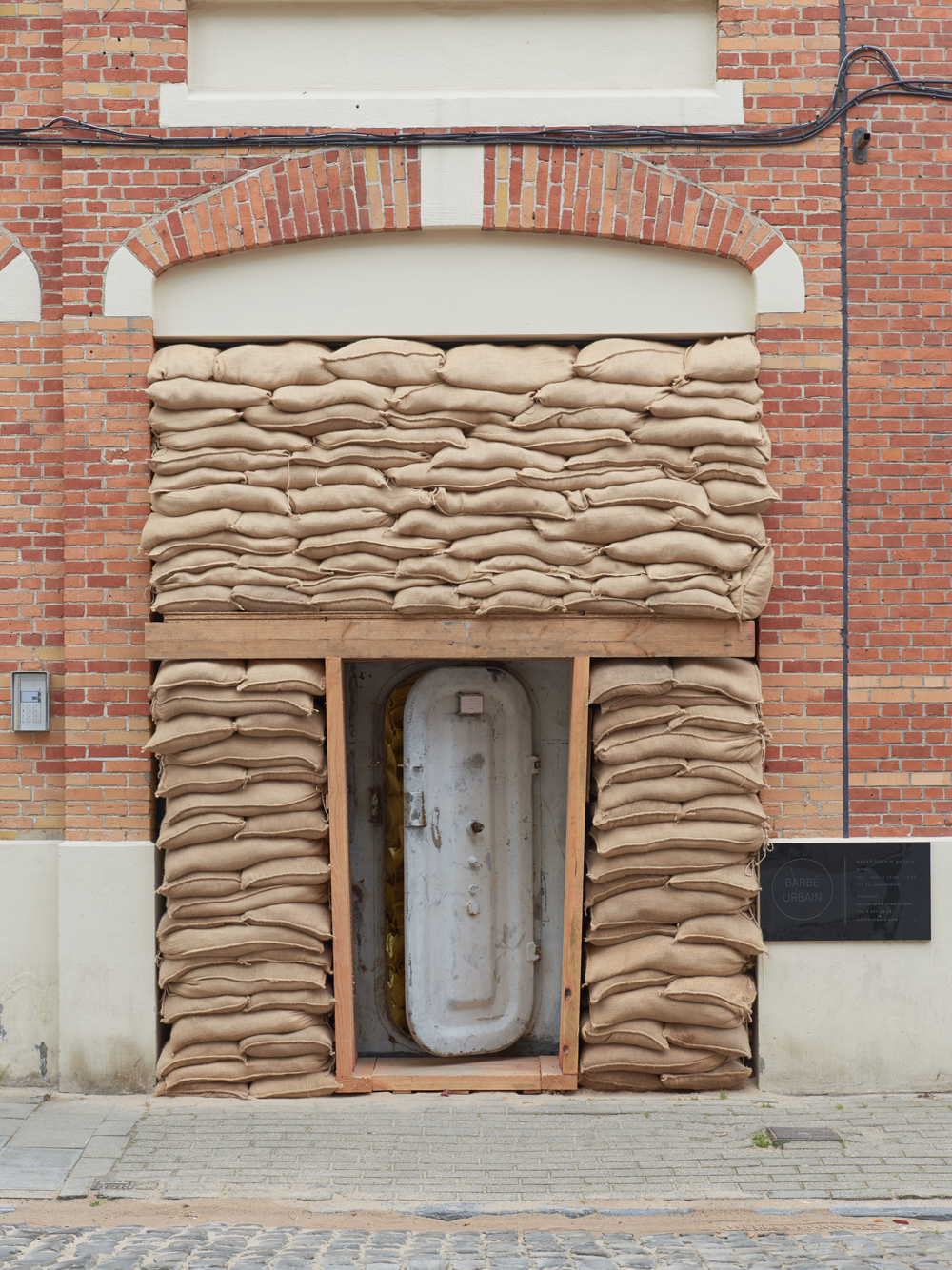 Installation image temporary entrance gallery solo Joost Pauwaert 'Concerto for Two Cannons, A Saw, an Anvil and Some Hammers' 2021.
In an ideal world, which artist would you most like to represent?
OB: Olafur Eliasson. I think it would be fantastic to transform the gallery space into one of his impressive installations where you are completely immersed.
CU: Ai Weiwei. I am a fan of artists with a highly socio-economic conceptual approach and often pair this to an architectural or megalomaniac sculptural execution.