How (and when) did they start their gallery, what has changed in the art world since then, what is their profile, what do they collect themselves, and what is the impact from Corona at their gallery? This week with Mulan Go (GoMulan Gallery)
Were you exposed to art while growing up?

At first, I wanted to say no, but now that I think about it… My parents have always had art on the wall at home. Little contemporary work, and many unknown names: commissioned portraits (Adrean Norman and Robert Schlingemann), paintings including Paul Citroen (and Joanna Quispel), pastels, Japanese woodcuts, ceramic sculptures (Jan de Rooden), Chinese calligraphy and Chinese ceramics (Qingbai).
Yet, they have always cared about what their environment looks like, they are architects. They took us to museums, but also to architectural highlights. My parents had lengthy discussions about this: why something was built properly or not. An opinion was therefore expected from me and my sister. If you don't have an opinion, you could not be a part of the discussion, and this is still the case.
How did you come into contact with the art world?

When I was in high school, I did a short internship at several institutions: at Veilinggebouw De Zwaan, Kunstzalen A. Vecht and Christie's. I was 13 years old back then. Nonetheless I instantly fell in love with the art trade. Everyone I spoke to had a passion for what he or she did, and could tell with a lot of panache about the strangest art objects that were still unknown to me at the time. Which was much more fun than sitting - and mostly- staring out the window in a boring classroom. From that moment on I told everyone that I wanted to set up an auction house. I was ambitious, even then. It was much later that the interest in contemporary art arose.
What was your first job in a gallery? Or did you immediately start a gallery yourself?
In the second year of my Cultural Heritage studies at the Reinwardt Academy, I did an internship at Galerie Nouvelles Images in The Hague. There I learned a lot from Marie Jeanne de Rooij and Sander Creman, my internship supervisors at the time. This is also the place where I also came into contact with contemporary art for the first time. Shortly after my internship at Nouvelles Images I started the gallery, I had just ended a difficult relationship with a drug addicted friend. When it dawned on me that I couldn't help him getting rid of his addiction, I realized that in the end everyone has to save themselves.
It was time to focus on myself and finally make my biggest dream a reality: to start a gallery with talented artists. It was now or never, and I took the plunge. It was also a matter of good timing, because just then a beautiful space near my parental home became vacant. Everything fell into place!
The first three months I still had a temporary lease contract. When the foundation that manages the property started looking for a permanent tenant, one of the requirements was that the space should be used by several people because of its size. That's when my collaboration with Galerie Fleur & Wouter started, with whom I now share the gallery space.
How would you describe your gallery's profile?
I want to be a stepping-stone for young artists. That might sound a bit cliché when a gallery says so, but I really make it a sport to show and sell budding artists with a modest CV. I prefer to combine young artists with renowned artists, such as Gijs Assmann, Rinke Nijburg and Peter Zegveld. I suggested Zegveld for our extended gallery space: the One Man Show Gallery Space.
I will work with Zegveld in the near future, in September he will exhibit in the gallery together with Tobias Asser. There are also a few renowned artists who have indicated that they would like to exhibit at the gallery, we are in the process of planning exhibitions (soon to be continued).
I also want to show good works in my gallery. Of course that is what every gallery wants, but I try to guarantee this by going to experts and taking their opinion into account in my decisions about whether or not to exhibit something. The works I show tend to be a bit theatrical: I think it is important that artists can convey their experiences (perhaps all art is pre-eminently theatrical), otherwise it is just decoration.
As a gallery, I try to be accessible without falling into the trap of only exhibiting accessible art. Today many products are completely ready for use. That leaves little to the imagination. What I mean to say is that art is not as functional as, say, a bicycle. If it is only meant to be beautiful, then you call it "decoration". "Art" implies that there is more. You can write volumes about what that means.
Works of art do not have to give away everything at once, and it is nice if you keep discovering something new. And if you still wish to know more, there is always the gallery owner, the stepping stone to making art understandable.
What do you think is the best part of being a gallerist?
Telling stories. Behind each work lies an entire imaginary world of the artist, from which a lot can be learned. I also like that the gallery owner is indispensable as a facilitator and driver of the artist. Making the artist, incidental art buyer and collector enthusiastic gives fulfillment.
Which galleries do you feel a national / international affinity with?
In The Hague I still feel at home with Maurits van der Laar; who shows beautiful works and knows how to create a pleasant atmosphere. I think Dürst Britt & Mayhew use Instagram in a nice way. The programming of Kersgallery is amazing: David Bade, Kim Dorland and Marc Mulders. Madé van Krimpen of Multiple Madé is a good example of a young person who, in her own way, puts a fun twist on showing and selling art, by merely showing work in editions.
In an ideal world, which artist would you most like to represent?
If, in an ideal world, I had the clientele to represent Daniel Richter, I would. I think that as a gallery owner it is one of your most important tasks to match artists to the clientele you have (also the other way around, by the way). That is why I think Daniel Richter is very much in its place at GRIMM.
.
What has changed in the art world since you took your first steps?
In November 2018, I opened my gallery at the Van Ostadestraat in Amsterdam, which is not that long ago. Still, a lot has changed, especially due to the Corona crisis. When I started I had virtually no experience - except for an internship at Nouvelles Images and half a study -. For example with writing a promotional exhibition text or press release. I gradually learned this with the help of journalists and other specialists.
My vision has also become clearer; what kind of art I show as a gallery and why. In the beginning I used vague art terms out of nervousness, nowadays I can express myself better.
Since the Corona situation, I have noticed that people have a greater need for personal contact. That is why I try not to come across as haughty as a gallery, I would like to meet the needs of my clientele. For that reason I place personal stories of me and the artists on my Instagram page. The effect of this tactic is also immediately visible on social media. Personal posts get more likes and comments
What / whose work do you collect yourself?
Sometimes I buy work from exhibiting artists. For example, I have several works from Jonat Deelstra, and I also bought one from Tobias Asser. But sometimes I also buy something outside the gallery. At Veilinghuis De Zwaan I recently bought a work by Willem van Malsen, an artist who made all kinds of things. It was a fairly impulsive purchase, when I bought the work I didn't know him yet. It is a magical work, with an ingenious optical illusion in it.
Optical Illusions in art often tend to be a 'silly' trick, but with this work It worked out nicely. Mostly because it is not painted smoothly. You can see he's not trying to copy anything. In addition, through the "artist support pledge" - an initiative devised by artist Matthew Burrows to support artists during the pandemic - I bought a few things, including a "Japanese" work by Tinkebell.
Tinkebell made a deep impression on me as a child. My mother and I went to the "Girls Rule the World" exhibition at Torch Gallery in 2013. She kept a postcard of this exhibition, it may be the first gallery visit I can remember. I remember that we were given a tour and that I especially tried not to look at the bare buttocks and breasts. I found that too embarrassing.
On that visit, my mother bought the For Your Pleasure booklet, so I could read what the exhibition was about later on. I remember exactly where in the bookcase this booklet is. I also received a number of works as a gift from artists and family members. The works I buy generally cost under 2000 euros and are small in size. In the meantime my student room of twenty square meters is quite full. Fortunately, my gallery manager Tessa Rijsenbrij will soon be my roommate, she's allowing me to expand to the living room.
Last but definitely not least I would like to mention a purchase that I did at LOGMAN gallery. Henk Logman, from whom I bought a work by Sam Hersbach, unfortunately recently passed away. Besides the fact that he was a friendly, warm-blooded and passionate person, I will also miss him as a colleague.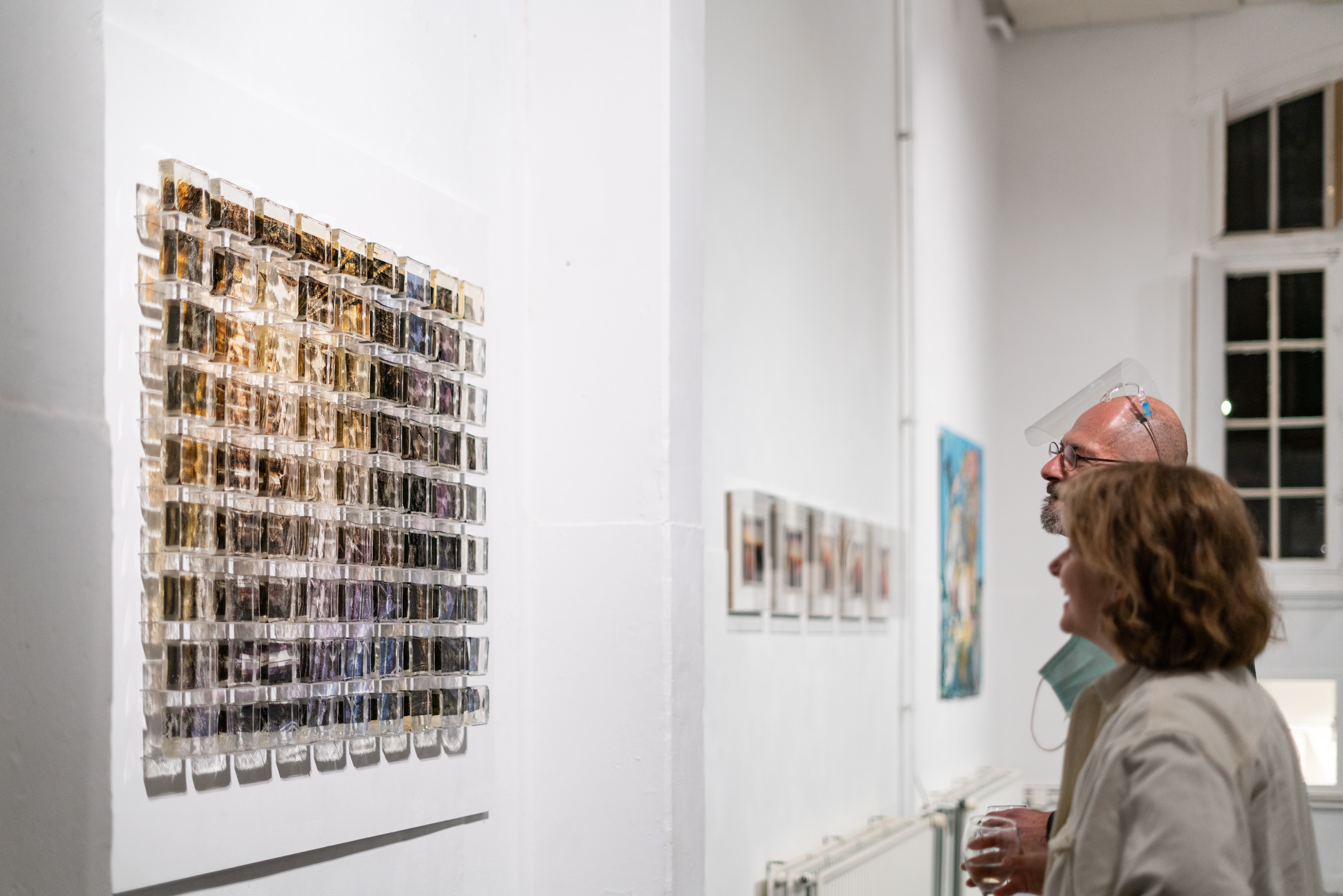 Expositie 'The Observer Effect' met werk van Matt Chaim de Groot en Joran van Soest (galerie manager Tessa, rechts), 2020. Fotograaf: Jonathan de Waart.
Has the pandemic changed the way you see the artworld?

Absolutely. I think many galleries have come to realise that there has to be a combination of offline and online activities. As a gallery you have to remain visible, even during a lockdown. If you can't be open as a "shop", all offline activities will be lost. That is certainly a limitation. I hope that everyone - even after the pandemic - continues to combine, because it is not either / or, but rather and / and. Online activities provide the opportunity to scale, reach more people and broaden the target group. If you appear in someone's timeline often enough, they will come by themselves (weather permitting, of course). In my short career as a gallerist, I have seen no fewer than four times that someone who had never visited a gallery before, dropped by because of an Instagram post, only to leave the gallery with their first purchase. During the pandemic, when all museums were closed but galleries were still open, I noticed that people were relieved when they entered a gallery: still an outing!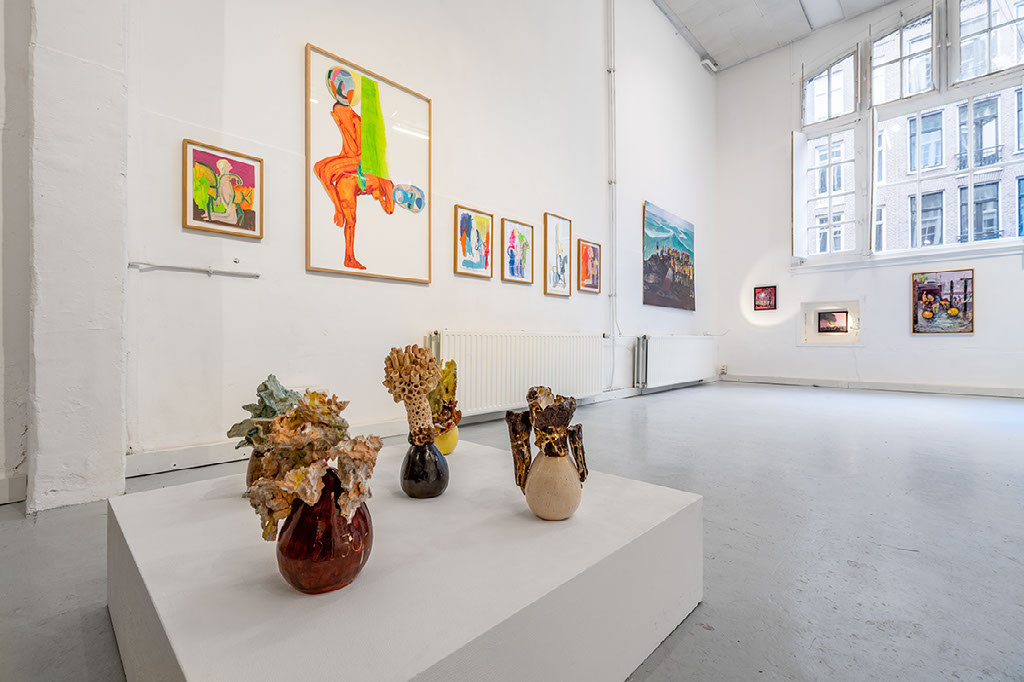 2021. Exposanten: Gijs Assmann, Jonat Deelstra en Rinke Nijburg.
(Gijs liet een aantal werken zien die in 2018 ook op Art Rotterdam hingen). Fotograaf: Jonathan de Waart.
---
See the artists represented by GoMulan Gallery
---