Althuis Hofland opens the gallery season with the Slovak-American painter Katarina Janeckova. She is considered to be one of the greatest talents of her generation. In her work she combines everyday experiences in a humorous and provocative way with psychological insights and allegorical elements in order to question clichés and power relations.
Recently, Althuis Hofland Fine Arts joined Gallery Viewer. The Amsterdam gallery specialising in contemporary painting kicks off the season with Bad Habits, Good Intentions, the first solo exhibition by Katarina Janeckova.
Gallerist Ornis Althuis first learned about Janeckova (1988, Bratislava, Slovakia) when an exhibition of hers in New York was cancelled at the last minute earlier this year, because her work was allegedly perverse and obscene. This caused a storm of indignation on social media. What one holds to be perverse is subjective, but it is certain that there is no publicity, like bad publicity.
You could call the work of a female figure having sex with a bear perverse or obscene, but that is not doing Janeckova's work justice. The former wakeboarding world champion is one of the greatest painting talents of her generation. She documents her own life in humorous portraits and portrays figures in provocative situations. In doing so, she has as much an eye for everyday reality as fantasies consisting of psychological and allegorical elements.
Beyond the cliché
For example, bears, ranging from teddy bears to hungry brown bears, stand for men in her work. Besides, her oeuvre is populated almost exclusively by nude women who deal with feminine subjects and dwell in traditionally feminine spaces, such as kitchens, bedrooms and balconies. A good example of this is the Dishwashing in Texas series from 2017, in which a naked woman washes a mountain of dirty dishes in a kitchen on every canvas. It is precisely by confirming this cliché with her typical light brushstrokes, that these cast doubt on the status quo in an ironic way.
Janeckova's women are naked and beautiful, but at the same time they struggle to relate to existing power relations that are dominated by men. This is clearly reflected in the balcony scenes Old Havana (2017) and Secrets and Revelations (2019). While Old Havana is a kind of balcony scene lifted from Romeo and Juliet with the viewer taking the perspective of Romeo (looking up to the balcony), Janeckova reverses the perspective in 2019. The naked woman on the balcony looks across to other balconies and windows. She's the voyeur. For Janeckova, her work is a self-examination of her relationships and partners, while her everyday representations loaded with symbolism allow the viewer to connect to his own sexuality, identity and history.
The Cult of the Body
When asked about what typifies Katarina Janeckova's work, gallerist Jeanine Hofland says that she is an artist who is completely absorbed in her work. When she settled down in Texas in 2015, she quickly realized that one of the few things she could do there to stay fit was go to the gym. At first, she couldn't relate to the "gym culture", but gradually her ideas about feminine beauty changed. "Suddenly I started to appreciate a six pack and big, strong thighs. At the same time, it remained fascinating to see how some women took this to extremes, showing off on social media with pictures of their butt after squatting. I incorporate that into my paintings, showing admiration and respect for those female bodybuilders, while playing with the irony of the unhealthy commitments of those who want to be 'fit'."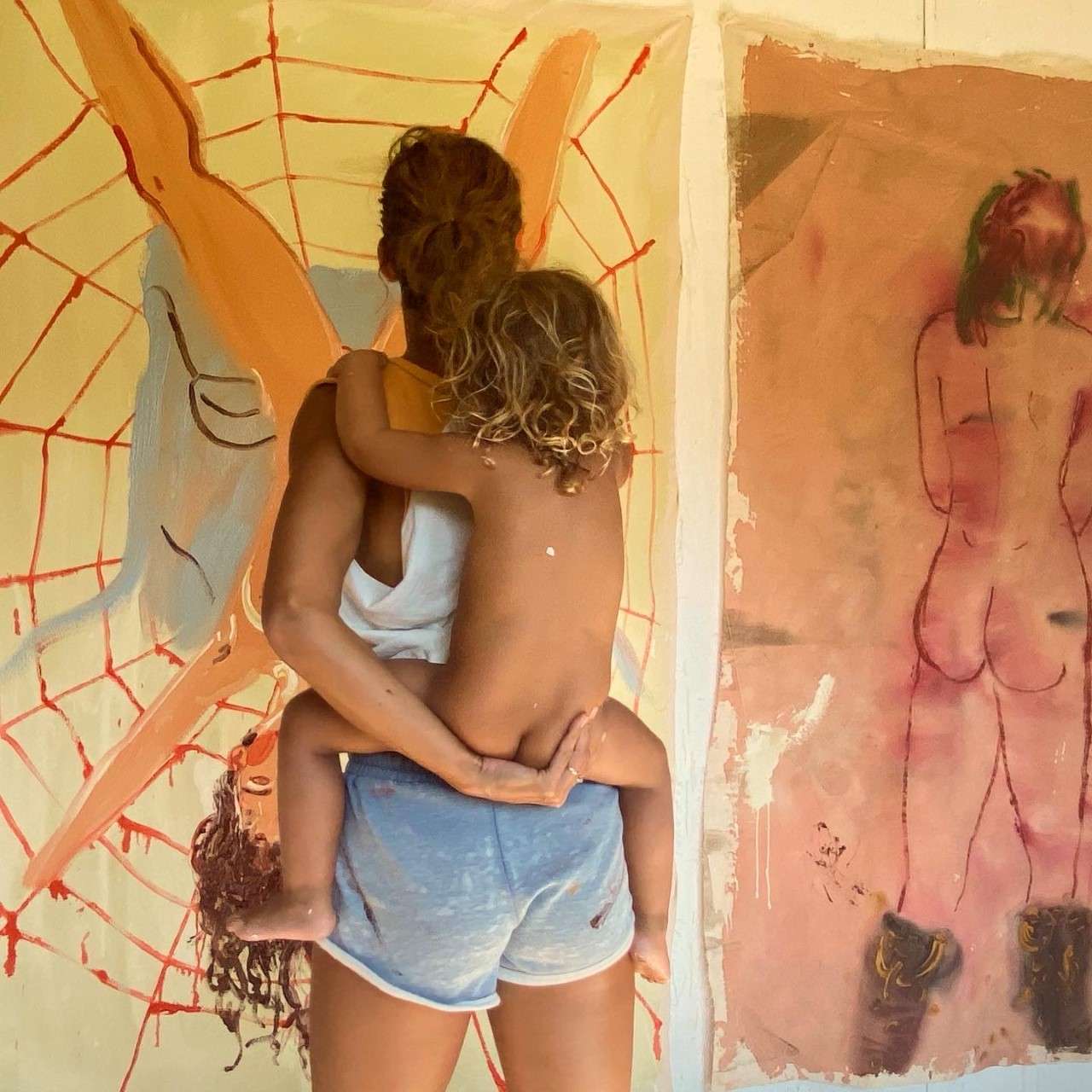 Studio view with Katarina and her child in the foreground, Corpus Christi, TX, USA, 2020 (Courtesy Althuis Hofland Fine Arts)

Bad Habits, Good Intentions
It is therefore no surprise that perceiving and experiencing cultural differences and the repercussions these differences have on relationships are a major theme in Janeckova's work. In her own words, Bad Habits, Good Intentions is primarily about how she deals with mistakes she makes. "About letting go of the ego and any discomfort in order to make a learning process possible". At the same time, the works in this show are an examination of her feelings towards the cultural and social differences between Europe and Texas. "I try to accept those differences, but I revolt against some of the unwritten rules. I am thinking, for example, of the fine line between the importance of retaining your authentic self versus showing interest in the other. This comes together in the favourite American small talk question, "How are you? Good. And you? "Because a genuine answer is not expected, conversations remain superficial and thus create the illusion of a perfect world." A bad habit, behind which good intentions lie.
---
Bad Habits, Good Intentions by Katarina Janeckova can be seen from Thursday, 3 September through Friday, 9 October at Althuis Hofland Fine Arts, Hazenstraat 11, 1016 SM Amsterdam