In the section 'The gallery of', we talk to a host of gallerists from the Netherlands and Belgium: when and how and did they start their gallery, what has changed in the art world since, what is their gallery's profile, what do they collect themselves, and how has the pandemic impacted their gallery? This week it's Ron and Sara Lang (LANGart).
Were you exposed to art growing up?
Recently, at the PAN, a major collector asked Ron: 'How does a boy from Amsterdam West end up in contemporary art?' A fair question, because art played no role in his home. His interest in contemporary art was aroused when he went to HAVO after secondary school. He well remembers the excursion to the Boijmans van Beuningen, where there was a large retrospective exhibition of Salvador Dali. The students received an introduction from the poet Piet Calis, who taught Dutch. This was followed by visits to the Stedelijk Museum and the Rijksmuseum and his interest was aroused. Later, at the Pedagogical Academy, Jaap Egmond - the art history teacher and artist - was the man from whom Ron learned a lot. Ron was in his studio every Saturday, where visual art, music and politics were discussed all day long, and in the meantime they worked on the reliefs that Jaap made. Together with Jaap Egmond, Ron visited the Isenheimer Altar for the first time. An impressive experience. Ron still visits it often, on trips to Italy.
Sara, Ron and Rossana's daughter, grew up in a house filled from floor to ceiling with contemporary art. Together with her sister Eva, she spent hours in galleries and museums, after each visit they were rewarded with cake and orange juice. Naturally, her first part-time job was not babysitting, but serving during openings in Dirk Vermeulen's legendary Galerie De Praktijk. Contemporary art has been an integral part of her life for as long as she can remember!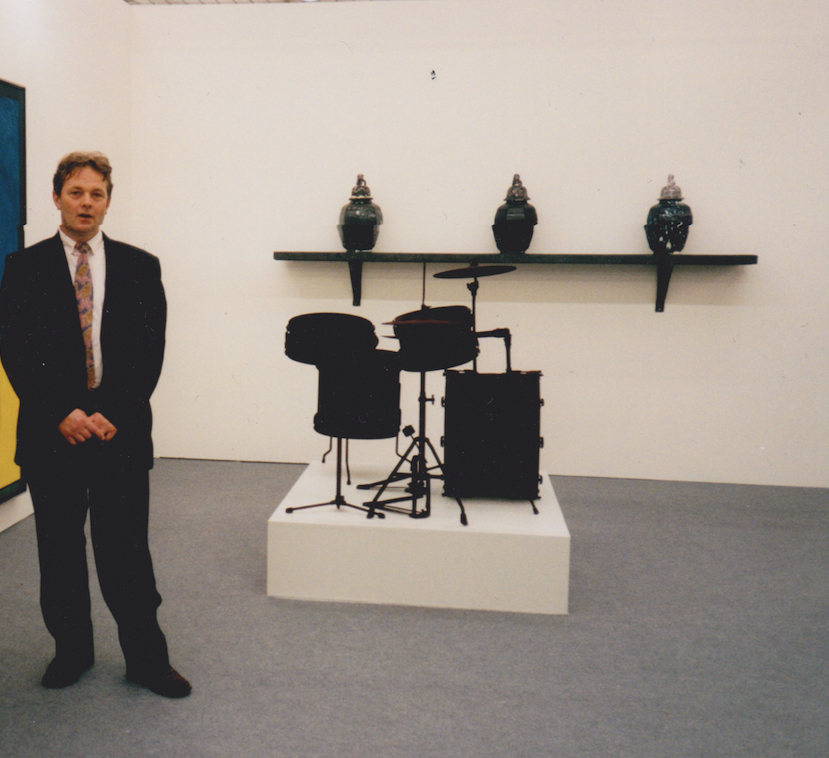 Art Brussels 1998 with Piet Dieleman, Leo Copers & Dermot O'Brien
How did you get involved in the art world?
From 1976 onwards, Ron and Rossana often visited galleries and museums. They regularly bought art, despite their limited budget on a teacher's salary. Ron remembers the golden age – the 1970s and 1980s – when a procession of people visited the galleries of Amsterdam by bicycle, pointing out good exhibitions in the city along the way. Many bought work and thus built up a collection. Art was looked at and talked about. It was never about money, value, appreciation or investing. It was about the content, the wonder, it was a vibrant time in which first the galleries and later the art fairs emerged.
What was your first job at a gallery? Or did you immediately start your own gallery?
Once Ron had become an art enthusiast, he soon worked in contemporary art. For many years, Ron worked at the printing press with Rento Brattinga of the Steendrukkerij Amsterdam, and worked with many special artists such as Armando, Carel Visser and Rob van Koningsbruggen. Ron has since run a number of galleries with partners; first with Dick de Bruijn (Singel 74) and then with Maia Swaanswijk (Metis_NL). In 2001, Ron and his wife, Rossana, took over the helm of Metis-nl. In the years that followed, the gallery grew – the years Ron refers to as 'the good years' - until the 2010 financial crisis.
After her law studies and Masters at Nijenrode, Sara briefly worked in the financial world. Love brought her to New York where she worked for Performa, but also brought her back to Amsterdam and she eventually became her father's business partner at LANGart in 2014.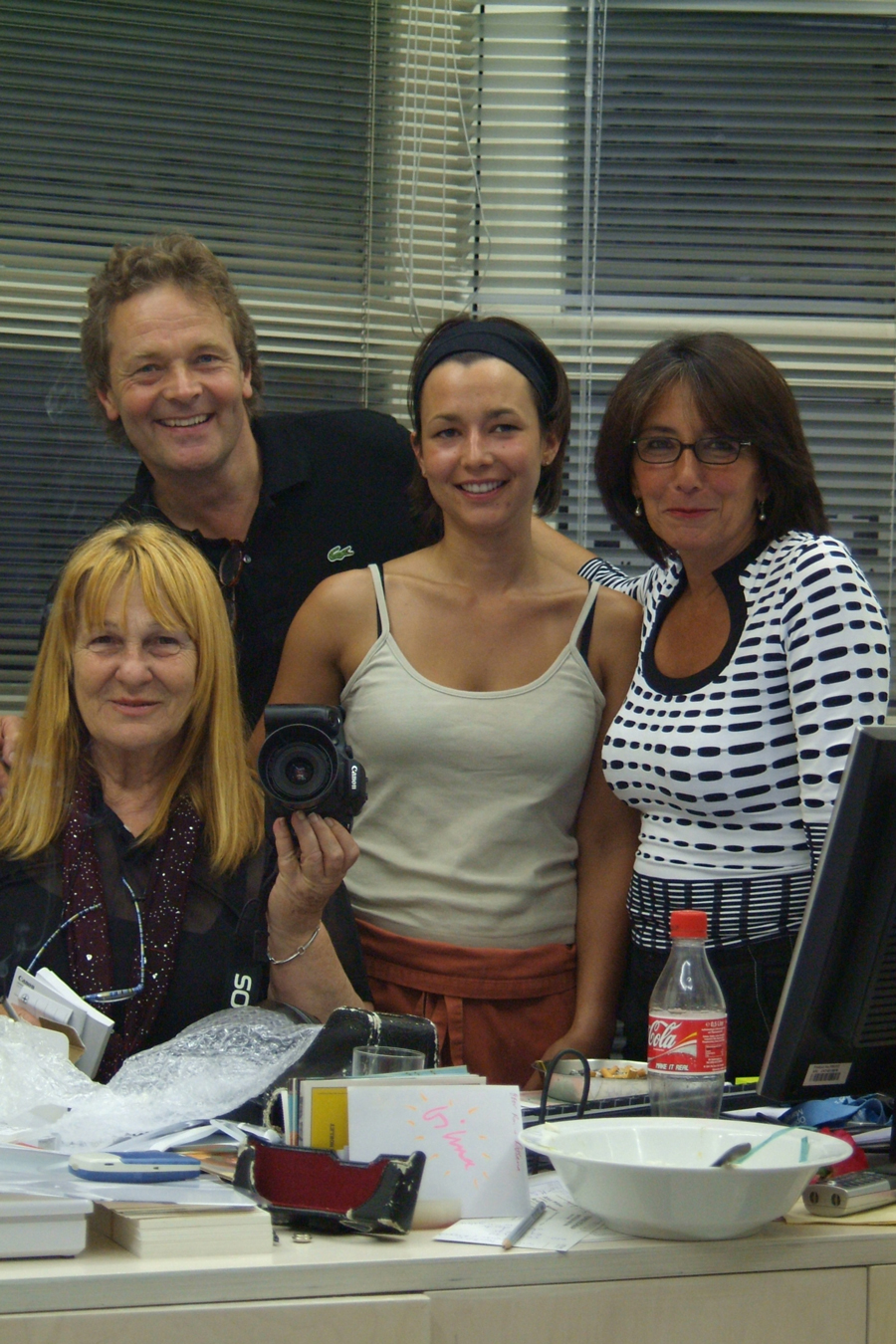 Letizia Battaglia, Ron, Sara & Rossana 2010
How would you describe your gallery's profile?
Galerie LANGart shows a mixture of unknown – often young – and sometimes more established artists. Recently, the emphasis has shifted to young artists. Discovering young talents has always gone well for us. LANGart has always been a gallery where everyone is welcome, call it accessible if you will. Whether you are familiar with contemporary art or not, from major institutional collector to student, you will – hopefully – always feel welcome. Ron and Sara believe that as a gallerist you are an ambassador for art in general and for the artists you represent in particular. And that means you want to create new fans for art, not just sell it.
What do you think is the best part about being a gallerist?
The best part of being a gallerist are the studio visits where discoveries are made and exhibitions are born. In addition, the contact with the collectors is also a source of inspiration from which great friendships have arisen. Ron and Sara continued with studio visits during the pandemic, and they made a beautiful podcast series that can still be listened to on the LANGart website.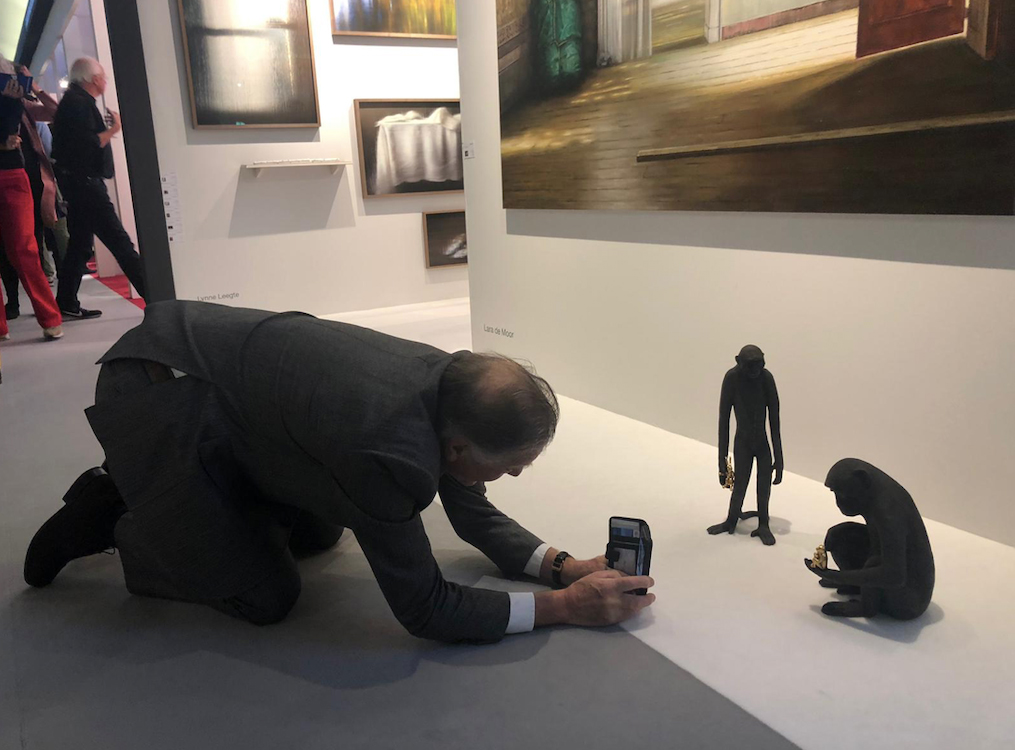 A 'fan' during PAN 2020
Which national or international galleries do you feel an affinity with?
With none. We prefer to sail our own course, although the contact with colleagues is very good and some have even become good friends.
In an ideal world, which artist would you most like to represent?

A few years ago we changed course. We now work with a small group of artists, because then you can create a pleasant working atmosphere and build a lasting relationship. Ron and Sara also encourage a good relationship between the artists. The gallery organises dinners with the artists several times a year. They inspire each other, visit each other's studios, work together and become friends. In their search for artists, Ron and Sara always aim for the right balance between (obviously) good work, a compelling story and a pleasant person. With this group of artists, LANGart has created the ideal world for itself.
But if we have to mention someone, then we would like to work with Marlene Dumas, one of the best artists. What a solo this year, at Palazzo Grassi in Venice. But also with Alfredo Jaar, for the same reason. Fortunately, we will be working with him again in March 2023: a tribute exhibition for Letizia Battaglia, who passed away this year, with whom we have worked for more than twenty years.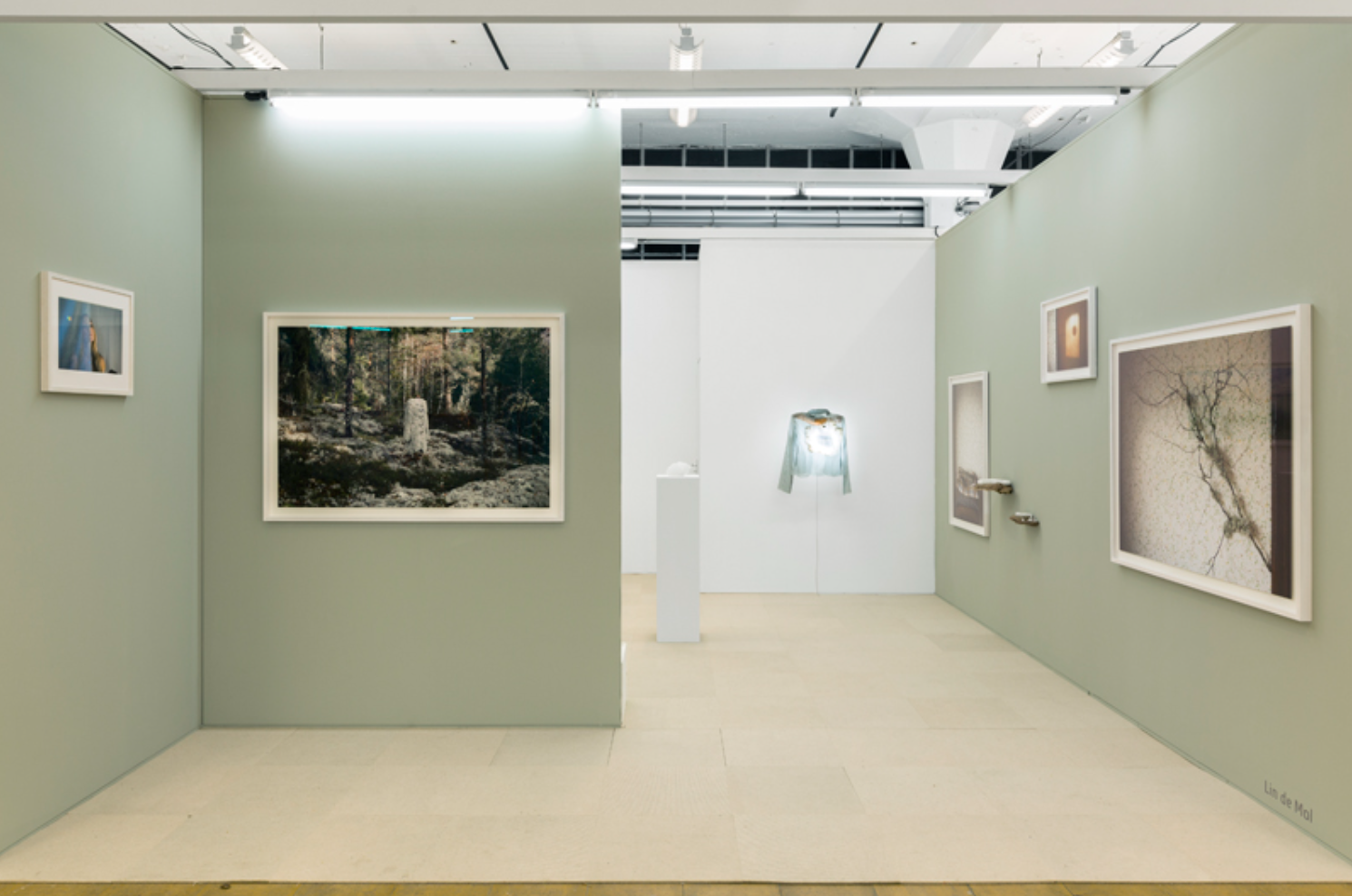 Solo Lin de Mol Art Rotterdam 2020
What has changed in the art world since you first embarked on this journey?
The contemporary art world has increasingly become a world of money and trade. The gallery world has become "global", huge behemoths of galleries have sprung up and contemporary art has become more and more the plaything of the very wealthy. Sometimes there is more listening than watching in this world We believe that the art fairs have changed the landscape. There are a huge number of them and collectors get the chance to see a lot of work at once. So efficient. Unfortunately, people who only go to fairs miss the context they might see in a solo exhibition in a gallery. That is also the reason why LANGart always shows just one artist at Art Rotterdam. This year we are making a solo with Maaike Fransen, with performances and the beautiful films she makes of the performances.
What/whose work do you collect personally?

Since the 1970s, Ron and his wife Rossana have built up a collection with work by Kees de Goede, Gijs Assmann, Jaap Egmond, and of course artists with whom he works and has worked in the past, such as Norbert Schwontkowski, Letizia Battaglia, Olga Chernysheva, Ronald Zuurmond, Lin de Mol, Laura Hospes and Julius Stibbe. Naturally, Sara started collecting later, and now has works by Norbert Schwontkowski, Letizia Battaglia, Kim Habers and Guglielmo Castelli.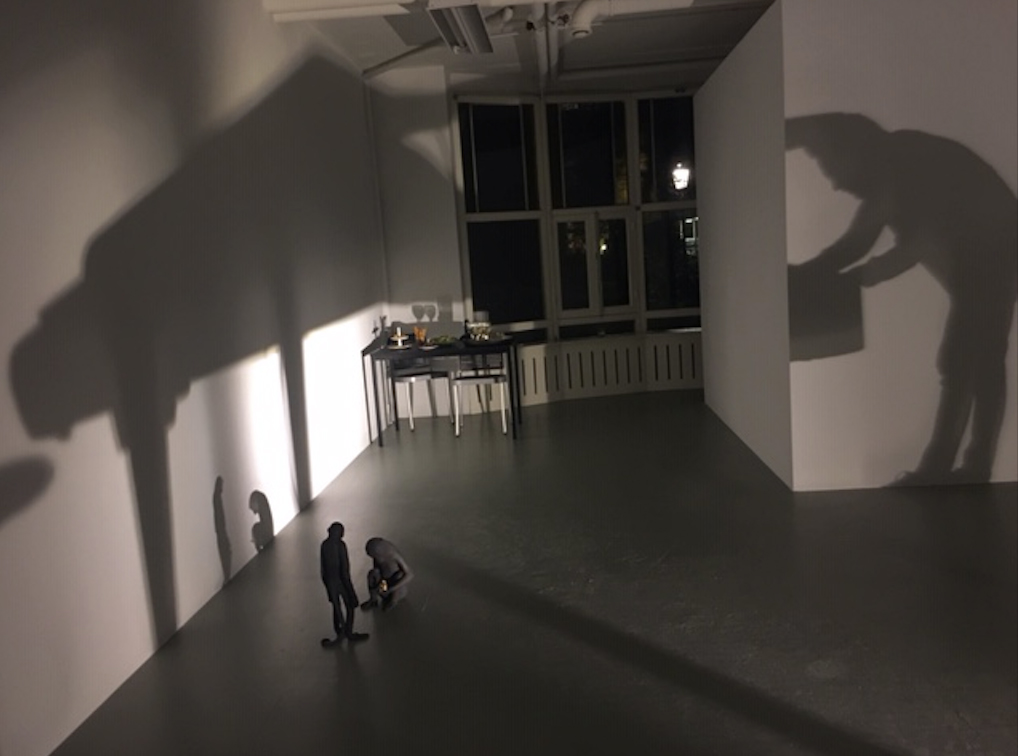 Solo Merijn Bolink 2021
Has the pandemic changed how you view the art world?

The pandemic has not influenced our thinking about the art world that much. Changes have come before, such as the commercialization of the art, which we mentioned above. Besides, the sudden standstill was refreshing, offering a way to get out of the hectic maelstrom in which the art world, but actually all of life, was caught up. Unfortunately, that kind of reflection was short-lived. In the end, it turns out that little has changed in the art world - as with our flying behaviour - after the pandemic. As for online sales, Ron and Sara didn't see that taking off prior, during and after the pandemic. Online you miss the physical contact with the work, which certainly applies to painting and sculptures. Joining GalleryViewer has therefore been a long time coming.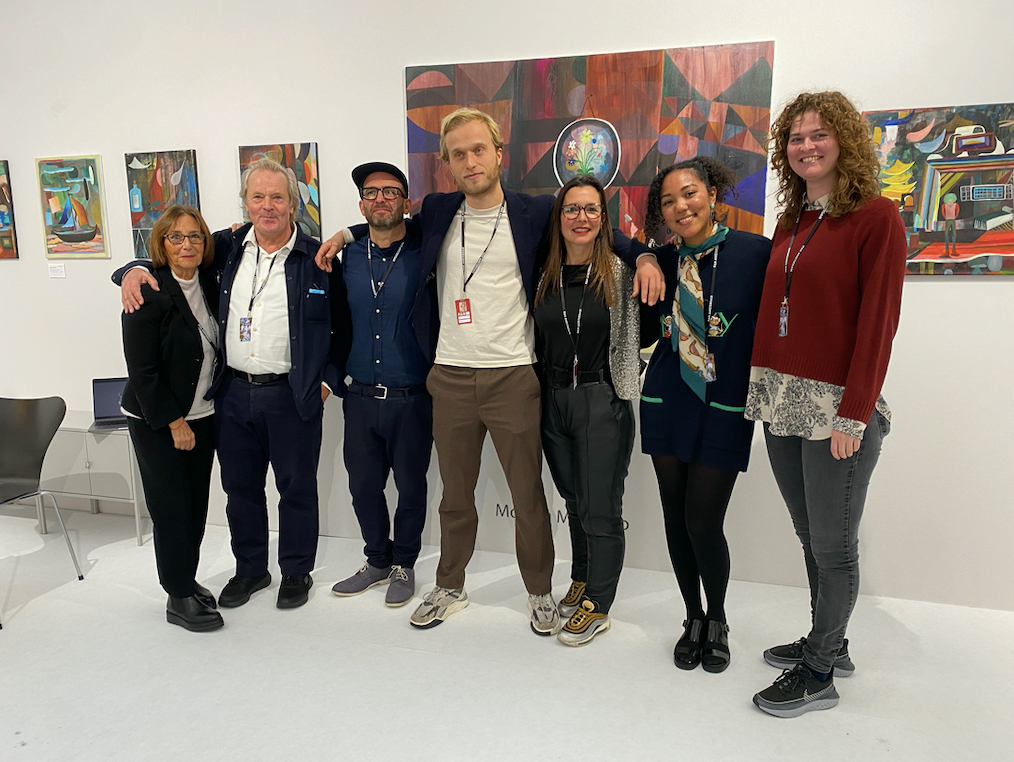 PAN Amsterdam 2022
---
---