What does the ideal studio look like? How much time does an artist spend in his studio? Is it a sacred place? This week in the 'The studio of' series it's Denitsa Todorova, who is represented by Josilda da Conceição Gallery in Amsterdam.
Do you go to your studio every day?

I try to spend as much time as possible in my studio. Not all days are equally productive or packed with activities. However, I think it's important to be there, even if it's just to reflect on my drawing process and work. I consider my studio as a safe space, it is the most intimate place for an artist and the place where works of art are created. So it's not strange that I want to be there every day.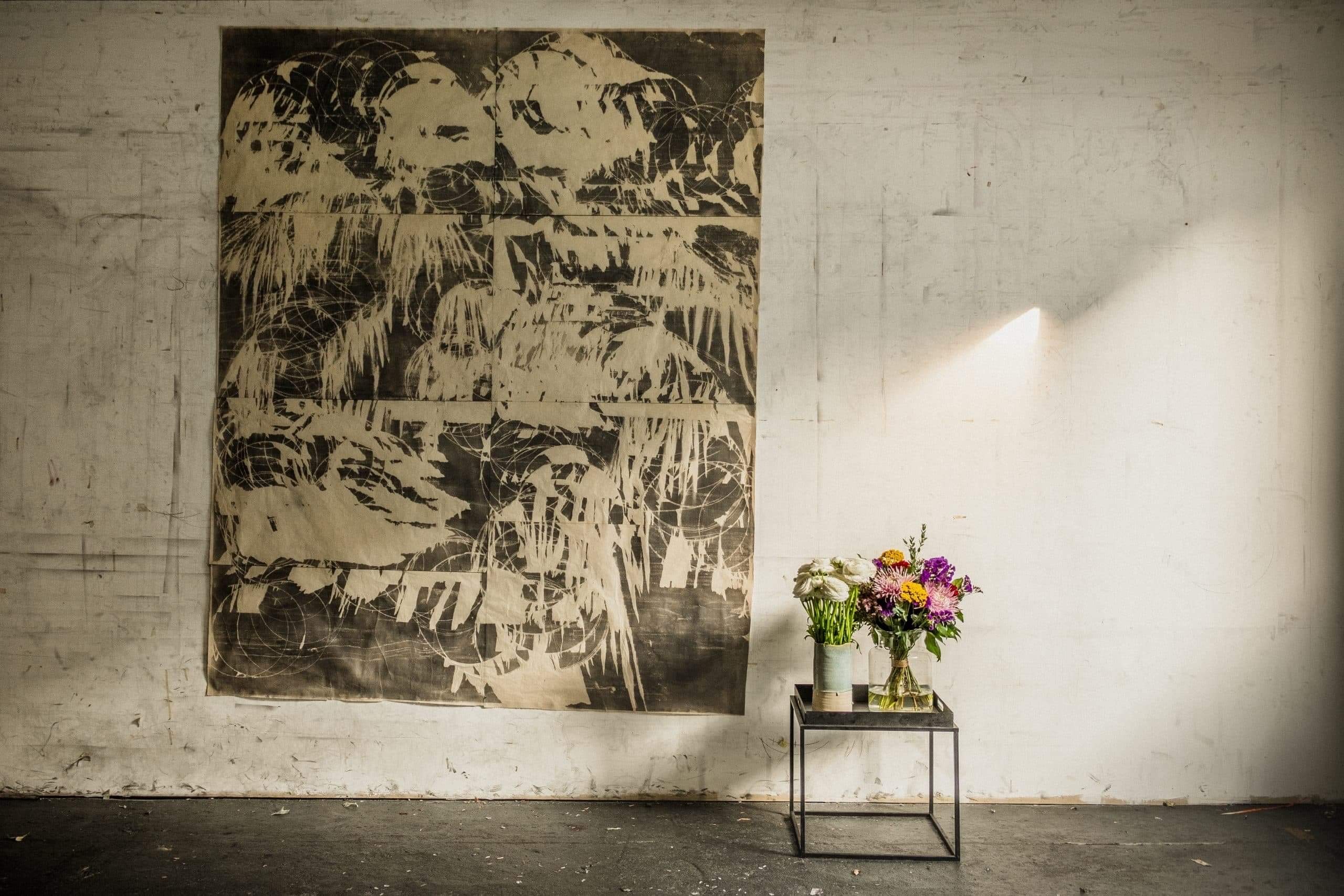 Studio view 2021, photo: Bram Mönster
What time do you leave for your studio, and how: on foot, by bicycle, public transport or car?

I am more of an evening and night person. The evening gives me more energy, but also peace of mind. I usually start work around noon and then work into the late evening. I mostly walk to my studio, I do almost everything on foot. I like the interaction with the dynamics of the city and the people I see in the streets. The city is an important source of inspiration. I used to walk through the Diamond District on my way to my old studio. The windows of the diamond shops and the people watching indirectly and unconsciously inspired me to create a series of works in 2018.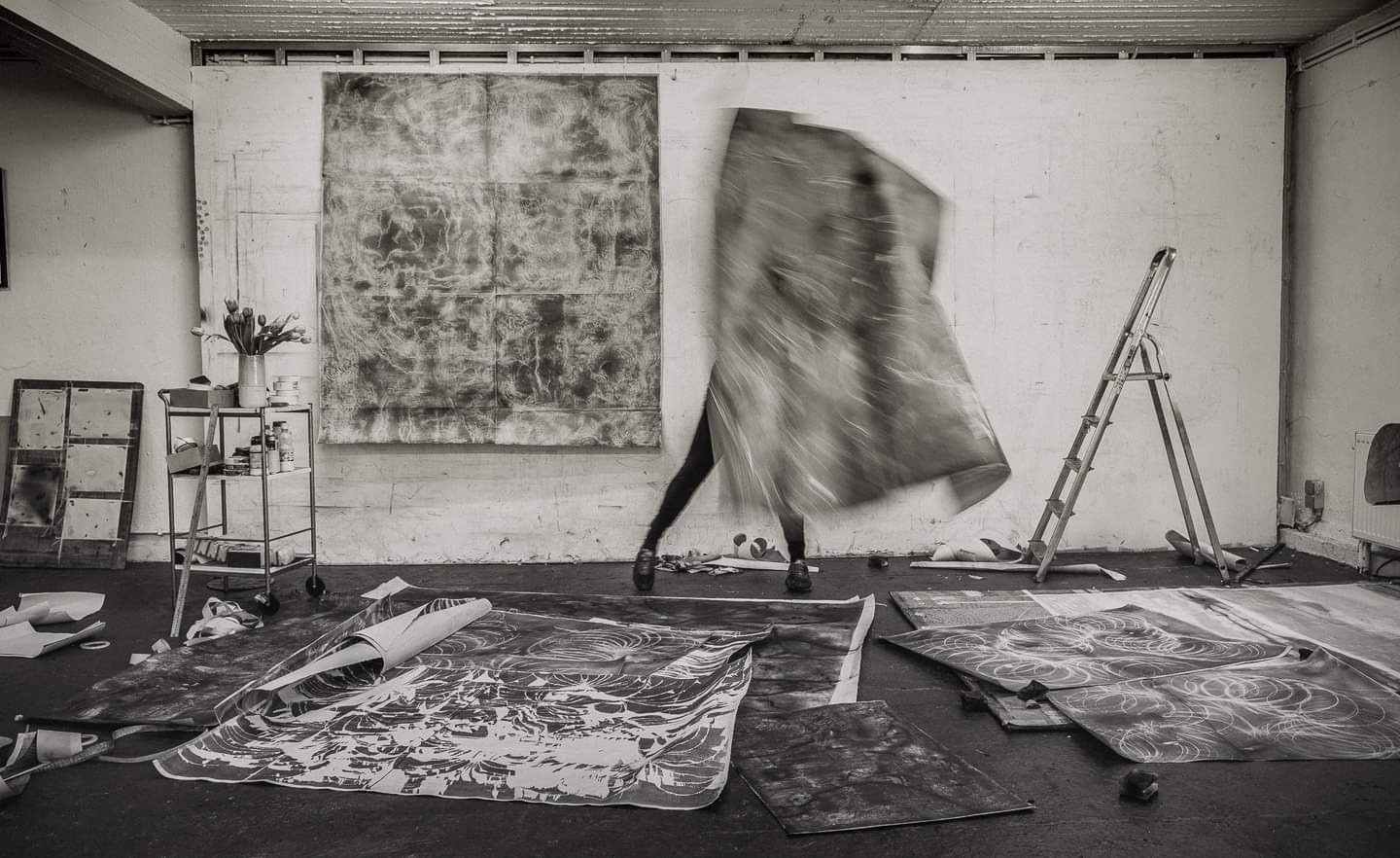 Studio view 2021, photo: Bram Mönster
Do you keep to certain rituals in your studio? Music or silence?

I always have two fresh bouquets of flowers on my work station. The beauty of the colours and shapes gives me peace and concentration, but also the decay of the flowers fascinates me. It's the cycle of life, but only in a vase. You can often find that thought in my drawings.
I like silence. My work process requires a lot of focus and concentration. Constantly changing songs and music would stress me too much and distract me from my drawing. Preparing the paper is a daily ritual with which I always start my day in the studio.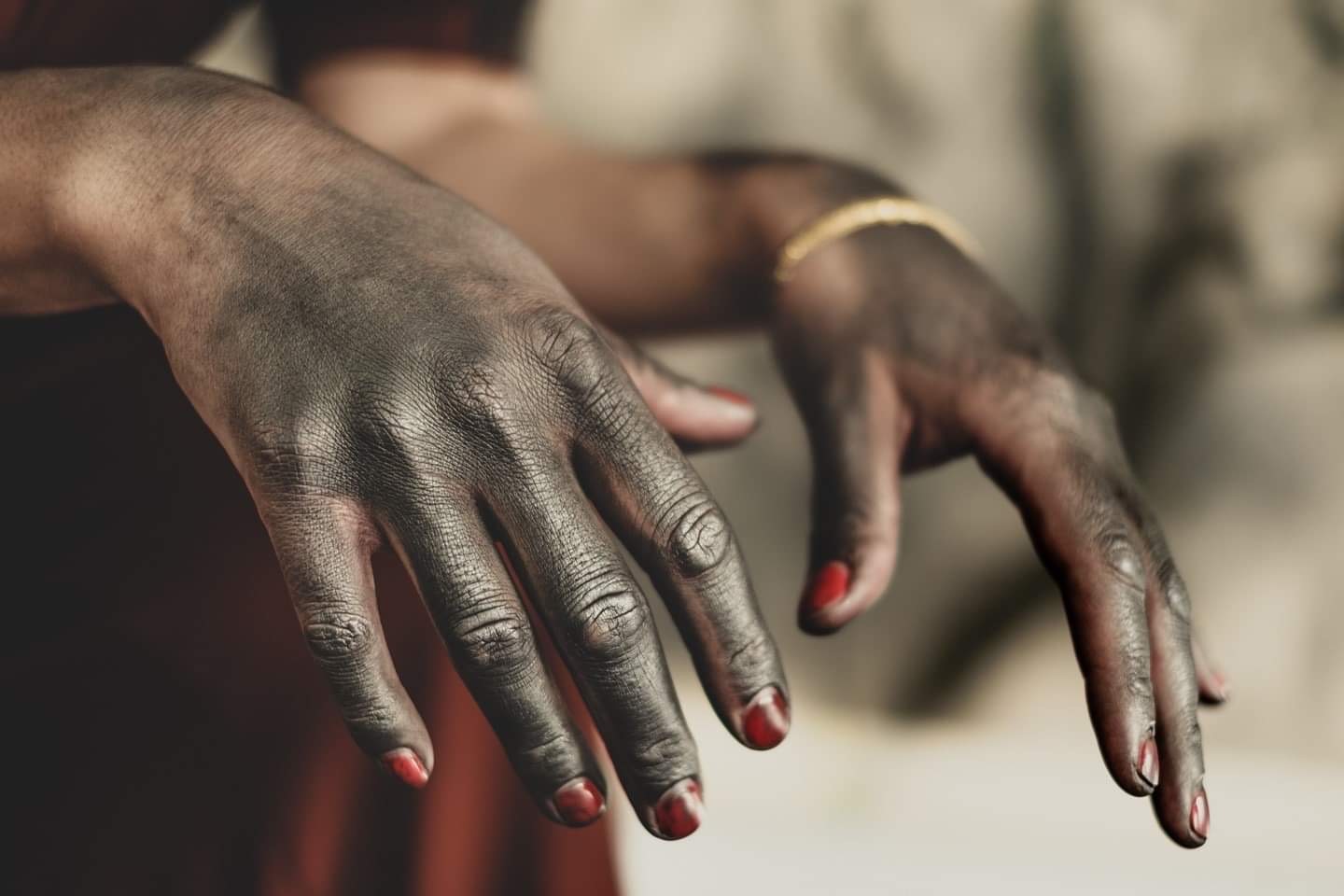 Hands of the artist 2021, photo: Bram Mönster
How important is light to you?
Very often people say that my drawings are about the darkness or the black. But in fact this is false. It's like the scene in a theatre where nothing happens until they turn on the lights. Each drawing stems from my conviction to 'generate light in the dark'. My art is about the light, not about the darkness. Gradually, I erase small parts of a completely blackened surface, letting the light in through the cracks in the darkness. Spots of light come through the graphite curtain: what you see behind it is open to interpretation. The viewer is free to link associations and meanings to it. In my studio, natural and artificial light play an important role in my creative process.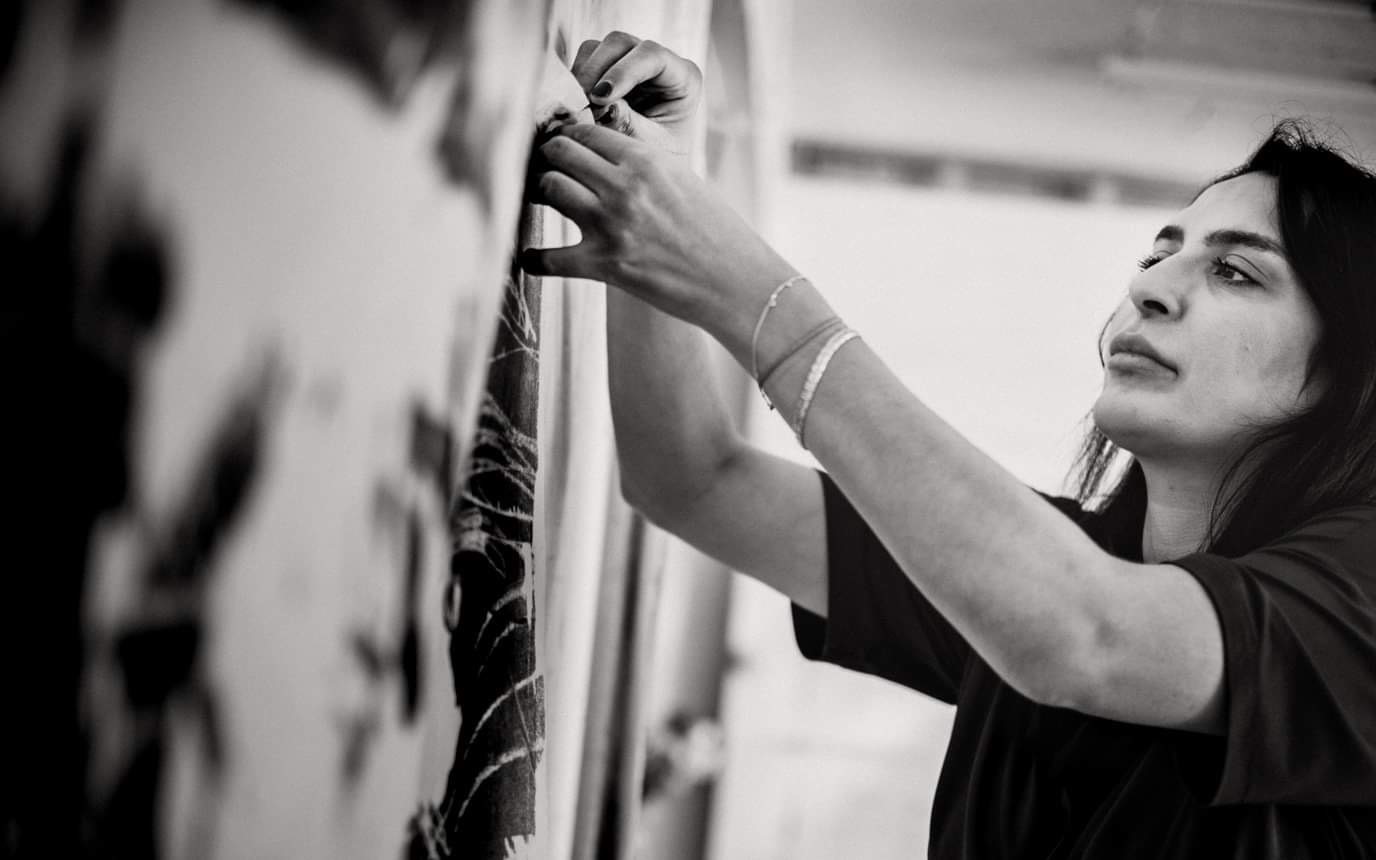 Studio view 2021, photo: Bram Mönster
What does your work process look like? Do you work everywhere and all the time or does work only commence the moment you enter your studio?
I am inspired by everyday phenomena. Textures, shapes and patterns such as water surfaces, reflections, marble structures and firework explosions attract my attention as an artist. Frivolous effects, so to speak, rather than static scenes. Accidental, apparently futile details that nevertheless make up the fabric of reality: the murmur of reality. It is often the little things that give the world its unmistakable character: the crackling of a vinyl record, the hoarseness of a voice, the grain of a photograph. I try to give this visual shape. I wish to give back sensory impressions – the intensity of impressions – in this way, to display again, to express it again, to make visible again. My work can therefore hardly be called abstract: rather it is very concrete, super-sensory.
Outside my studio I take a lot of photos as a starting point for the drawings that I exclusively make in my studio. First, I completely cover the paper with graphite powder, after which I then remove the black to create an image. It is a very physical and labour-intensive and time-consuming job. You can watch this process in a video documentary on my website.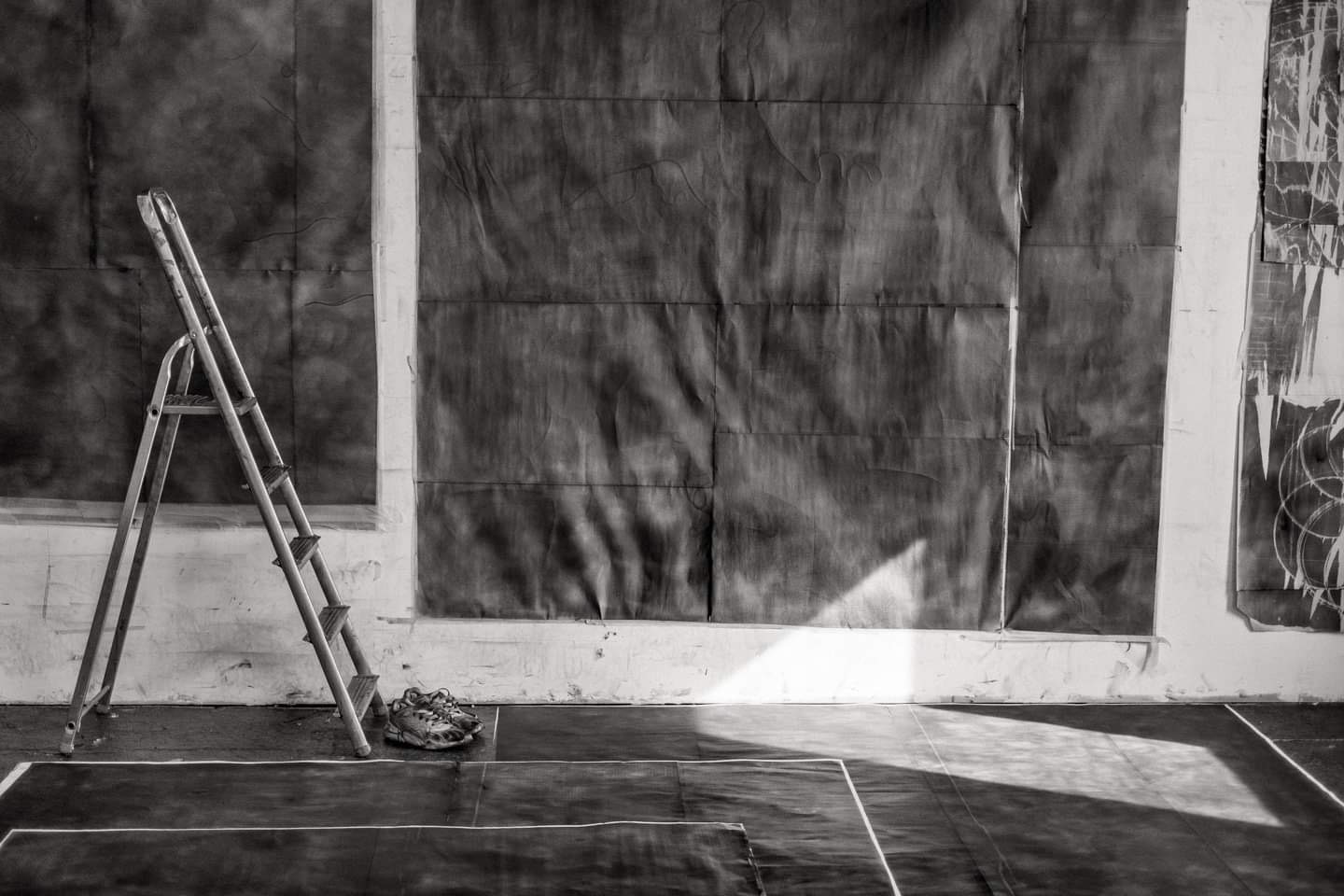 Studio view 2021, photo: Bram Mönster
How much time do you spend on average per day in your studio?
That really depends. It can take 72 hours before I leave my studio, and sometimes I'm only in my studio for two hours. I am currently doing a residency at the Strabag Foundation in Vienna. The studio and my living space are close to each other so that I am confronted with my work 24 hours a day, something I have never experienced before.
Is your studio a sacred place?
I am Bulgarian, however next year I will have lived in Belgium for as long as I have in my home country. Actually, neither country is my home. That's a weird feeling. As I said, the studio is a safe place for me, the place of my world and my imaginary home. 'A sacred place is what you make of it,' they sometimes say. A studio does not necessarily have to be big or beautiful. It must meet certain criteria: it is a place that belongs to you and is not shared, the place where you create, you must be able to work there comfortably, your drawing material and supports must always be available so that you can start working quickly, already finished and started works must be clearly visible and I surround myself with flowers, books, sketches and objects that touch my senses.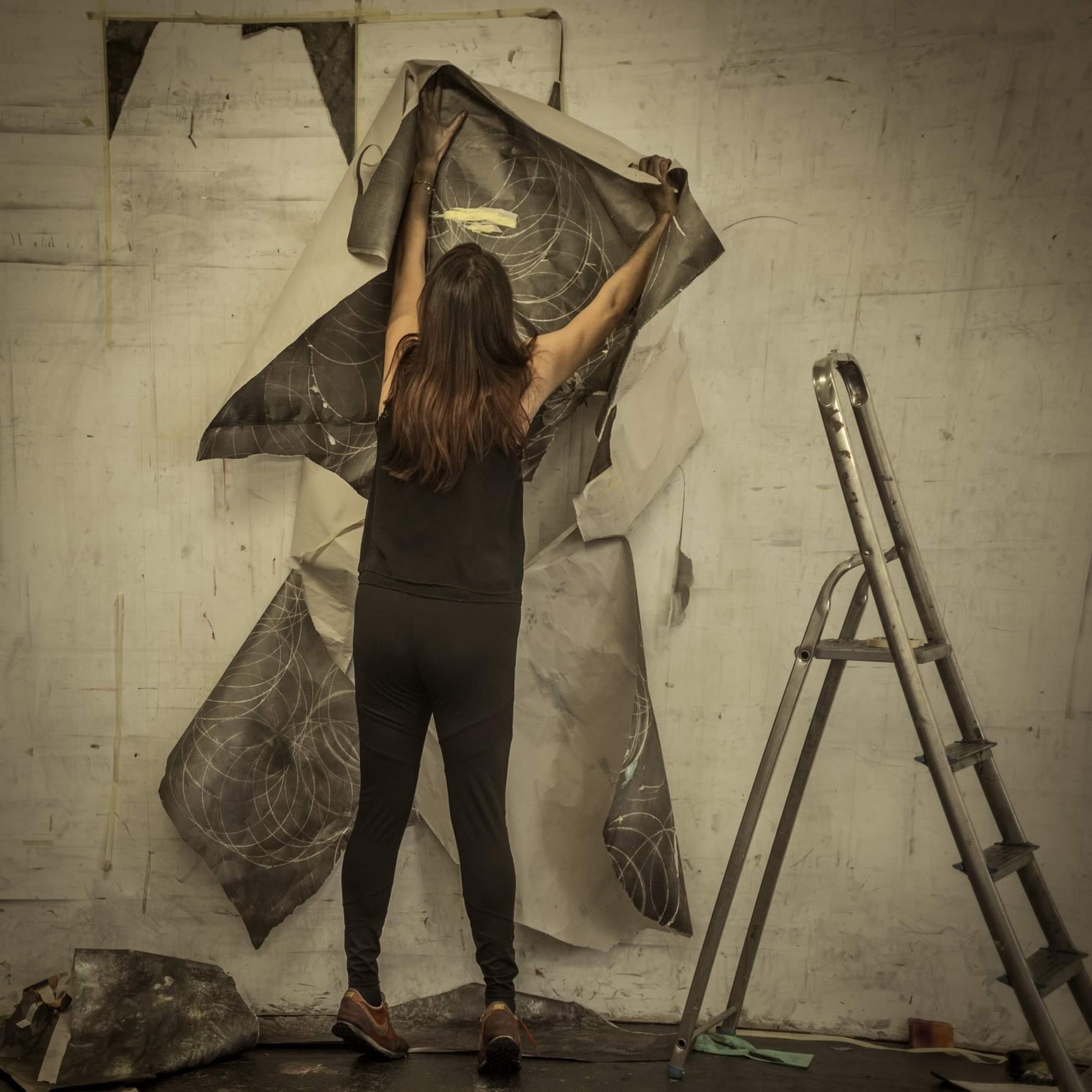 Studio view 2021, photo: Bram Mönster
Do you receive visitors there; collectors, curators or fellow artists?
I set very high standards for myself and my work. The idea of perfection makes my work process rather slow. I have to be absolutely sure that I am ready to show my work to the people I want to invite. That may take a while, but actually everyone is welcome to visit my studio. My visitors are collectors as well as curators, artists, museum directors and casual visitors. I like the feedback I get. By the way, I have a small exhibition space in my studio. 

What is the most beautiful studio you have ever seen?

My father was a sculptor. He made funerary monuments and statues. His studio was where I played as a child. I still have beautiful memories of it: a studio that will always stay with me. I also visited the beautiful studio of the famous Leipzig painter Matthias Weischer. I also found the studio of the Italian Arte Povera artist Gilberto Zorio in Turin particularly fascinating because of his interest in natural processes, transformations and the release of energy. An unforgettable experience that made me think about starting to make sculptures.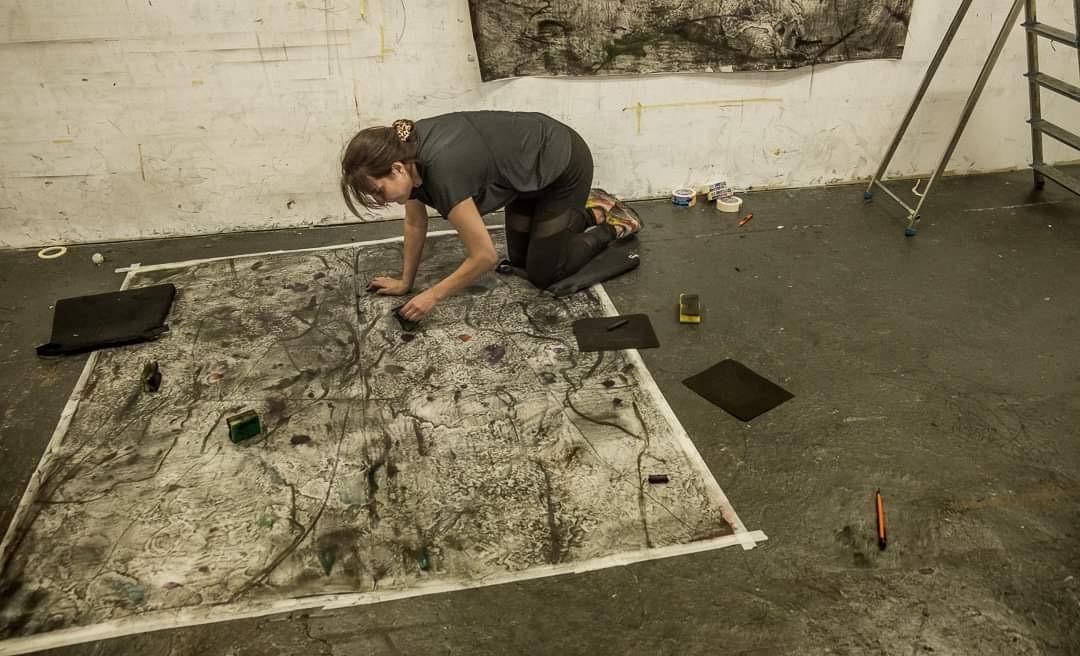 Studio view 2022 work process, photo: Bram Mönster
What does the ideal studio look like?
I have already described the image of the ideal studio above, but my studio has to be very practical and preferably equipped with additional ventilation and air conditioning to remove the graphite dust. In addition, there must be a storage and exhibition space. By the way, in the near future I hope to make changes to my studio, which is housed a great studio complex on the Leningstraat in the Borgerhout district of Antwerp.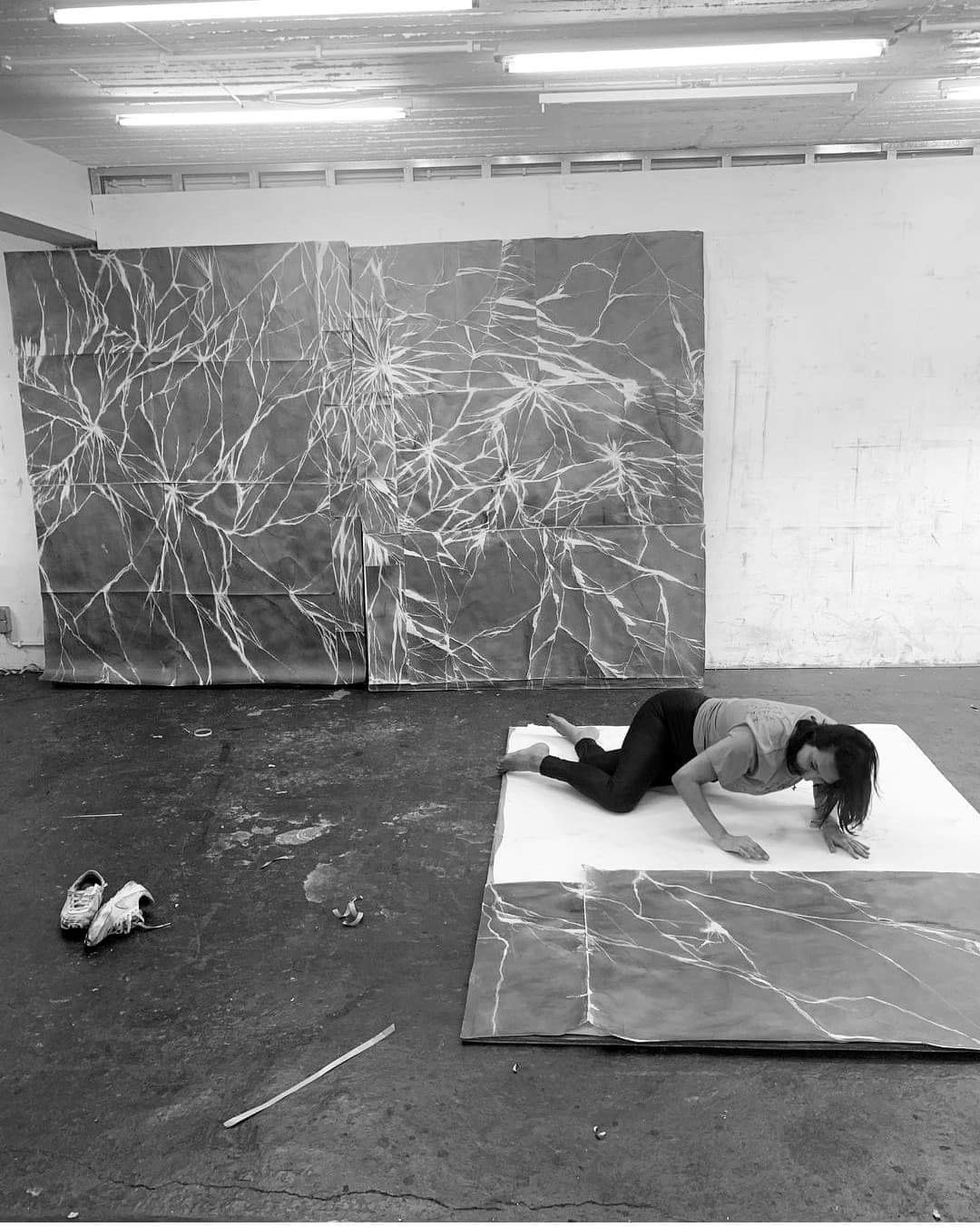 Studio view 2022, Denitsa Todorova