The fifteenth edition of the annual Best of Graduates exhibition at Galerie Ron Mandos is a must-see for anyone who doesn't have the time to visit all the graduation shows. The impact of the pandemic and the lockdowns is noticeable in many works. The artists' gaze is more often focused inwards or on their immediate environment. The annual Ron Mandos Young Blood Award went to Marcos Kueh, a textile artist from Malaysian Borneo who questions the commodification of his island.
The corona generation
Also this year, the team of Galerie Ron Mandos, led by curator Radek Vana, attended the graduation shows at the 11 Dutch art academies. This resulted in a show with 23 artists graduating from 6 academies. Vana started the annual show 15 years ago together with Ron Mandos to offer a stage to newly graduated artists. "At the time, there was hardly any attention for graduation exhibitions, which meant that the distance to the commercial art world was great. Especially the exhibitions at academies outside the Randstad were visited almost exclusively by family and friends, while good arts works can also be seen there."
Selecting artists from the more peripheral academies proved to be harder than in previous years: of the 23 artists on display, only three were trained at academies outside the Randstad. Vana has no clear explanation for this. What struck him this year was that the consequences of the pandemic and the lockdowns clearly manifested themselves in the work. Vana: "This generation of artists has not had any class for at least half their time at the academy, which made it more difficult to exchange ideas and feedback with each other and to visit museums was impossible." This is reflected in the themes that are touched upon. While socially engaged work dominated in recent years, most exhibitors now look to themselves or their immediate environment.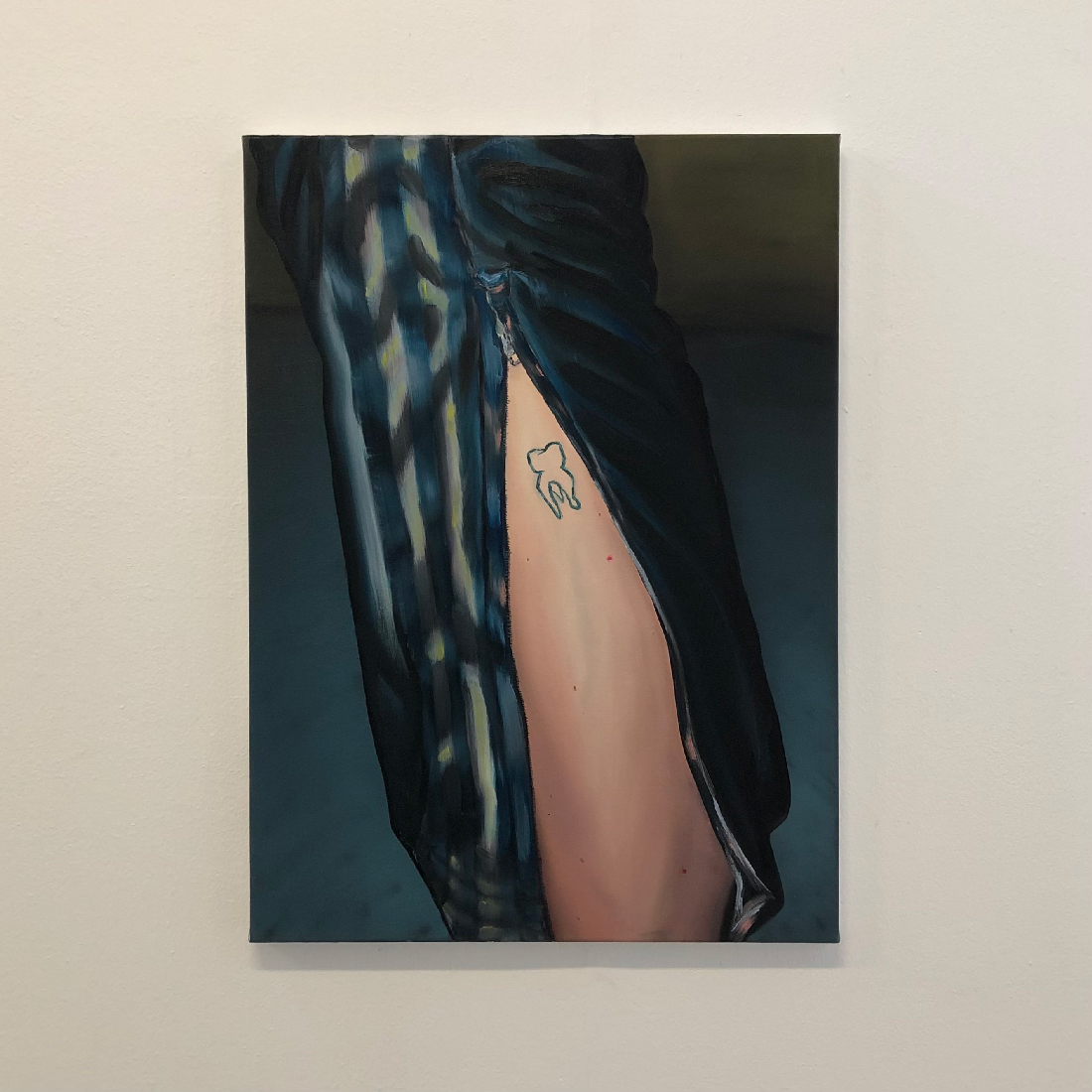 Bobbi Essers, Confession, Oil on canvas, 75 x 55 cm, 2022
This applies, for example, to the painters Bobbi Essers and Eline Boerma (both from the HKU). Essers paints her group of friends, or rather, parts of it. She does not paint portraits, but their limbs and does so with great attention to the texture of the skin and the clothing. The arms often have a simple tattoo, so you glimpse of a certain subculture. Eline Boerma's large abstract works go back to her memories of surfing. Nowadays her work features no horizons, the canvasses merely reflect her memories and experiences.
"In a way it is a pity that the gaze has turned inward so much", says Vana, "because there are enough problems in the world right now." The work of Anton Shebetko (Rietveld Academy) should therefore not be missed. The Ukrainian photographer links the Russian invasion to queer and identity issues in his work.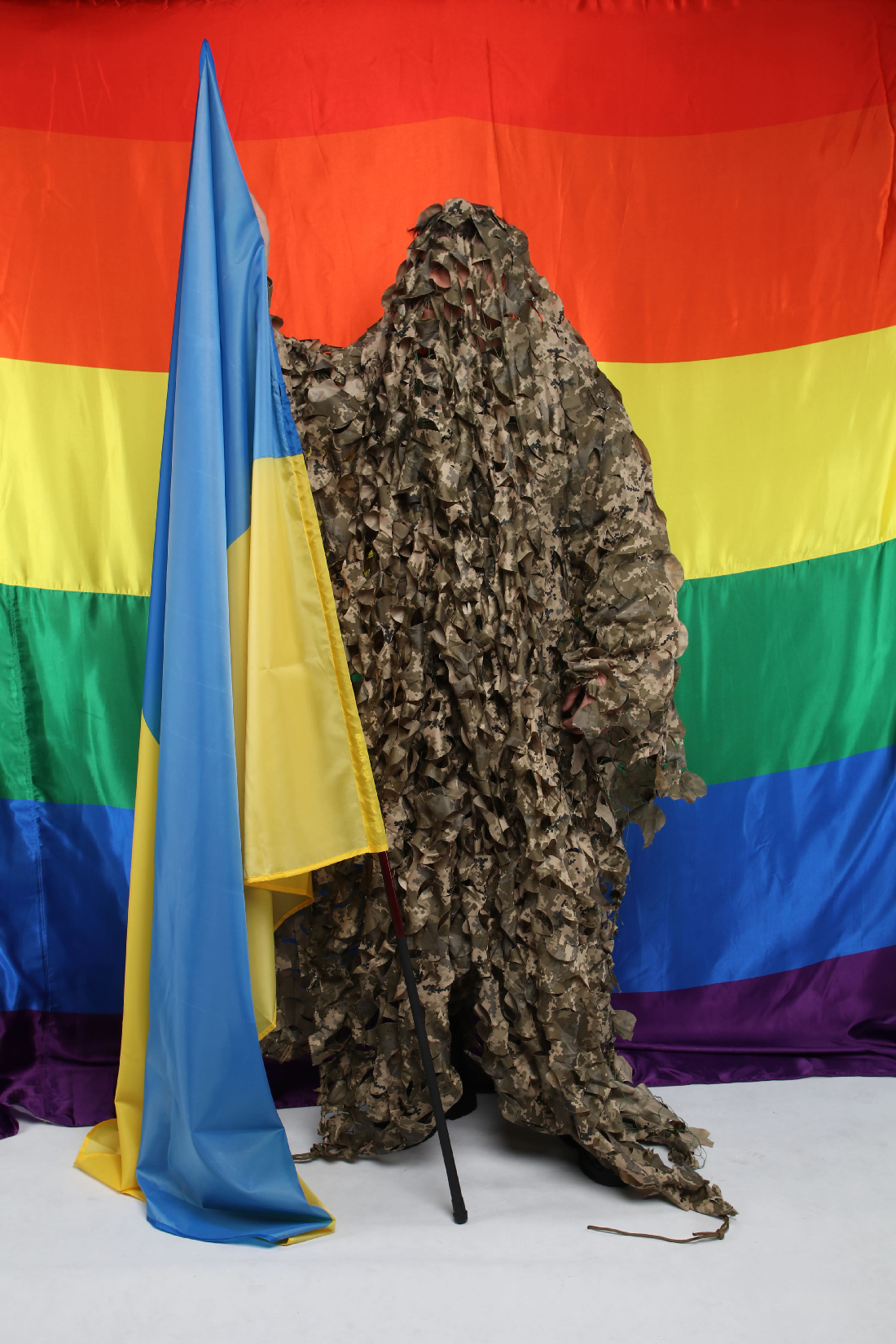 Anton Shebetko, Vlad from We Were Here, C-print on dibond, 80x120cm, 2018
Yelling from bridges
One phenomenon that took off during the pandemic was walking. A walk was practically the only thing you could do with a friend or acquaintance during the lockdowns. It initiated a reevaluation of our use and design of public space. What is allowed and what isn't , what are the unwritten rules and how much public space can you claim as an individual? Something that is not indicated anywhere but is not appreciated is yelling in the street. Showing emotions in public is not customary either. That is exactly what the Danish Sveske Ourø (Rietveld Academy) does in her film Yelling from Bridges. You see her step on a stool and breaking the silence everywhere in the city: in the Westerpark, on the Singel, at the Brouwersgracht, and on the Magere Brug.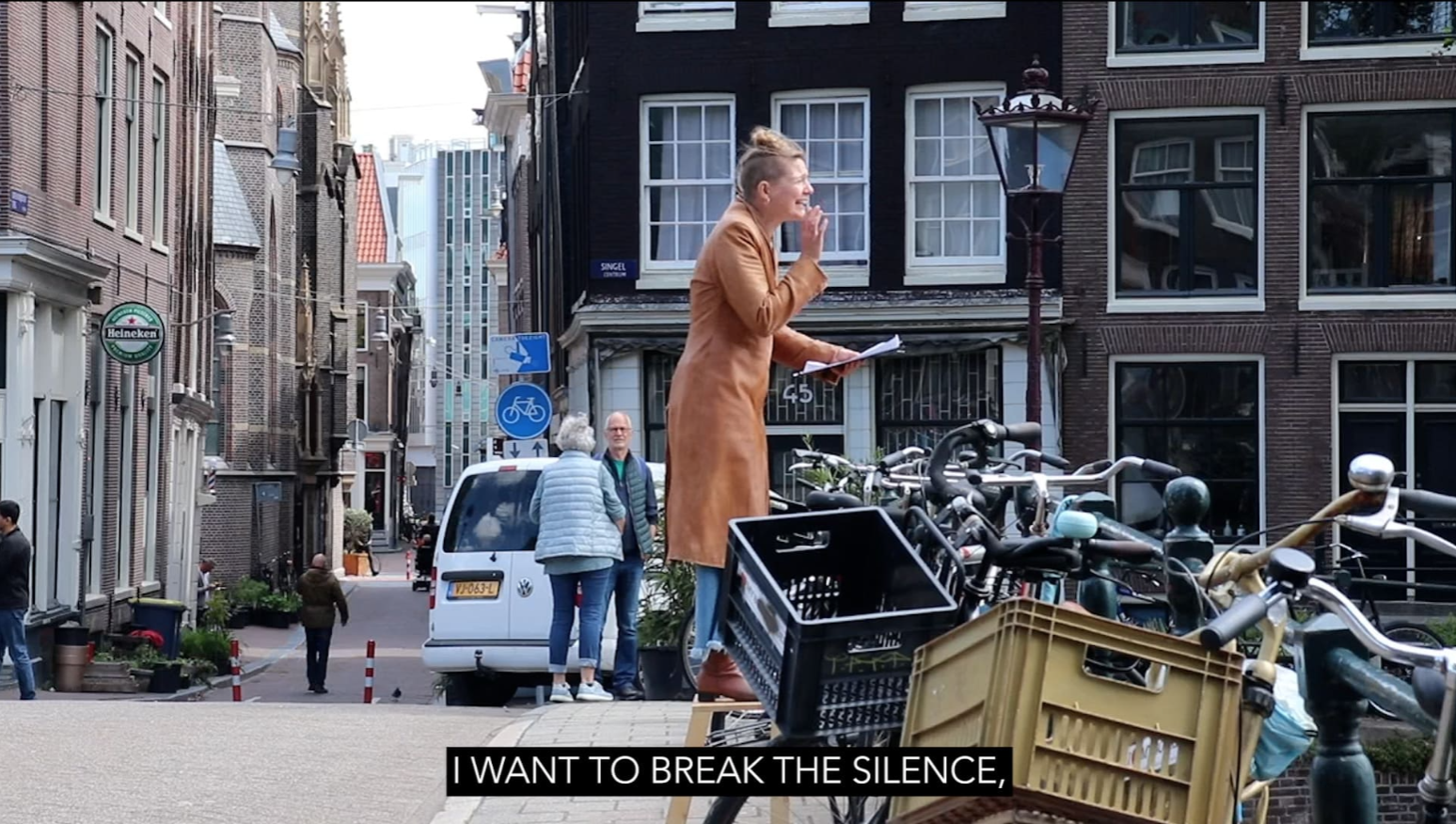 Sveske Ourø, Yelling of Bridges, videostill, 2022
As a connection between two places, bridges are almost always in public space, you also have a lot of space around you that you can claim by yelling from a bridge. From her stool, Ourø shouts a text about our need as human animals to break the silence with a primal scream. Ourø's work is convincing because of its simple execution and because we all have to relate to the public space.
No man's land
The most intimate and confrontational work is in the middle of the gallery: an unmade bed with two legs on it. There is a sign that indicates the content is not suitable for everyone. If you come close, it turns out that the legs produce a very soft sound. They tell the moving story of an evening in Ghent that ends in a rape. The sound is deliberately set to such a low volume that you have to make an effort to understand the story. Vana calls the work strong in content and form and praises its performative character: "In fact, the work only exists if you become part of the work. It exists because of you."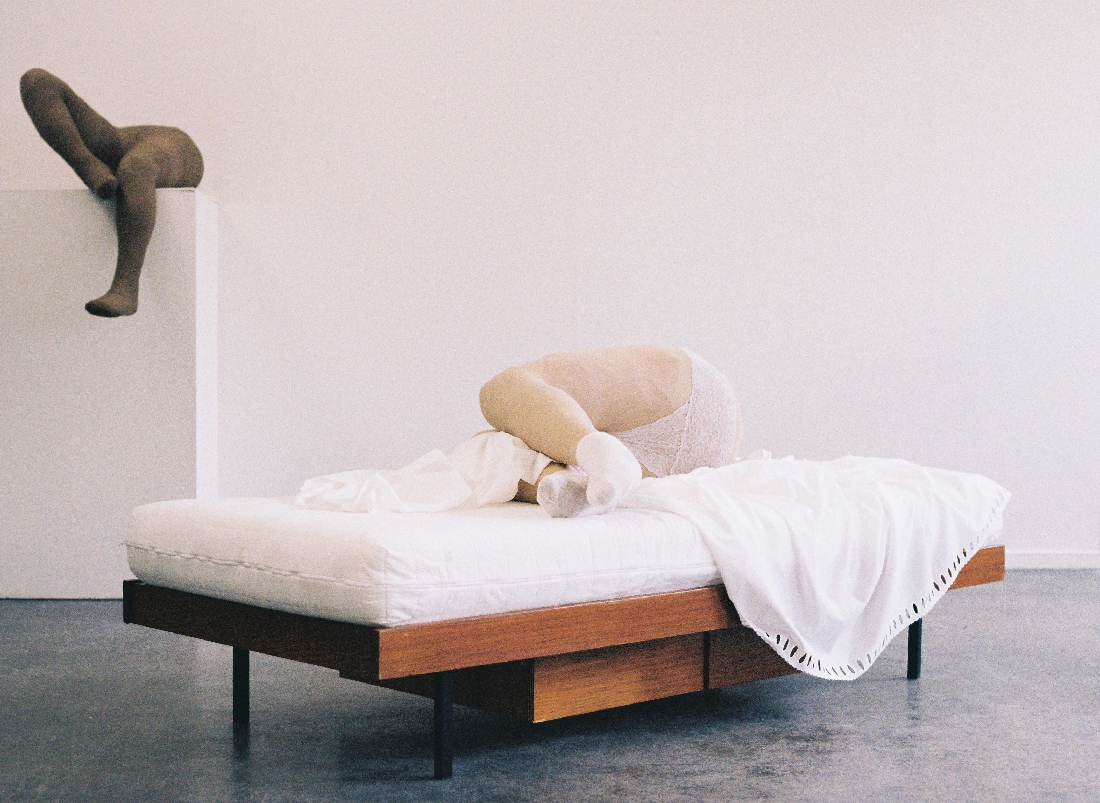 Sophie Engels, Nichon, duct tape, tights, fibrefill, 2022
The unmade bed, Nichon, is part of No man's land, the graduation project of Sophie Engels from the Sint Joost Academy in Breda, which focuses on stories and experience that normally do not leave female safe spaces.
Young Blood Award
This year's Ron Mandos Young Blood Award went to Marcos Kueh (KABK). For his Kenyalang Circus project, Kueh made eight wall hangings with mythical figures, combining age-old weaving techniques with the visual language of advertising posters. One is made for generations, the other for a month or two. Kueh's work is not just about the value of crafts today. It also raises the question to what extent Western exoticism – such as slogans such as The land of the orangutans and Malaysia's exotic unknown – has been internalized and is leaving its mark on the identity and future of developing countries that are largely dependent on tourism.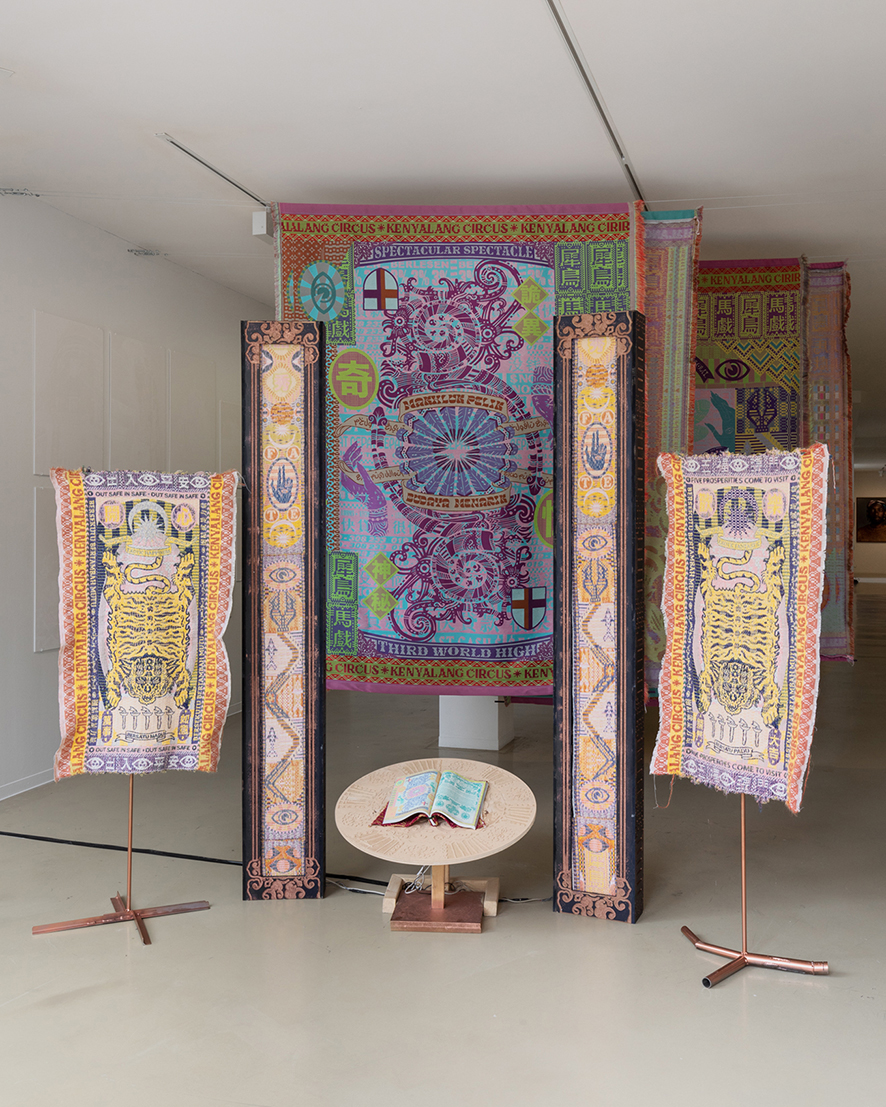 Installationshot Markos Kueh
Jury chairman Joop van Caldenborgh, founder of Museum Voorlinden praised Kueh's work for its visual power and craftsmanship. "Markos opens our eyes to the world of yesterday, today and tomorrow. For a young artist, Marcos shows guts, ambition and vision and we are looking forward to the next steps in his career." Museum Voorlinden purchases a work by Kueh for their collection.
The winner of the Residency Award will be announced on August 27. This award is accompanied by a residency of 6 months at Brutus, formerly AVL Mundo. The award is presented by Gunay Uslu, State Secretary for Culture.
---