Greet Umans. Photo by: Jan Locus
In the section 'The gallery of' we talk to a selection of gallery owners from the Netherlands and Belgium: when and how did they start their gallery, what has changed in the art world since, what is their profile, what do they collect themselves, and what has been impact of the pandemic on their gallery? In this part: Greet Umans (Schönfeld Gallery)
We're you exposed to art while growing up?

In our house there was music everywhere and always. My grandfather was associated with an art circle as an etcher, but in our household the focus was on musical education. I grew up in a family with four sisters where the piano, violin and flute were played and where there was a lot of singing. My talent for playing the guitar talent didn't really break through ;-). I have a sister who is professionally involved with music and literature, and my double bass playing cousin is doing very well in the world of jazz.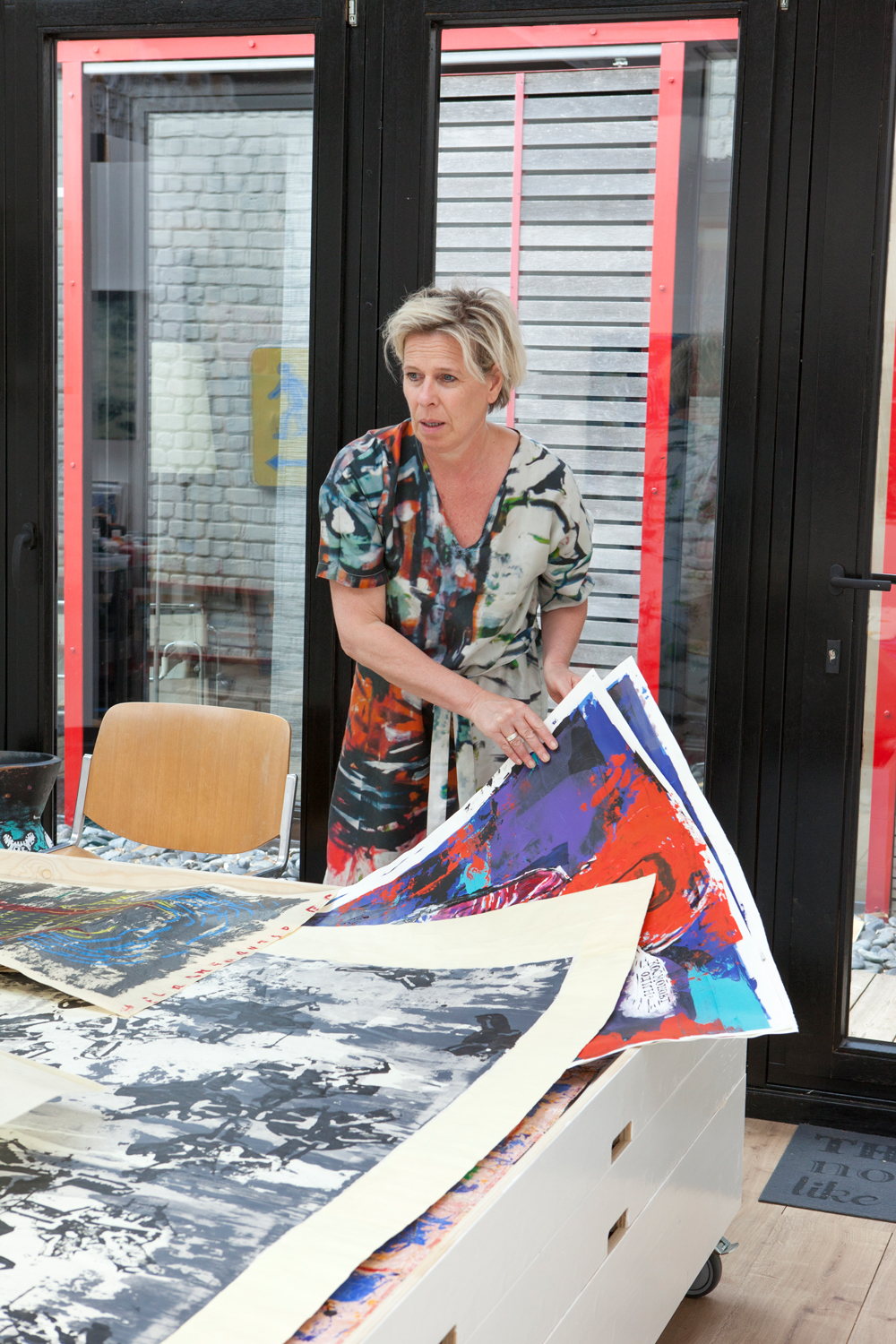 Studio Albert Pepermans, 2017, photo by Miles Fishler
How did you come into contact with the art world?
After a year of film training at the RITCS in Brussels, I followed my then love to the visual arts. That training opened a world for me. I loved being creative and turning ideas into images. After my education I never left the art world and had the opportunity to build a business in lighting objects ranging from design to implementation. I have always wanted to maintain the link between art and interior design. We had a large studio attached to a house, which also served as a showroom where we regularly organized exhibitions. It was an alternation between executive work and following up on creative projects.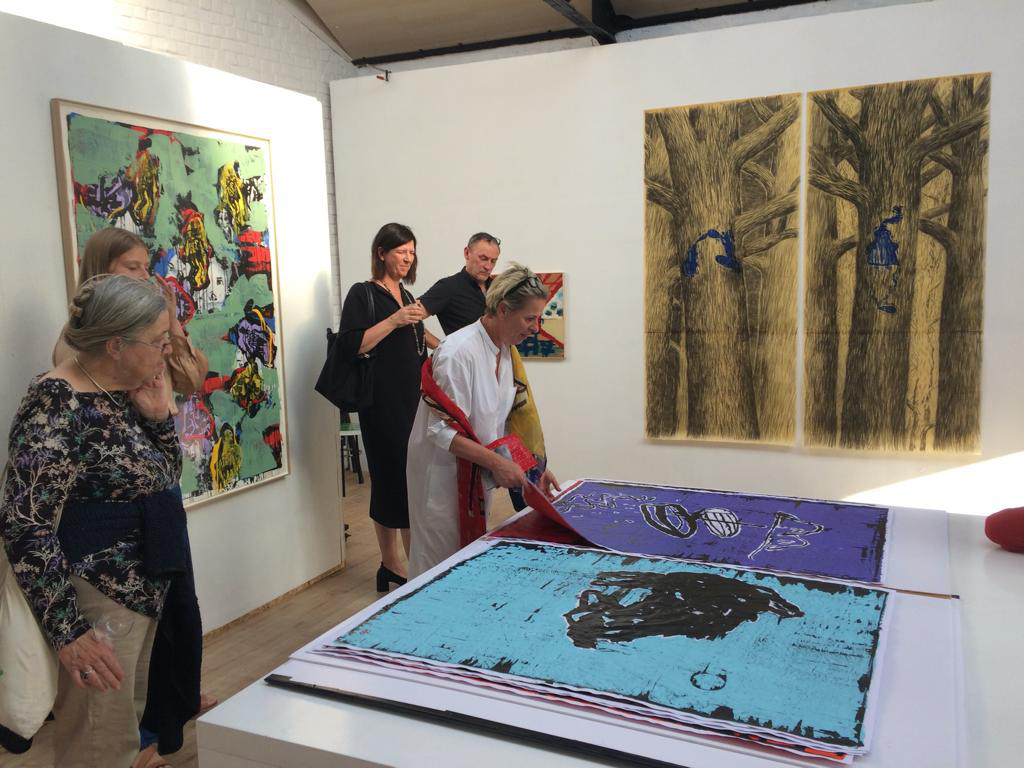 Open Studio Albert Pepermans, 2019
What was your first job in a gallery? Or did you immediately start a gallery yourself?
Due to a new relationship I left the lighting business behind and thanks to a photographer friend I came into contact with Elie Schönfeld. He had just started an art gallery in Antwerp, after which he moved to Israel almost simultaneously. Someone who could run the gallery on site was necessary.
It soon became clear that we differ greatly, but also complement each other well. Over time, we were able to put the Antwerp gallery on the map. Brussels became the next challenge. We initially rented a space in Rivoli Brussels, but soon also bought a more centrally located space in the building. We are well surrounded by other gallerists, some of whom have also become friends. On the other hand, the structure of a collective is not always obvious. In the meantime, there are about fifteen galleries, which sometimes makes consultation a bit more difficult, but the ambition to make the place better known to the general public is great! We held on to the space in Antwerp, but it now operates under the name of Schönfeld Projects. Our artists can work in residence there. Next in line is Christina Zippel, who lives in New York, who will be in Antwerp for a few months to prepare for her solo exhibition at Schönfeld Brussels.
May 2019, building up Tina Berning
How would you describe your gallery's profile?
Open to innovation, committed and involved towards the artists. We are still a young gallery and we work very intuitively. The number of artists that we represent is limited, because we want to focus on this with a high level of quality. I guide them in developing a career abroad and try to create a strong platform as a gallerist in their own country. We regularly collaborate with curators, which opens up new perspectives and keeps our minds sharp. A summer exhibition is coming up, curated by Caroline Pauwels, and the new season opens in September with an exhibition curated by Marie Mees. She put the gallery into contact with artists that I would not have shown otherwise, and which I am very happy to discover. I am surrounded by great people. The texts, design and logistics also require good teamwork. Running a gallery comprises a wide range of tasks.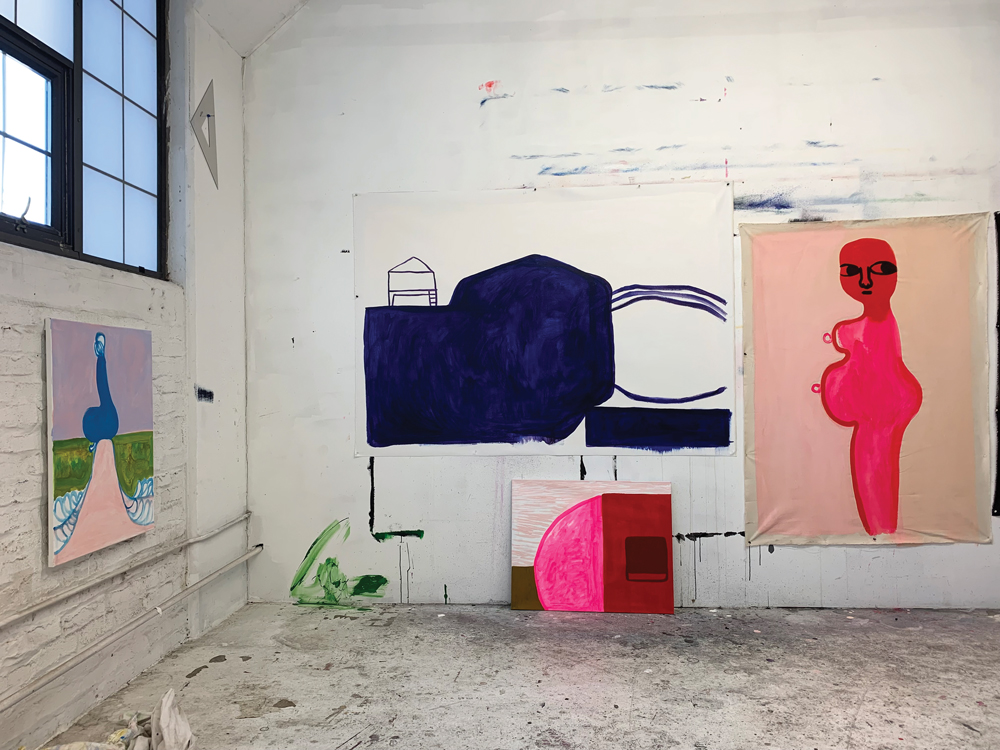 Studio Christina Zimpel New York, 2020
What do you think is the best part of being a gallerist?
The passion for creativity, both with the artists we work with and myself. I get a lot of satisfaction from putting together exhibitions, building up and creating a beautiful scenography in which the works come into their own. I consider it a privilege to visit studios and get excited about new work. That intuition is indispensable. I find it difficult to pass on work that I have no affinity with. I attach great importance to personal contact and I think it is important to build a relationship with artists and collectors. Trust is essential in the art world and requires patience and integrity. Running a gallery is a varied job that always brings new challenges. It's not a nine to five job, but it's such a privilege to do this! I can call myself a lucky gallerist :-)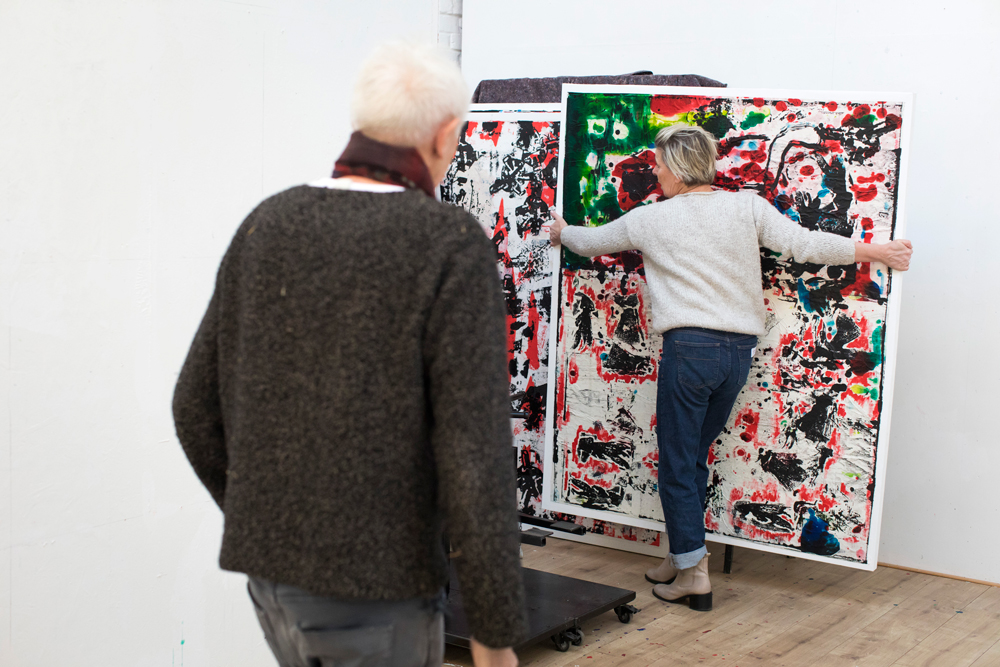 Studio Albert Pepermans, 2021
Which national / international galleries do you feel an affinity with?
I am close collaboration with Zsart from Vienna, because they also work with Jesse Willems, one of our artists. It is nice to be able to talk and consult as colleagues. I like open conversations and sincere exchanges. I also have a good relationship with Elke Helbig of the Zwart Huis and I am a big fan of the selections in Kristof De Clercq's gallery..
In an ideal world, which artist would you most like to represent?

I live in my ideal world, because I represent those artists :-)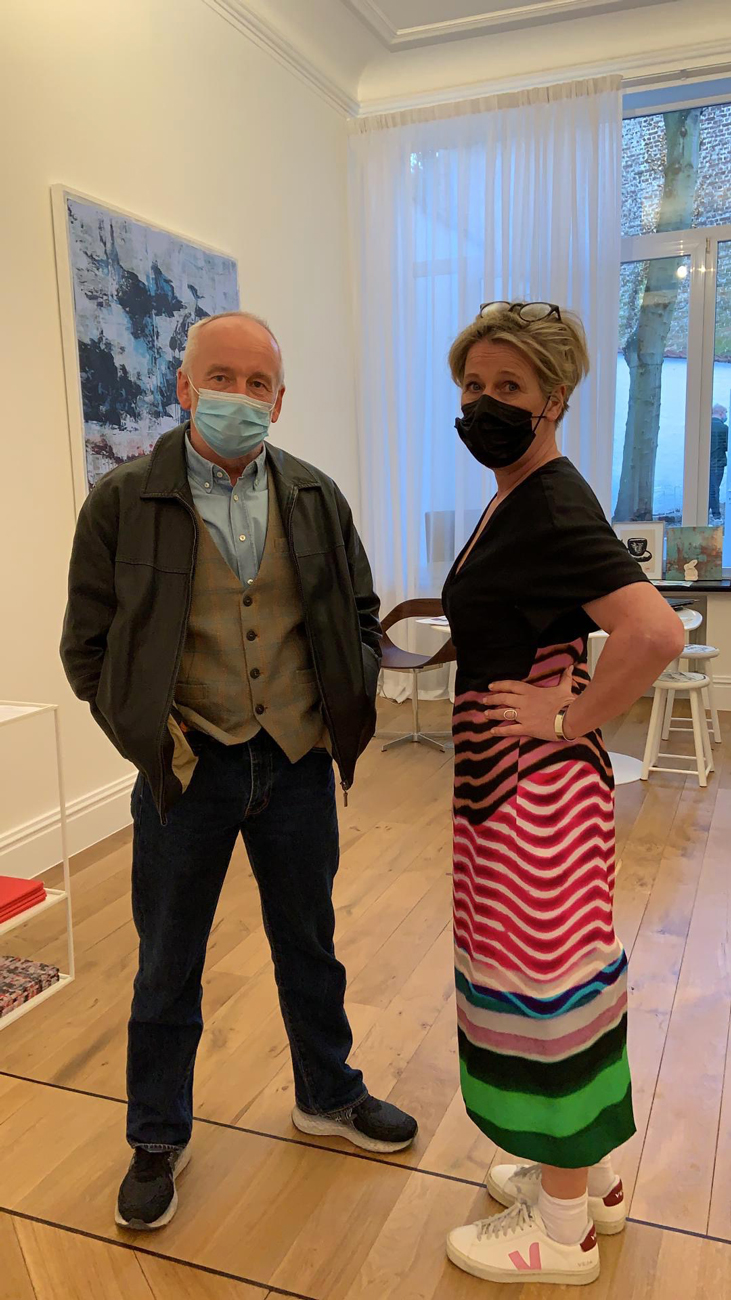 Opening Schönfeld C with work by Albert Pepermans, April 2021
What has changed in the art world since you took your first steps?
Schönfeld is a young gallery, we have been in Brussels since 2018. Nevertheless, novelties and shifts present itself. The urge for collaborations with other galleries and the need to bring art to a wider, possibly international, audience. There's a trend to focus on young collectors (Kunst Aan Zet), museums and to always think outside the box.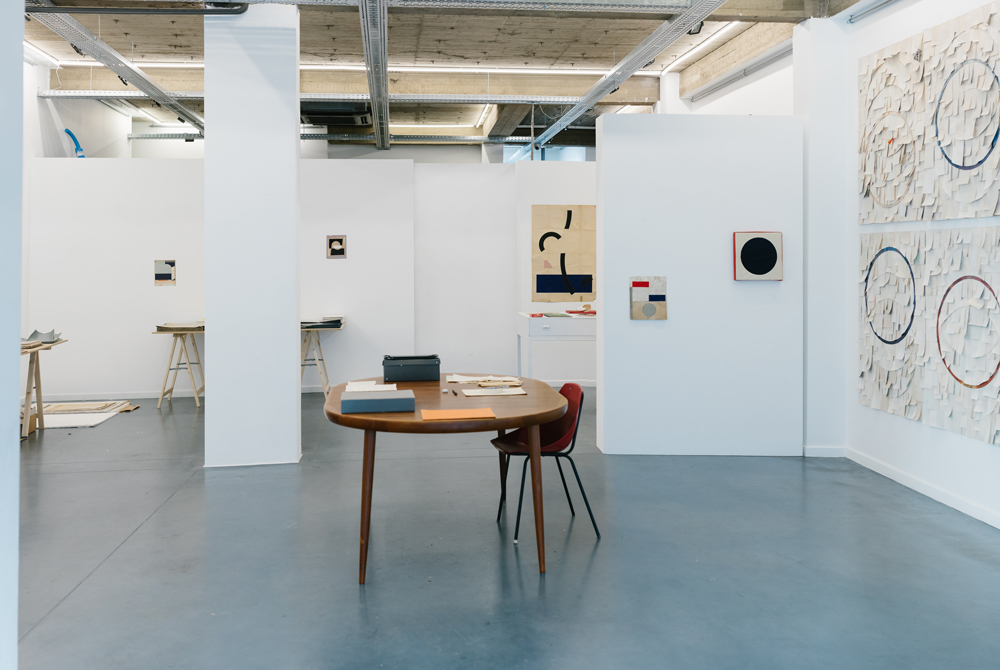 Schönfeld Projects with work by Jesse Willems
What / whose work do you collect yourself?


I live in the collection of Albert Pepermans (my partner) and regularly purchase work from the artists we show.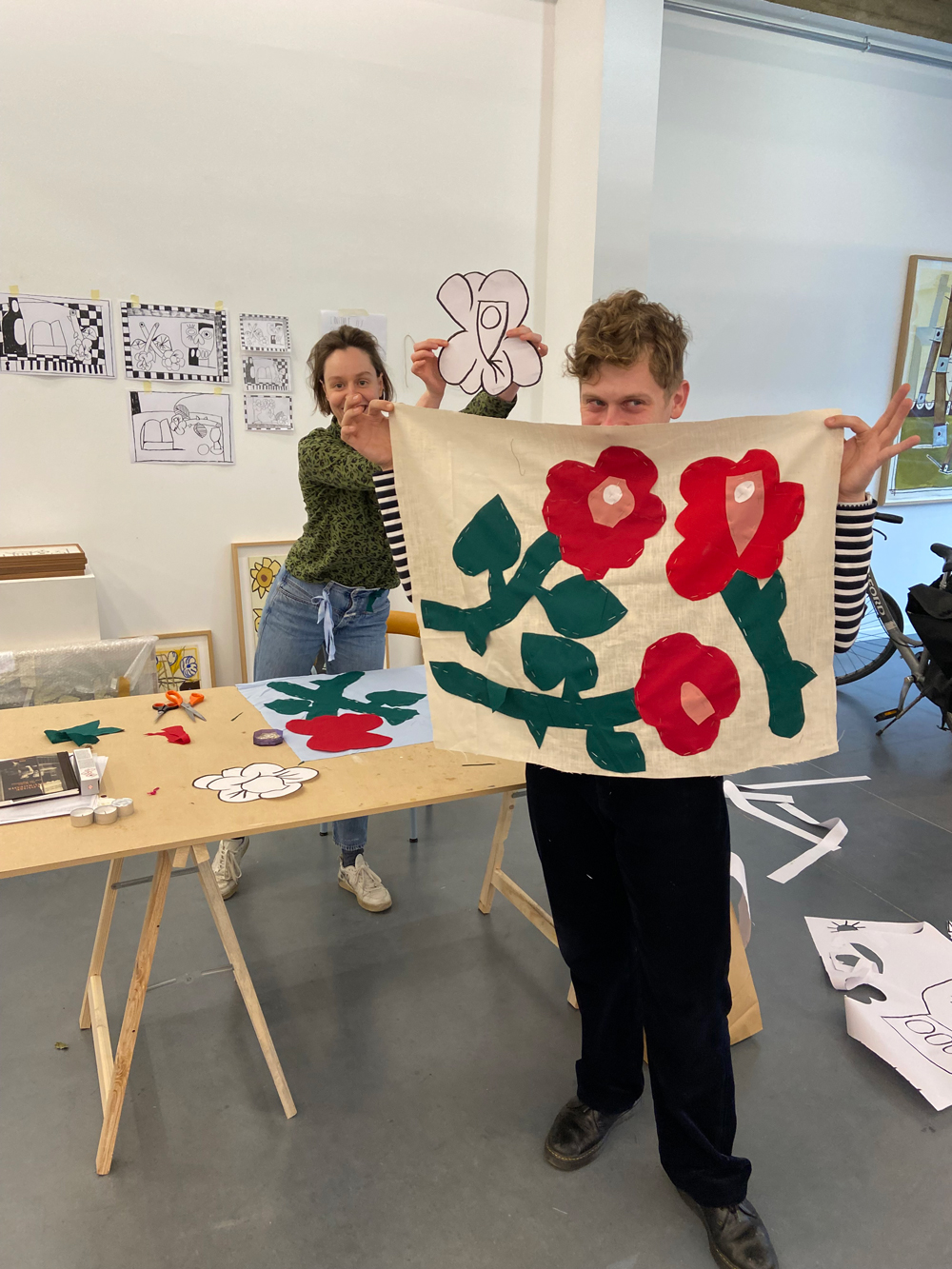 Thomas Renwart & Eliza Pepermans in residence at Schönfeld Projects, November 2021
Has the pandemic changed the way you see the artworld?

Not the art world in general, but my own world. Prior to the pandemic, it sometimes felt like we were participating in an art fair marathon. Two years without any fairs was a rewarding break. Although they are extremely important, art fairs are also energy guzzlers. The intention is therefore to limit the number of fair participations (a plan that may have been unsuccessful, given my enthusiasm to explore foreign countries with our artists). I wish we could have done without the digital art experience during the pandemic. An art fair in the form of a 'virtual tour', I am tired of that after ten minutes. Every work of art has a soul and a matter, physical contact is essential.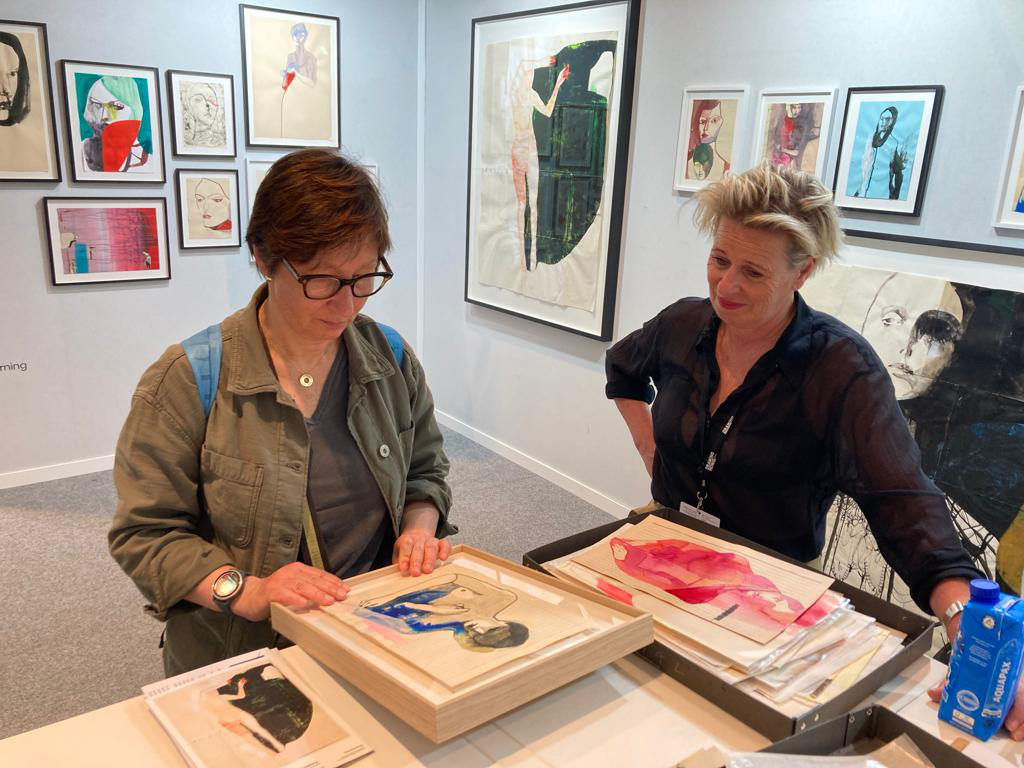 Drawing Now Paris 2022 with work by Tina Berning